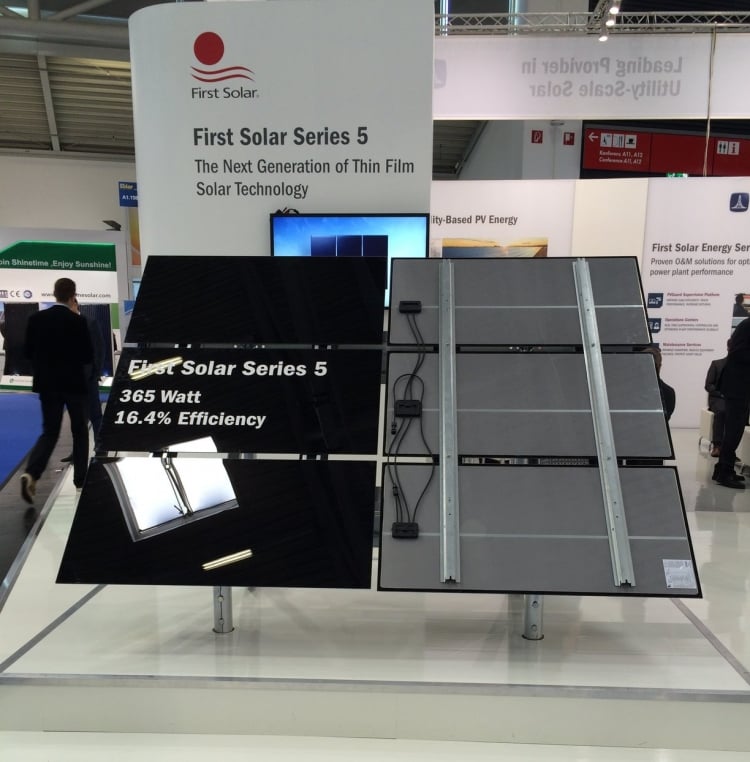 Capex cut
However, the company also noted that capital expenditures (capex) would also be significantly reduced for 2016. Management noted that capex guidance had been lowered to a range of US$275 million to US$325 million from the previous range of US$300 million to US$400 million.
Capex in the second quarter was US$78 million, compared to US$52 million in the prior quarter. Management noted that the increase in spending quarter-on-quarter was due to increased investments in the Series 5 (3 module integrated) technology to both boost conversion efficiencies sooner than described in their technology roadmap at their Analyst Day event and further fast track migration to Series 5 production to 1GW in 2017.
First Solar noted that the additional module efficiency improvements would take the Series 5 roadmap to the 390W level at the same time it previously expected to teach the 365W level.
The company noted that the an estimated US$60 million in capex would be required to boost conversion efficiencies across its 3GW of capacity, yet the anticipated payback time would be less than one year.
Mark Widmar, CEO of First Solar said, "We intend to prioritize long-term investment in the production and development of Series 5 and Series 6 technologies over adding new manufacturing capacity in the short-term."
The reduction in capex would therefore indicate that the planned 800MW of idled tools from previously closed production plants (2) in Germany that were earmarked for efficiency upgrades and redeployment could be hold.
Opex cuts and savings
As first reported by PV Tech, First Solar is closing its TetraSun operations and putting its skytron energy O&M operations up for sale. The company also said it would reduce its in-house EPC workforce, although actual headcount reductions were not provided in the earnings call.
Management said that it expected the total charges associated with both the TetraSun and other restructuring moves to cost between US$105 million and US$120 million, although much of this range would be non-cash.
The TetraSun charges amounted to US$90 million to US$100 million, with approximately US$86 million charged in the second quarter of 2016. The outstanding amount would be charged through the second half of the year, according to the company.
Charges associated with the EPC and skytron energy restructuring would amount to US$15 million to US$20 million and would be implemented in the second half of the year.
However, the restructuring was expected to result in total annual savings of US$60 million to US$80 million, with annual opex (Operating Expense) savings expected to in the range of US$35 million to US$45 million.
Despite the restructuring charges and reduced operating cash flow that was guided at US$500 million to US$650 million, compared to prior guidance range of US$500 million to US$700 million, First Solar expects net cash balance guidance for 2016 to be unchanged at US$1.9 billion to US$2.2 billion.
Financial results
First Solar reported second quarter net sales of US$934 million, up US$86 million from the prior quarter, due to higher module only sales, the sale of the Kingbird project and revenue recognition across multiple systems projects.
Gross margin for the quarter was 20%, compared to 31% in the first quarter, due to change of mix of systems projects recognized between the quarters.
Operating expenses (excluding restructuring and asset impairment charges), were US$97 million, a decrease of US$1 million from the prior quarter, due to lower employee related costs.
The company reported shipments of around 715MW in the second quarter and 1.6GW for the first-half of 2016. Bookings in the first-half of 2016 reached 1.4GW.