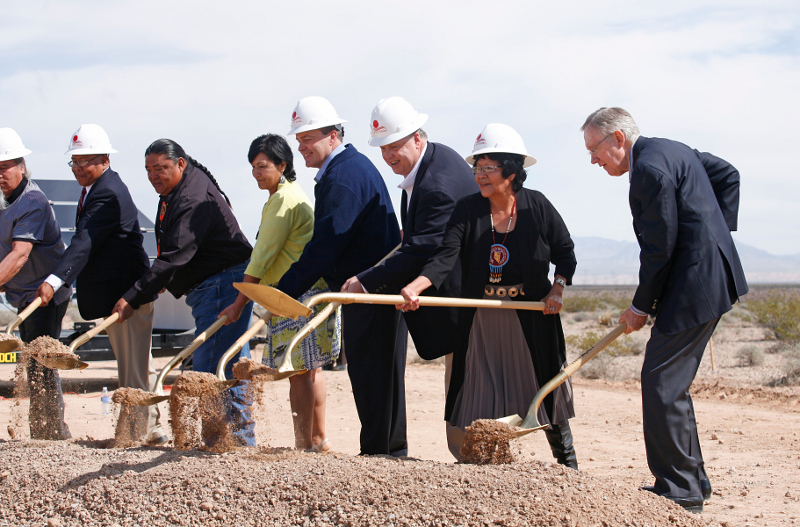 With First Solar's revenue and shipment guidance unchanged and basically locked-in for 2016, despite solar industry dynamics becoming increasingly fluid, filling demand for 3GW of thin-film module capacity in 2017 has become a priority for management as a rather large hole in bookings is proving difficult to fill.
In reporting second quarter 2016 financial results, First Solar reiterated previous revenue guidance for the full-year reaching US$3.8 billion to US$4.0 billion with module shipment guidance of 2.9GW to 3GW.
The company is therefore retaining manufacturing utilisation rates at 100% and squeezed-out a 1% quarter-on-quarter production rate gain that reached 784.8MW in the second quarter, up from 774MW in the prior quarter. Average CdTe module efficiency (16.2%) gains were flat with the prior quarter.
2017 challenges
First Solar's management had previously noted that bookings (system sales and module sales) for business generating revenue, specifically in 2017, would be an issue, due to a number of factors.
Firstly, its 'legacy' US utility project business which had been a core part of its business in recent years, notably some of the largest projects ever built would be winding down and the company had admitted in the past that it had taken its eye of the ball in securing alternative business to fill the hole this created.
Secondly, the expected expiration of the US ITC incentive pushed out project development decisions and that last minute extension of the ITC at the end of 2016, came too late to really help First Solar with projects that could be started and completed in 2017.
Thirdly, the dynamics of the solar industry are shifting and these changes occur faster than often expected. Several factors in this aspect include looming module overcapacity, due to continued capacity expansion announcements that depress pricing and can delay project developer's timings on starting projects.
Volatile market dynamics are also a factor, with the US expected to double installations in 2016 to around 14GW but decline back to 2015 levels of around 7.5GW in 2017.
First Solar has therefore had to focus on international markets for 2017 and beyond and with growth markets such as India and the MENA region driving down PPA's and system prices to the lowest levels ever seen, creates a highly competitive and shrinking margin environment. Picking the right projects to build or supply modules for becomes increasingly challenging in the face of diminishing rewards.
Filling the hole
The fact that First Solar has continued to delay providing 2017 revenue and shipment guidance demonstrates the challenges in hand for the company. Management noted in the latest earnings call that 2017 currently remained 'opaque' and deferred providing better insight until much later in 2016, without being specific.
How much business First Solar has secured for revenue generation in 2017 is not clear but a certain level of clarity is possible.
According to Deutsche Bank analyst, Vishal Shah First Solar secured around 500MW of early-stage bookings for 2017 revenue generation as well as around 450MW of mid to late-stage bookings for next year during the first quarter of 2016.
Management noted in its second quarter earnings call that it booked around a further 250MW of systems projects, yet only around a third of the volume was scheduled for 2017 deliveries.
The company noted it was targeting 1GW of systems business in 2017, yet around only 400MW was contracted for next year, although more was expected.
First Solar also noted that mid to late-stage booking opportunities stood at 1.8GW, with almost 90% outside the US. Over 400MW of awarded but not booked volume was included in this figure, according to the company.
Management also noted that the bookings total in the first six months of 2016 totalled only 800MW, although almost 600MW had been booked in July alone. However, management did not say whether these bookings applied to 2017 revenue generation.
Module dependence
With the goal of 1GW of system bookings revenue in 2017, emphasis on third party module sales becomes increasingly likely. Global module ASP decline issues aside, global end market demand growth is becoming increasingly fragile, save higher than expected utility-scale development in India and MENA.
Luckily, First Solar expects to have around 1GW of Series 5 module capacity available in 2017, which significantly improves its cost competitiveness at a time ASPs are expected to be under significant pressure. However, selling 2GW of its mainstream Series 4 modules become the issue.
According to management, the Series 4 sales strategy includes a focus on hot, humid climates due to the temperature coefficient advantages of CdTe thin-film modules over conventional c-Si products. Select market opportunities that have not become slim margin markets are therefore the focus.
However, that comes with some challenges of its own.
"We're looking for pockets of strength where we can sell through and capture highest-margin opportunity entitlement that we have relative to what's going on in the marketplace, but we're very well aware of how aggressive some of the pricing has become," noted First Solar's CEO, Mark Widmar.