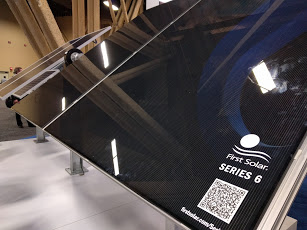 Thin-film manufacturer First Solar reported record Q3 bookings of 4.5GW taking the company's order book to 7.4GW for shipments out to 2020.
The orders also include the first meaningful third-party customers for the large-format Series 6 modules.
CEO Mark Widmar said a combination of high-demand in China and urgency in the US to secure supply as a result of the spectre of the Section 201 case.
"As mentioned last quarter, there has been a confluence of events that has driven a recent strong bookings performance," he said in a call with analysts. "Firstly, global demand continues to be strong as solar becomes increasingly economical, relative to other sources of generation. Secondly, while not impacting the underlying demand fundamentals, we have seen the Section 201 trade case in the United States accelerate module procurement timing by some customers. Lastly, the recent surge of demand in China has created, in the near-term, a relatively tight supply of Tier 1 module manufacturers," he added.
The company remains in a holding pattern with regard to any additional Series 4 production. A decision will be made later this year but Widmar reiterated that the priority was the transition Series 6 manufacturing.
As for the 4.5GW of bookings, Widmar said a "meaningful portion" of that could be Series 6 while volumes in 2019 could be mostly made up of Series 6 if the production of Series 4 is not extended.
Net sales for Q3 were US$1.087 billion up 60% from the same period last year. Net sales guidance for the year is unchanged at US$3.0-3.1 billion.
R&D and production start-up costs for the quarter totalled US$33.5 million.