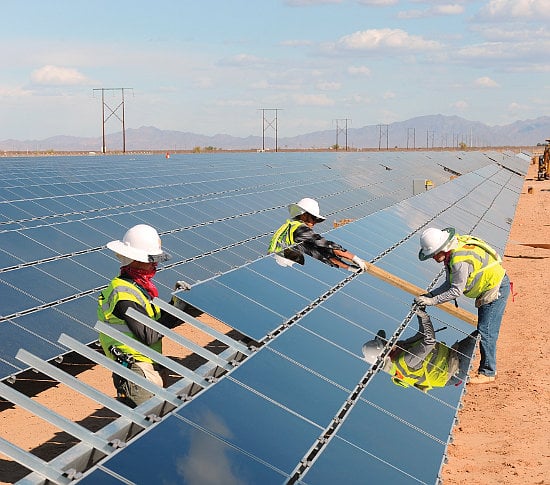 Leading CdTe thin-film manufacturer and 'Solar Module Super League' (SMSL) member, First Solar reported significantly lower than expected first quarter sales, due primarily to challenges in its EPC PV project business in the US and Japan that impacted sales by US$159 million.
First Solar reported net sales for the first quarter of 2019 of US$532 million, a decrease of US$159 million from the prior quarter, primarily due to lower systems project revenue in the United States and Japan.
These were caused by supplier issues leading to delays in project completions, adding cost, including higher labour costs than expected as well as labour shortages from sub-contractors and product failures from third parties. Also disrupting project completions was unexpected poor weather conditions , adding to overall EPC costs.
Management noted in the earnings call that it would be restructuring its EPC business, including new leadership of the business unit.
First Solar also reported an operating loss of US$76.6 million and a net loss of US$67.6 million in the reporting quarter.
"During the first quarter of 2019 we continued to realize advancements in Series 6 throughput and efficiency and we are particularly pleased with the start-up and ongoing ramp of our second facility in Vietnam," said Mark Widmar, CEO of First Solar. "Series 6 demand remains robust, and we are encouraged by the strong year-to-date bookings which are on track to exceed our targeted annual bookings-to-shipments ratio."
The company revised 2019 guidance, due to higher than expected module and system sales, offset by increased ramp related and EPC costs, and lower projected operating costs.
Although module shipments remain unchanged at 5.4GW to 5.6GW, net sales are expected to be in the range of US$3.5 billion to US$3.7 billion, up from previous guidance of US$3.25 billion to US$3.45 billion.

Gross margin was lowered to 18% to 19%, compared to 19.5% to 20.5%, primarily due to the EPC issues. However, operating income of US$260 million to US$310 million remains unchanged.