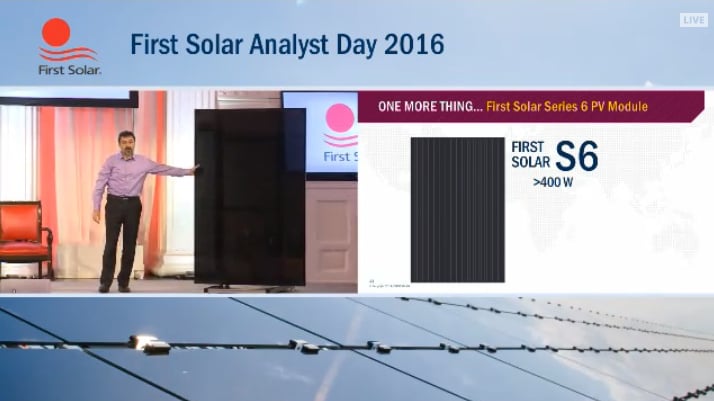 Leading thin-film producer First Solar is planning a major revamp of its next-generation CdTe modules by introducing a new suite of production lines capable of producing large-area 'Series 6' modules with 400W output and significantly lower production costs currently achievable with its smaller form factor modules.
The company said at its Annual Analyst Day event that the large-area modules were expected to be produced with around 19% conversion efficiencies with production line equipment development already underway.
The company noted that production tool orders were perhaps a year away from being placed, using technology and scale of equipment developed inline with flat panel displays, with dedicated 'greenfield' production facilities taking around 18-months to build, equip and ready to potentially ramp in the late-2019 timeframe.
The Series 6 modules were said to provide a significant production cost reduction than First Solar has achieved with its previous modules which have remained at the US$0.65/W capex level. The large-area modules and new production line technology would also enable higher throughput levels than previously achieved, which stand at around 103MW capacity per line.
However, First Solar noted that any final decisions on timing of the new technology introduction have yet to be made and will be market demand driven.