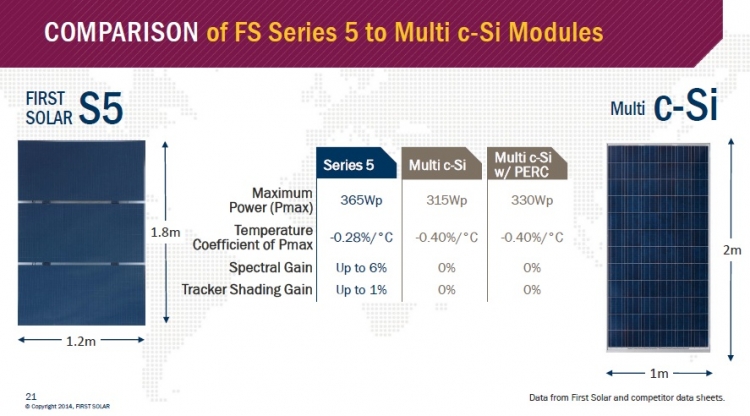 Leading thin-film producer First Solar is to unveil its new Series 5 thin-film PV module at Intersolar Europe 2016.
The 365W (Pmax) module is a 1.85 metres x 1.2 metres three horizontal stacked module unit at a very similar size and form factor of conventional c-Si 72-cell modules. According to the company, it will offer "superior performance" and "reliability" as it features an integrated steel dual-back mounting rail assembly which reduced Balance of System (BOS) costs and installation times. This is all in addition to the high performance thin-film modules already on offer from the company, which it claims provide several performance and reliability advantages over c-Si panels.
"The Series 5 module offers all the benefits of First Solar's high performance thin film technology, in a convenient form factor. The module is designed with the customer's needs in mind, offering world-class reliability and performance at competitive prices," said Christopher Burghardt, First Solar's VP of business development for Europe, in a statement. "We believe that the new module will shatter the myth that low cost solar cannot be delivered with high performance technology. In fact, we firmly believe that this module and its future iterations will play a significant role in driving forward Europe's energy transition."
Notably, the module's low labour requirements make it ideal for markets with higher labour costs – such as Europe – as the modules can be installed either manually by two people or mechanically. The module is already available in pre-assembled stacks at the company's production plants; and at the Analyst Day 2016, was said to provide a 'standardised' product offering to potential customers loyal to c-Si modules.
The Series 5 modules pose a significant opportunity for further traction in the European market, where First Solar currently has an installed capacity of over 4GW. According to sentiment at the Analyst Day in April, First Solar is predicting strong interest in the new format; particularly linked to EPCs and project developers that may have been deterred from First Solar's thin-film modules in the past due to the non-uniform format, fixings and racking systems.
"Our new Series 5 module is a direct response to industry needs. Power plant owners, operators, developers, and EPC (engineering, procurement and construction) companies will find immediate value in our Series 5 offering," said Karim Asali, First Solar's technical director for Europe, in a statement. "Eliminating the need for clips by using a back-rail, and the new form factor will lead to significantly reduced Balance of Systems (BOS) costs to a point there'll be a negligible difference between First Solar modules and conventional crystalline silicon panels. And with the reduced installation labor costs and fewer electrical connections per Watt compared to the company's current modules, the full advantage becomes quite clear."
The Series 5 module will be available in Europe by the third quarter of 2017, with fleet production line module efficiency at 16.4%.
It will be presented at Intersolar on Wednesday at 5pm at booth 158 in Hall A1.