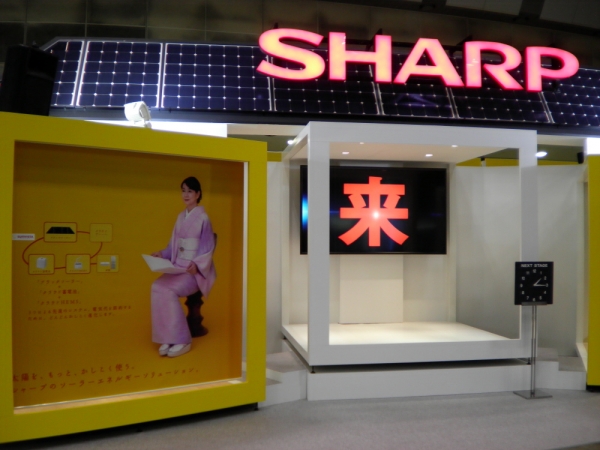 Just hours after Taiwanese electronics maker Foxconn looked poised to buy out Japan's Sharp, the deal has been delayed, according to various reports.
The move by the iPhone and iPad's assembly partner would be the first takeover of a major Japanese company by foreign owners if it goes through. Early press reports in Europe this morning implied the deal was done, before outlets including the Wall Street Journal and the UK's BBC started reporting at around 11:00 CET that the acquisition had been delayed. The deal is worth a total of around US$6 billion, including around US$4.5 billion in new shares and around US$1 billion in preferred shares. The Japan Times reported that "new material information" had put the signing on ice.
"We will have to postpone any signing of a definitive agreement until we have arrived at a satisfactory understanding and resolution of the situation," Japan Times reported Hon Hai as having said in a brief statement issued this morning.
Following a two-day board meeting, Sharp's executives had agreed to the takeover by Foxconn, which is incorporated under the name Hon Hai Precision Industry. Sharp said in a statement that it had agreed to issue new shares allotted to Hon Hai and its various Foxconn branches. The company had mulled a rival bid from government-backed Innovation Network Corporation of Japan (INCJ).
However, Sharp's statement said that INCJ was interested in taking on the manufacturer's panel display business and then injecting around ¥300 billion (US$2.7 billion) into the remaining business segments. In contrast, although the panel display segment is thought to be the main prize in the deal for Foxconn, Sharp said it viewed Foxconn's plan to invest in Sharp across all segments of its business to be of greater interest on balance.
Sharp referred to "stagnant demand" for solar power in Japan and said it is concentrating on becoming known less as a PV panel maker and more as a complete solutions provider. The company said it is shifting "to a business model that focuses on solutions that match local demand", combining self-consumption and energy efficiency solutions in the residential market.
It is also developing an engineering, procurement and construction (EPC) business for PV plants which it said it wanted to push forward with "aggressively". Sharp said it will invest a combined total of around ¥10 billion on independent power producer (IPP) projects in the Fukushima region as well as its home energy management systems (HEMS). Foxconn is already a developer of solar projects, including a collaboration with Japanese telecoms provider-turner-solar developer Softbank for 350MW of projects in India.
At the beginning of February, PV Tech reported that Sharp's Energy Solutions business, the segment containing its solar product lines, saw revenues drop by 42.2% in the first nine months of the most recent financial year by year-on-year comparison with the previous one.