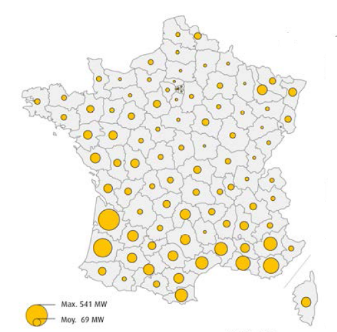 France has awarded contracts to 79 projects in the first 500MW tender of its 3GW large-scale programme, as well as launching tender programmes for 450MW of self-consumption renewable energy systems and 210MW of 'solar innovations' including solar roads.
The average prices were €0.0625/kWh (US$0.07), reflecting the decline in PV equipment prices worldwide. The list of winners for the 534.8MW awarded can be found here. Of the projects, 60% have committed to investments and are set to receive a premium of €0.003/kWh. Together, the projects will generate 700GWh per year, as well as attracting €460 million of investment.
France will call a total of six tenders every six months up to 2019 to complete its 3GW programme.
Self-consumption tenders
Energy minister Ségolène Royal has also announced 62 winners for 20MW of renewable energy in the second tender for self-consumption systems of 100-500kW size, following the expanded 80MW awarded in part one last year. The tender was aimed particularly at self-consumption in industrial, tertiary and agricultural installations. Projects are expected to attract €27 million of investment and will receive a premium at a weighted price of €0.01935/kWh. The list of winners can be found here.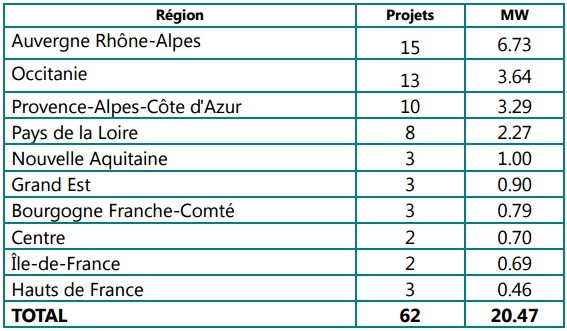 As reported by PV Tech in February, the French Parliament has adopted a new law providing a legal framework on self-consumption of electricity from renewable energy sources.
As part of this, Royal has now launched a three-year call for tenders for 450MW in self-consumption of renewable energy, with the first bidding period to close in September. It is open to consumers in the industrial and tertiary sectors, with a particular focus on shopping centres.
The total 450MW will be divided into nine tranches of 50MW each, with three nomination periods per year.
Solar Roads and Innovation
Royal has also launched a tender for the support of 'innovative solar installations', following on from the commissioning of the first kilometre of a solar road in the Orne last December. This will involve 210MW of new installations, divided into three 70MW tranches, focusing on solar roads and agricultural solar.
It will be split into four areas of innovation to ensure fair competition between the technologies:
Component innovations, including solar roads, innovative modules, inverters with specific features or new cell technologies
Innovations in the electrical systems such as high architecture voltage and innovative power distribution systems.
Innovations related to the optimization and electrical operation of PV plants, monitoring software coupled to sensors, and preventive maintenance tools
Installations for coupling secondary PV production with main agricultural production.
Projects will be selected based on economic competitiveness and the first bidding period will also close in September.
PV Tech reported this week that France has sought to increase its ambitions for solar PV after the technology "overshot expectations", as stated by Alexis Dutertre, deputy permanent representative of France to the European Union, who was speaking at the Solar Power Summit in Brussels.