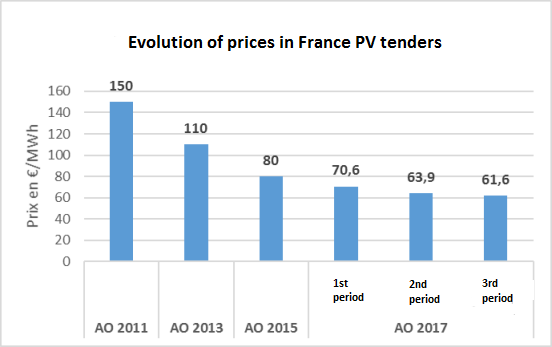 France has awarded 73MW of solar 'innovation' capacity promoting floating solar, new forecasting software, solar greenhouses and bifacial modules, as well as divvying out another 508MW under its large-scale PV programme.
The Ministry of Ecological and Solidarity Transition tendered for 70MW of solar innovation back in 2017, as part of a three-pronged 210MW plan. The winners of this first application period had an average price of €80.7/MWh. A second 70MW innovation tender will close on 1 October.
Sébastien Lecornu, secretary of state to the minister of ecological and solidarity transition, noted that floating solar could provide huge benefits by limiting the amount of land space needed for ground-mount solar.
The list of 'innovation' winners can be found here. Awards were made for new integration designs, component innovations, system innovations, as well as advances in optimization and electrical operation of projects.
The ministry also awarded 508MW of large-scale solar to 77 players – the third 500MW allocation out of a 3GW plan comprising six application periods. This time the average price was €61.6/MWh, down nearly 4% from the previous period in July 2017, where the average price was €63.9/MWh.
The highest capacity projects in the 5-17MW range had an average price of €55.3/MWh, down slightly from the previous rounds average of €55.5/MWh.
Lecornu said: "The competitiveness of solar projects is more assertive at each stage of the call for tenders. In just a few years, the cost of ground-based solar power plants has been divided by two and soon almost by three."
The ministry noted that more than half of the projects will be located on degraded land such as landfills and old quarries.
The list of large-scale winners can be found here.
The fourth large-scale application period for 720MW will take place on 1 June this year. Last December, France decided to expand its annual tendering programme from 1.45GW to 2.45GW to fit in even more capacity.
France plans to invest €20 billion in its own energy transition plan to increase clean energy deployment by 70% over five years. It also plans to launch a working group on solar energy.