The power output from PV systems in France grew by 25% last year to 7.4TWh, up from 5.9TWh, according to the latest figures from the French electricity transmission system operator Le réseau de l'intelligence électrique (RTE).
The country now has a total of 6,191MW of PV deployed, having installed an additional 895MW in 2015.
One third of this increase came from the commissioning of Europe's largest solar park, the 300MW Cestas solar park, developed by Neoen. PV Tech visited the Neoen park near Bordeaux last year.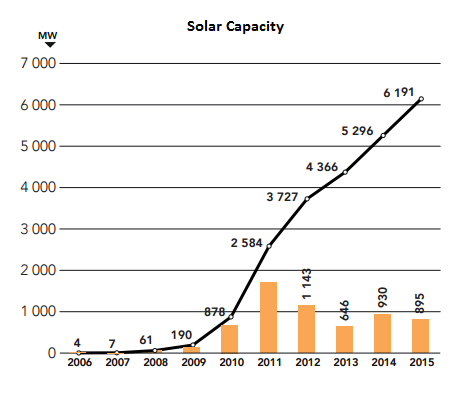 At the end of 2014, total installations stood at 5,296MW overall with deployment during the year standing at 930MW, slightly up compared to 2015.
To meet new environmental standards entered into force at the beginning of 2015, six coal plants of 250MW capacity each were closed last year, which reduced the French coal production capacity by 33%, down 1.5GW.
A detailed Project Focus on the Cestas plant can be found in the latest edition of PV Tech Power.