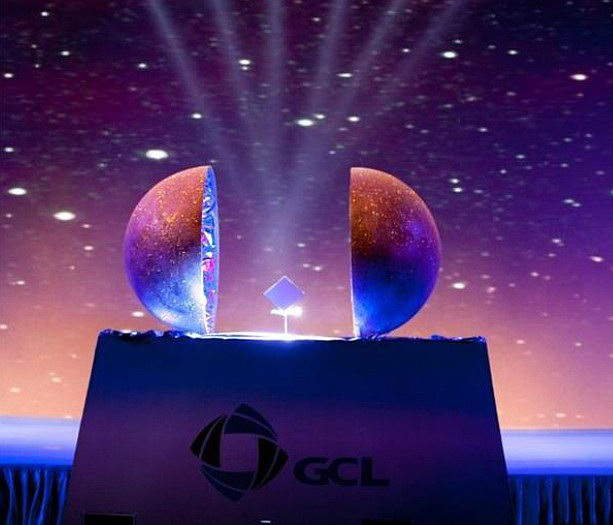 GCL Systems Integration (hereafter 'GCL') has now been officially inducted into PV Tech's exclusive Silicon Module Super League (SMSL) for 2016, with our team having previously alluded to aggressive capacity additions by the company in 2015.
Compared to the SMSL of 2015 – introduced by PV Tech to reflect key changes in PV module supply to the solar industry that have occurred in the past 12-18 months – GCL is effectively replacing Yingli Green Energy in the new elite subset of module suppliers to the industry this year.
For 2016, the entrance conditions are very clear: end-market shipment guidance (matched by our expectation/forecasts) of greater than 4GW this year.
This allows for a clear differentiation between the top module suppliers, and the chasing pack within which there are many guiding module shipments for 2016 in the 1-3GW band.
Currently, there are six companies forming a breakaway group in terms of module supply, collectively setting the bar on price, cost and efficiency metrics for others to aspire to, and this forms the SMSL for 2016:
• Canadian Solar
• GCL
• JA Solar
• JinkoSolar
• Hanwha Q CELLS
• Trina Solar
While other market observers continue to count historic activity that took place last year in 2015 (in the past), we are choosing instead to focus on the performance of the SMSL for 2016 and what this means for the industry going into 2017.
The SMSL for 2016 will be subject to extensive scrutiny over the course of the year through features and blogs on PV Tech and research analysis within our PV Manufacturing & Technology Quarterly reports.
While the activities of all other PV manufacturers are essential to understand, nothing trumps the collective impact of the big-six SMSL today.
What's at stake having a breakaway module supply group?
PV remains an industry where end-market demand has strong contributions from both upstream and downstream. As such, end-market demand each year is a direct result of two factors:
• Countries that have in place lucrative incentives that stimulate the interest of installers, developers and asset holders.
• Sales-driven initiatives that can rapidly exploit short-term opportunities, often in markets where incentives are uncapped on an annual basis, and where sales focused tactics are generally somewhat ahead of policy makers' reactive changes.
Therefore, when we see a select group of module suppliers focussed on growing module shipment levels north of 4GW, we have to pause and reassess how this could affect the industry as a whole.
For example, if well-organized global sales teams have access to multi-GW of supply (alongside ambitious sales targets), then we potentially hit a point where end-market demand has a much greater degree of elasticity, compared to the rather academic way of tracking government policies and watered-down aspirations.
In the past, this was seen in certain markets that significantly over-performed both analyst forecasts and government expectations, and goes a long way to explaining why almost all market forecasts done by analysts 5-10 years ago are way out in terms of what the industry looks like in 2016.
GCL in the SMSL: a wildcard or a massive threat to others?
In a recent blog featured on PV Tech, we summarized broadly that GCL was today the most important and influential PV manufacturer within the solar industry, by some margin, and outlined our methodology and rationale underpinning this claim.
In the past, this should have been widely known. However, purely as a supplier of raw materials (polysilicon and wafers), the company was not then seen, per-se, as one that could impact global ASPs or overall silicon-plus-non-silicon cost metrics at the module supply level.
Therefore, having GCL in the SMSL today is far from a token gesture that has evolved simply because Yingli has been suffering as a manufacturer in recent times.
There is much more at stake here with GCL as a module supplier, as we will outline in future PV Tech articles, drawing specifically from our research data within our PV Manufacturing & Technology Quarterly reports.
For starters, ponder this one: during 2016, almost 50% of all solar module capacity shipped to the end-market could be supplied from just six companies – the Silicon Module Super League. See the attached figure to confirm this.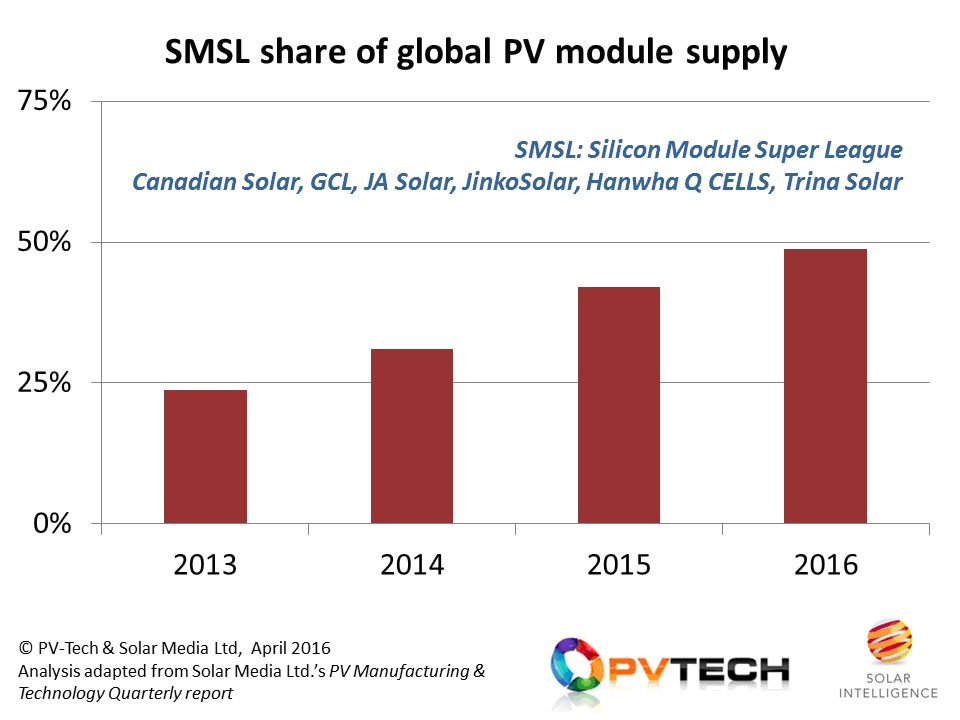 In the next few weeks, we will be diving deeper into what we think are the extended consequences of having a restricted subset of Asia-centric companies that is supplying every one out of two solar PV panels this year.
What will be the impact on the domestic China market, where considerable cell and module capacity of the SMSL is still located?
How much production is slated for US shipment, and where will the SMSL source all its cells from? Will price and cost levels from this group shift the entrance barriers even higher for n-type or heterojunction-based new-entrants?
Which of the SMSL companies is at risk, if performance falls well short of year-end guidance and expectations?
This and much more on the SMSL for 2016 to follow very soon!