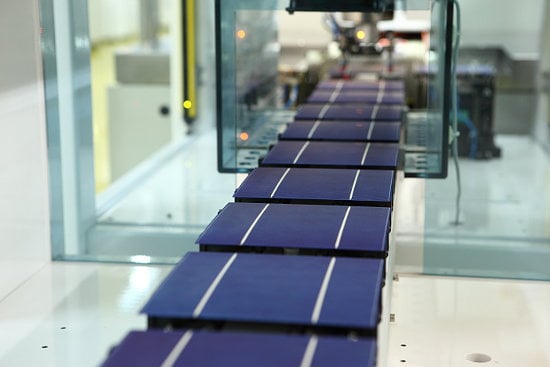 Total expansion announcements include dedicated crystalline silicon solar cell, integrated solar cell and module assembly and dedicated module assembly, while no thin-film announcements were made in the month, the fifth month in a row.
The 7.3GW of planned future expansions, up from around 5.7GW in the previous (updated figures from 5.4GW) month, is primarily due to several 'Silicon Module Super League' (SMSL) members (JinkoSolar, Trina Solar and Canadian Solar) adding meaningful capacity to meet expected global demand in 2016.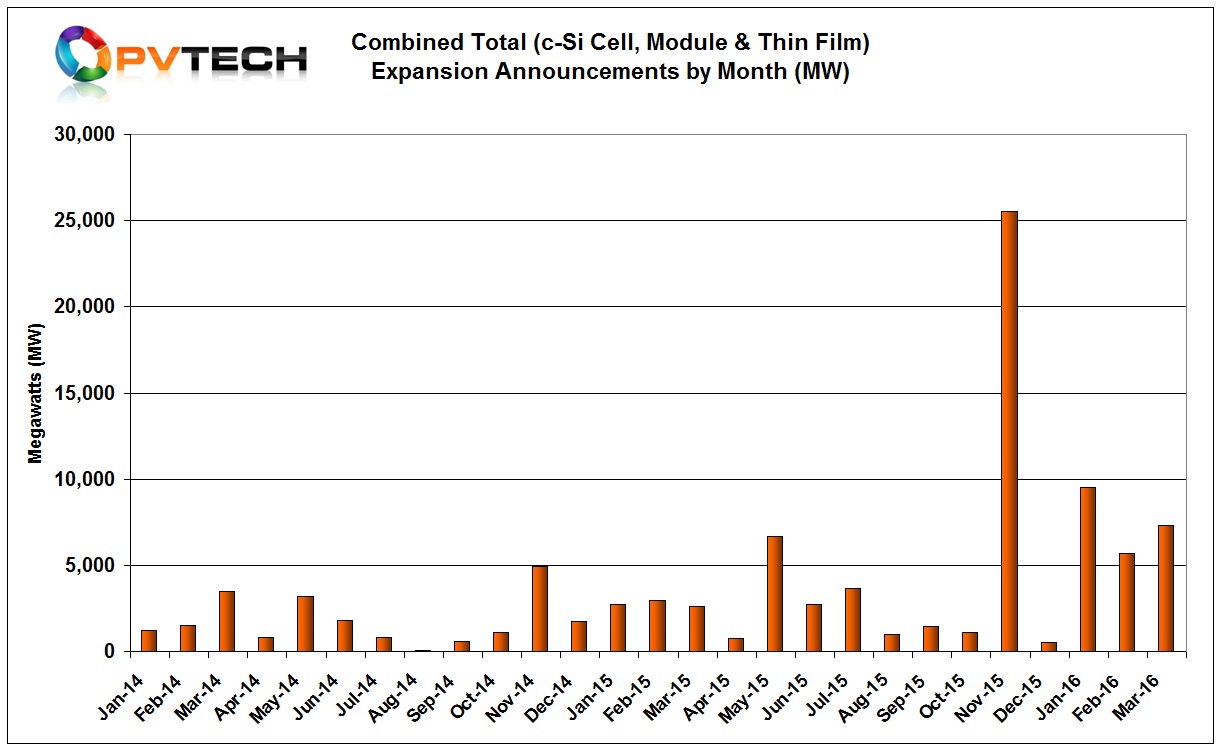 SMSL members, including new entrant GCL Systems, JA Solar and Trina Solar were also behind the strong February figures, as nine companies in February had announced new plans to expand capacity, while the higher March figures include just 10 companies.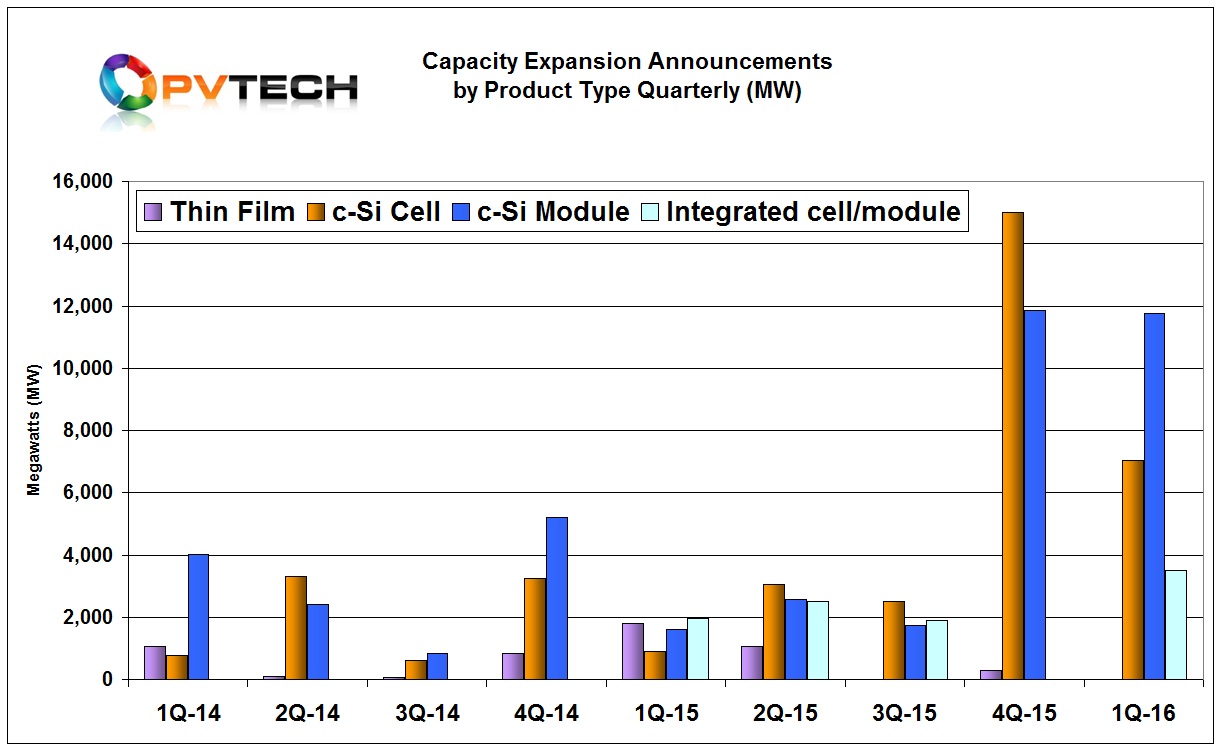 Dedicated solar cell capacity expansions announcements reached 3.1GW in March, compared to 1.26GW in the previous month. The increase was primarily driven by JinkoSolar, Trina Solar and Taiwan-based Tainergy Tech.
Although not technically new capacity additions, both SolarWorld and REC Solar are undertaking complete manufacturing line upgrades to PERC (Passivated Emitter Rear Cell) technology in 2016, which would boost megawatt nameplate capacity due to efficiency gains.
Integrated cell and module planned expansions in March, 2016 totalled 500MW, down from 1.5GW seen in each of the first two months of the year.
Dedicated module assembly capacity expansions announced in March reached 3.7GW, up around 1GW from 2.72GW announced in the previous month. Around 3GW of the total in March can be attributed to three SMSL members, JinkoSolar, Trina Solar and Canadian Solar.
Geographical split
In March, expansions were announced for around nine country locations, all in Asia, compared to eight country locations that included the Netherlands in Europe, Algeria in North Africa and Saudi Arabia in the Middle-East as well as Brazil in South America in February.
Despite a continued geographical footprint expansion, China continues to be the dominant location for solar cell and module expansions. In March, China accounted for 2.8GW of total announced expansions.
In February, 2016 only two announcements (Jinneng Group/SunEdison and GCL Systems) were located in China, though totalled 3.8GW. This compares with only one announcement in January (500MW) being located in China.
However, South East Asia continues to attract further capacity expansion plans. PV Tech has previously highlighted that Malaysia and Thailand have been the dominant locations in the region over the last two years, attracting mainly China and Taiwan-based PV manufacturers.
In the last two years, Malaysia attracted over 2.6GW of new capacity announcements, while Thailand attracted over 2.3GW. South East Asia accounted for just over 1GW of planned expansions in February, 2016 and over 2.8GW in March.
An interesting trend under development that started in 2015 is the emergence of Vietnam, primarily for dedicated module assembly, driven by low costs and an alternative location to Malaysia and Thailand.
Chinese PV manufacturers have been behind the Vietnam push, initiated by Powerway Group (Boviet Solar) in 2013 and more recently plans from Tainergy Tech, Canadian Solar and Trina Solar.
Overall capacity expansion announcements in 2016 are continuing to track significantly higher than in the prior year periods of 2014 and 2015.
However, dedicated solar cell and integrated cell and module plant expansions are running almost at the same comparable levels since roughly the second half of 2015, indicating that after a two year period of mainly dedicated module assembly expansions that carried low capital expenditure, PV manufacturers are having to correct major cell to module imbalances or add cell capacity to retain established imbalances as further module assembly expansions are also planned in 2016.