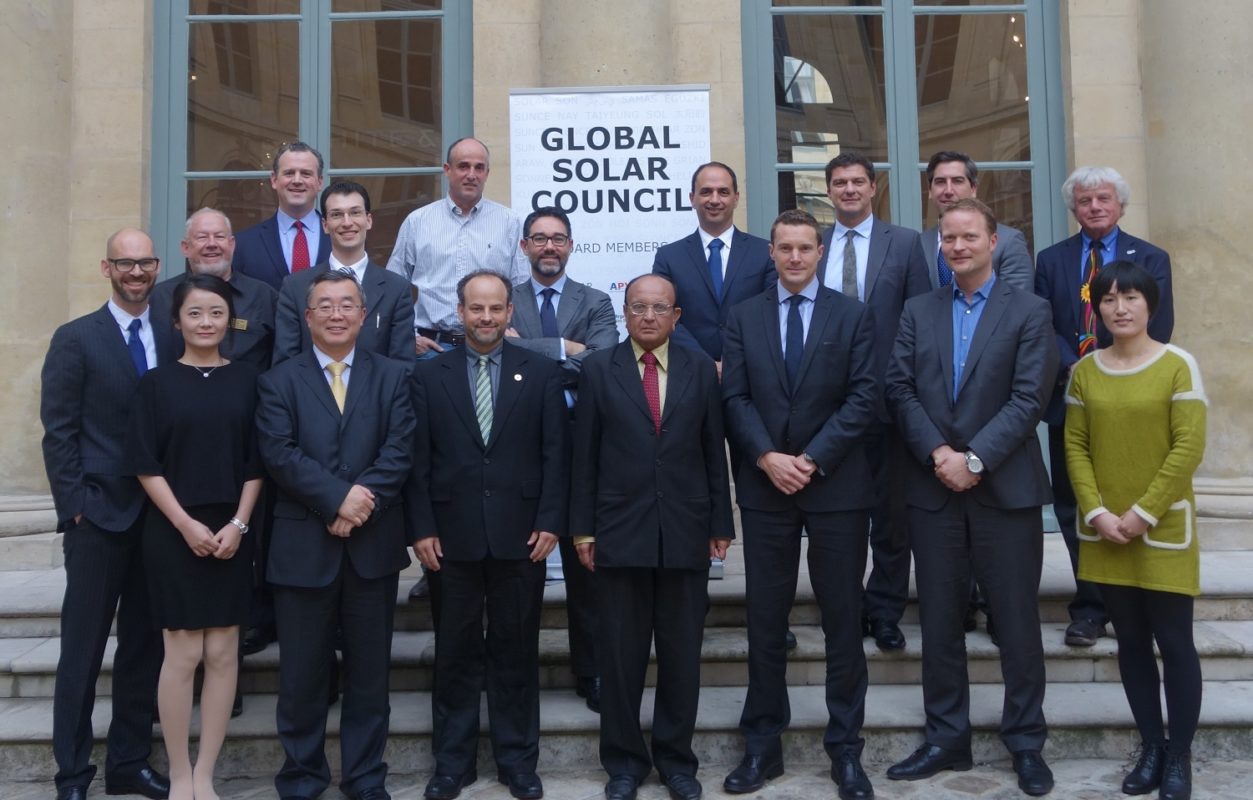 The Global Solar Council (GSC) is progressing in leaps and bounds as the first unified international voice of the solar industry. This week, it announced its founding corporate members and the launch of the Global Council Leadership Forum.
The GSC was founded in 2015 at COP-21 by leading regional and national solar associations in a bid to promote a message of wide-scale solar adoption through key incentives of cooperation, education and training.
The Global Solar Council Leadership Forum will host its first in-person meeting on 23 June at InterSolar Europe in Munich.
Currently comprised of 22 associations collectively who represent more than 40 national associations, the GSC has expanded its international reach with the inclusion of founding corporate members, who are leading solar institutions from across the world. Notable names include ABB, Canadian Solar, E.ON, Enel Green Power, JinkoSolar and SolarEdge.
The newly-hailed GSC Leadership Forum is a 15-member advisory group who engage in monthly calls and in-person meetings with international corporations. The advisory committee aims to design recommendations and align commercial perspectives on specific plans of action.
This new committee fits seamlessly in with the core aims of the GSC, according to John Smirnow, GSC secretary general, who told PV Tech of the Council's key goals: "The first concerns working with international institutions, the second is to promote opening markets and the third is on solar capacity building; strengthening solar supply chains at national level."
As the mission statement of the GSC includes the will to unify the entire solar power sector at an international level, plans for 2016 include the GSC building out its institutional capacity.
"We want to solidify key partnerships with IRENA [the International Renewable Energy Agency], the IEA [International Energy Agency], the IFC [International Finance Corporation] and the UN. We need to get word out about the Solar Council and develop key resources," added Smirnow.
To this end, the GSC is currently working with IRENA to educate on the benefits of the solar industry.
"Initially we want to educate governments, in a supporting/leadership role through IRENA, and really educate on the corporate sourcing of renewable energy. This is really an important issue and I am sure we will hear more on a corporate sourcing initiative. There are currently case studies on corporates who are going to go solar."
As a lobbying institution, the message is more so directed at decision-makers, but the Council does have plans to provide information accessible to the general public through its new website where recommendations can be collated.
In addition, in its international institution capacity, the GSC is presently in discussions with India and their recently-launched International Solar Alliance. The Council plans to partner with them and a sub-group of the UN with a view to create a solar committee. In a similar tone, the GSC is collaborating with governments in emerging markets to further disperse the solar message.
"We really just want to start having a dialogue with governments who are committed to solar," said Smirnow. "At the moment we are organising trade missions. We like to focus on one or two countries, meet with their officials and work on recommendations for growing their solar capacity."