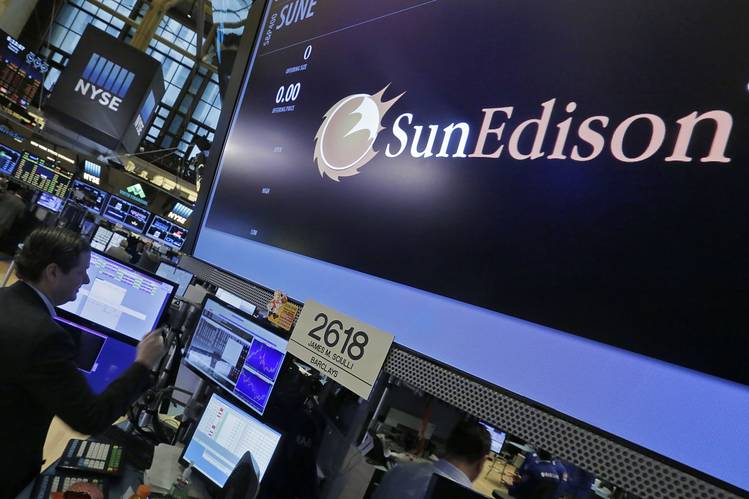 Crippled renewable energy firm SunEdison officially filed for bankruptcy under chapter 11 of the US Bankruptcy Code on Thursday, with GTM analysts Shayle Kann picking out the Vivint Solar acquisition as the key turning point.
SunEdison is one of the largest non-financial companies to resort to chapter 11 in the last decade. With its downfall ultimately being the result of its breakneck growth, a serious of consecutive acquisitions and expansion across six continents left SunEdison saddled with US$16.1 billion in liabilities, according to the filing at the Manhattan federal court. In fact, the two-year, US$3.1 billion acquisition binge forced SunEdison stocks to plummet, investors to flee and debt to sink to levels that now cause this to be the biggest US bankruptcy of the year.
The company recently secured up to US$300 million from its debtor-in-possession discussions, which is still subject to court approval.
In sunnier days, the Maryland-Heights, Missouri-based company began buying up projects in wind, solar and storage, making it the only renewable developer of its kind to have a foot in all three camps. The initial purpose was to meet growth targets required for dividends, and it received positive market reception at first; driving up shares to their peak of US$32.
The road to bankruptcy began with Vivint
However, eventually the buying spree became too much, with Greentech Media Research's Shayle Kann citing the failed Vivint Solar acquisition as the turning point:
"Up until that point they had been on a buying binge but had been supported by equity investors. The investor turning point was clearly at the announcement of the Vivint acquisition which was last July," he said. "You could see that in there; that was when their stock prices started to turn south and never really recovered. So I think that was the obvious turning point in terms of what actually brought SunEdison towards bankruptcy."
As for why Vivint should be viewed as the straw that broke the camel's back, Kann believes it was a combination of "just doing too much all at once" at a time the energy market was coincidentally volatile.
"…SunEdison had recently bought a tonne of assets in the US and internationally, they had gotten into wind, they had been talking about off-grid renewables in Sub-Saharan Africa and the developing world, and then they decided to go and spend US$2 billion to get into residential solar in the US. Doing all that at once was viewed as a bad move strategically and it also increased their debt load which was already high.
"That also just coincided with when oil prices were plummeting and, for no logical reason, but it remains true; solar stocks tend to mimic where oil prices go. There's a perception that if energy prices are down it is bad for everything; there's no actual logical link there but the timings unfortunately coincided."
The future of TerraForm Power and TerraForm Global
The news of the bankruptcy filing also raises new questions for SunEdison's yieldcos, which are already facing problems. TerraForm Power has been sued by two creditors, with TerraForm Global suing parent company SunEdison over renewable energy projects in India. As it is early days, the future of the two yieldcos, which were created to buy wind and solar assets, is relatively uncertain.
"We don't really know [what will happen] yet, partially because this is an unprecedented event, but it was explicit in the announcement made about the filing that the yieldcos were not going to be involved," said Kann. "I think we will have to see what happens in the restructuring: do the bondholders try to drag the yieldcos in, or do they just monteise their stakes in the yieldcos? Do they sell their shares and the yieldcos keep operating independently? At this point there's no real way of knowing."
What is evident is that the filing will not help the yieldcos pursue low cost capital.
"The value proposition [for the yieldcos] is historically ever-increasing pipeline growth. And if they don't have a sponsor that is building as much as it would have been otherwise, then it is harder to find a pipeline, and harder to find growth as a result."
A new model of pursuit for SunEdison?
The immediate future of the SunEdison course of action is equally elusive, as the restructuring process is inherently one that is hard to predict. In the same 'overly optimistic' culture that arguably drove SunEdison into the ground, the company is contending that they intend to continue operations. Present intent of the company is to come out the other side of restructuring still having some form of a development business and assets which could be used to continue operations. The ability to actually do, however, is obviously contingent on what happens with the company's debtors.
"They will be a company that will have to be less acquisitive for a time; and focus on building out their own assets rather than just purchasing big portfolios. I suspect they won't be in all of the businesses that they are currently in and will have to focus back in on [their] core business. Beyond that, it is hard to say exactly what SunEdison will look like in two years," Kann added.
SEIA makes its case for post SunEdison
A statement by Dan Whitten, Vice President of Communications for the Solar Energy Industries Association on the bankruptcy filing by SunEdison notes the lack of impact to the overall market demand for solar.
"This is a highly competitive industry with a massive upside. As with other rapidly growing and successful industries, not every company in the solar market is going to stand the test of time. SunEdison is just one company and today's development does not reflect a trend of the broader industry. The solar industry is growing at warp speed. It took us 40 years to get to 1 million installations (which we have just done) and it will take us just two more years to hit 2 million and that, I think, illustrates the direction of the solar industry," noted Whitten.