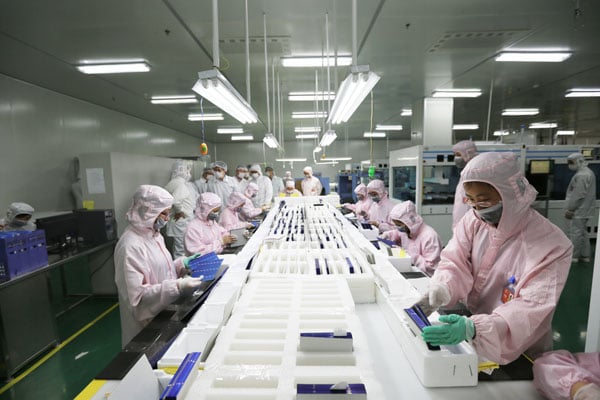 Major metallization paste producer Heraeus Photovoltaics has extended its supplier status with major China-based integrated PV module manufacturer, Tongwei Solar to collaborate on next-generation high-efficiency wafer and solar technologies.
A key part of the collaboration revolves around joint R&D of front side silver paste, with the goal of setting the industry standard for high-efficiency products.
Xie Yi, president of Tongwei Solar said, "As one of our key partners, Heraeus Photovoltaics, accounts for major share of our metallization paste supply and helps us achieve efficient performance in terms of multi-crystalline silicon cells. As the market requirements on production processes are becoming higher and higher and the technology roadmap has been constantly updated, we are very happy to partner with Heraeus Photovoltaics to embrace the future and new technologies, and to build longer, closer and more diverse partnership."
Tongwei Solar also has aggressive plans to expand capacity. Current solar cell capacity in Hefei, China stands at around 2.6GW with Phase 2 plans reaching around 5GW in the next 3 to 5 years. Overall solar cell capacity at Tongwei is expected to reach around 10GW by 2020.
Andreas Liebheit, President of Heraeus Photovoltaics added, "Heraeus and Tongwei Solar have cooperated for years. By working even closer and in a more focused manner, we believe we can set a new benchmark for the PV industry."
Heraeus has been active in partnering with a number of emerging players in China, including Jolywood. Dedicated N-type monocrystalline module manufacturer Jolywood (Taizhou) Solar Technology Co. Ltd (Jolywood) recently collaborated with TUV NORD and the National Center of Supervision and Inspection on Solar Photovoltaic Product Quality (CPVT) to establish a preliminary testing standard for bifacial solar modules.
Heraeus also plans to collaborate with Tongwie on black silicon, PERC technology and other high-efficiency technologies.