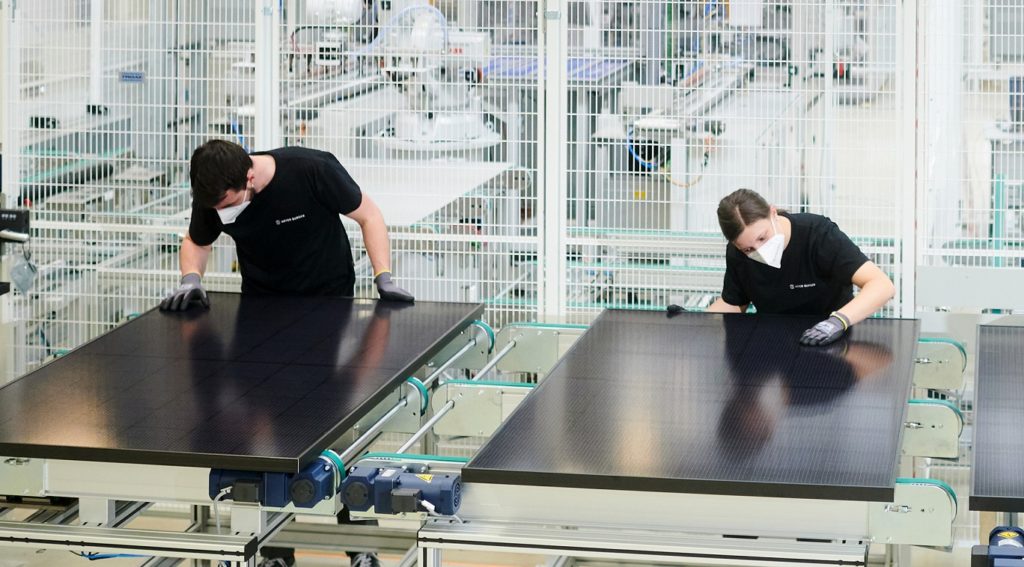 Solar deployment throughout Europe must soar in the coming years if the continent is to stand any chance of meeting current decarbonisation targets, but if that is to happen in a risk-free, sustainable and cost-competitive environment, there must be a solar manufacturing renaissance throughout Europe.
That notion may not be particularly surprising, but it is one that is gathering serious momentum, and last week's Intersolar Europe exhibition saw support for Europe's PV manufacturing ambitions continue to build.
This article requires
Premium Subscription
Basic (FREE) Subscription
Unlock unlimited access for 12 whole months of distinctive global analysis
Photovoltaics International is now included.
Regular insight and analysis of the industry's biggest developments

In-depth interviews with the industry's leading figures

Unlimited digital access to the PV Tech Power journal catalogue

Unlimited digital access to the Photovoltaics International journal catalogue

Access to more than 1,000 technical papers

Discounts on Solar Media's portfolio of events, in-person and virtual
Or continue reading this article for free
Chairing SolarPower Europe's (SPE) high-level industry forum during last week's trade show, Walburga Hemetsberger, the trade body's chief executive, stated that an average of 58GW of solar PV must be installed each year between now and 2030 if the continent is to reach its aim of deriving 45% of power from renewables by the end of the decade. Given that last year's deployment stood at a comparatively miserly 20GW, it's clear that a remarkable acceleration is required.
The wheels are, thankfully, in motion, but for that acceleration to happen in earnest it must be at least partly driven by a surge in domestically manufactured content that serves to de-risk and diversify the current reliance on module imports from China and, ultimately, creates a more sustainable industry.
For this reason, SPE has an ambition of establishing a 20GW end-to-end solar manufacturing value chain within Europe by 2025. As was demonstrated clearly at Intersolar Europe 2021, the value chain will not be without its contenders, many of which – including Meyer Burger and Solarwatt, whose representatives spoke at a panel debate on the topic – have gigawatt-scale expansion plans. But there do remain concerns about the European industry's ability to develop a complete solar manufacturing ecosystem of sufficient scale at the requisite speed. Indeed, while Hemetsberger said recent announcements had put European manufacturing "on the map", Mortiz Borgmann, managing director at Meyer Burger (Industries), said Europe's current manufacturing capacity was a "drop in the ocean" compared to what's available elsewhere.
So what exactly is required for Europe's solar manufacturing industry to realise a much-needed renaissance?
A full value chain at scale
"We need to start somewhere… we all need to find this [solution] together," Borgmann says, indicating that while the 20GW by 2025 target is something to aim for, whether or not the industry meets it is relatively inconsequential to Europe's solar manufacturing fortunes. What will be vital however is the development of facilities aside from those assembling modules, with a real need to develop polysilicon, ingoting and wafering and cell fabrication facilities within Europe, as well as other pivotal material supply chains such as solar-grade glass, backsheets, polymers, aluminium frames and everything else in between.
"I think if you really want a 100% 'Made in Europe' module, this is an enormous effort. You need frames, glass, cells, polysilicon… there's still a lot to do, and it's really very important that we get this at an industrial scale, otherwise we're still dependent on Chinese suppliers," said Armin Froitzheim, chief technology officer at Solarwatt, adding his belief that it was of strategical importance for Europe's industry to "get back on track, and not only in certain parts of the value chain". Goran Bye, CEO at Norway-based monocrystalline wafer provider Norwegian Crystals, concurred, adding: "We typically look at the value chain from polysilicon to modules to solar farms… but in reality, there are materials, consumable and equipment, so it's really a fluid ecosystem."
This end-to-end value chain must also come forward at scale sufficient enough to be competitive with other suppliers, learning from Chinese counterparts whose own expansion plans have grown from single-figure-gigawatts to 10GW+ in the space of two short years. "We need to be very appreciative of the fact that [Chinese manufacturers] knew how to get the price down. They knew how to get the custom [and] they have been extremely good in building large scale operations and running large scale operations. And without the Chinese PV industry, PV would not be where it is today," Bye said.
But it's all well and good having upstream manufacturers build in Europe. For European manufacturing to be truly successful, developers must be willing to buy European. Thankfully, the signs are that this is very much on the agenda.
A 'perfect storm of demand'
With an average of 58GW needed to be installed in Europe between now and 2030, and with other major solar nations chasing similarly-sizeable targets, it's likely there will be no shortage of pure demand for PV cells and modules in the next decade. Europe's solar manufacturing scene has been dormant for some time now, however, and in that time China's majors have established themselves as the go-to source of solar equipment. Disrupting that market dominance from a standing start will be a daunting task.
This could be aided by the materialisation of a new desire to buy 'Made in Europe' components, whether it be out of a duty to support Europe's solar manufacturing scene, to diversify supply chains or, simply put, because European modules have a competitive edge in some way.
"My sense is that there's a very large demand for components being made in Europe as a sort of ingredient to the mix," Meyer Burger's Borgmann said, indicating that there's an "increasing awareness" of the value in having a manufacturing ecosystem on your doorstep, coupled with a growing "unease" with the industry's current dependency on Chinese suppliers.
This has been timely in its emergence just as the cost of modules from China has soared, rising from a price of around US$0.22c/W at the start of the year to north of US$0.30c/W this week. With polysilicon and other material costs set to remain elevated for the short- to mid-term, and shipping and logistics costs not expected to fall anytime soon either, there is a growing consensus that market conditions make for a "perfect storm" for 'Made in Europe' demand, Bye said.
That demand will remain contingent on pricing and, ultimately, Europe's industry operating on a competitive basis with manufacturers based elsewhere.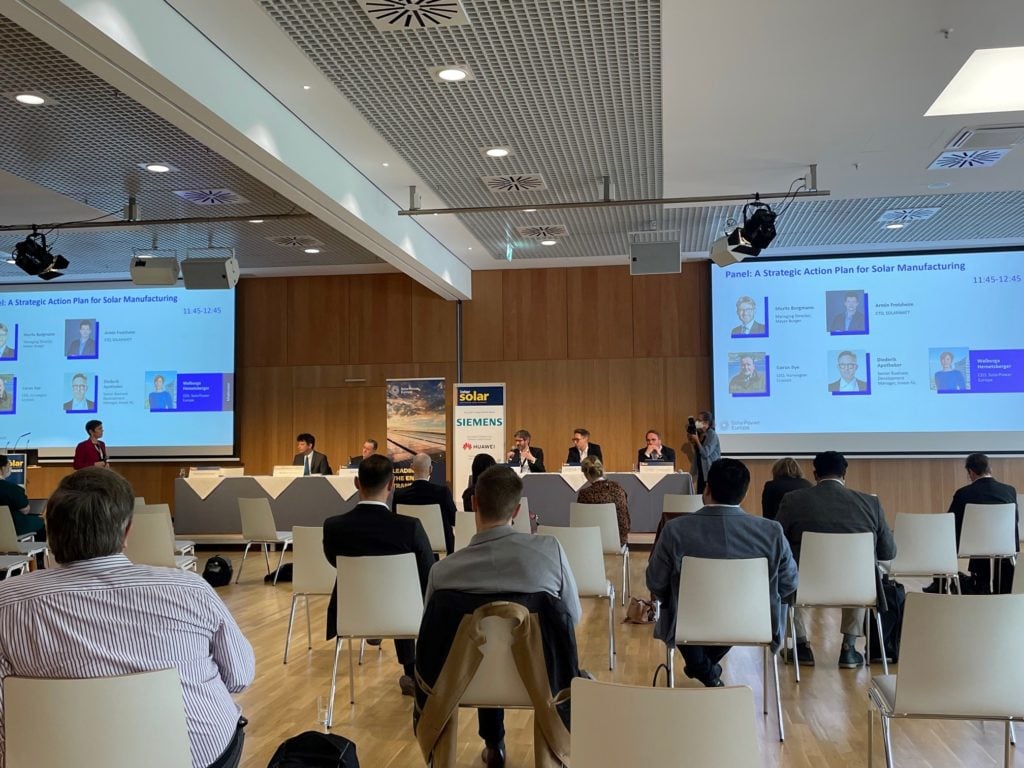 Competitiveness is key
Borgmann said that while Meyer Burger's customers have expressed a willingness to pay a premium for European-made modules, the equipment maker-turned-module manufacturer is not "asking for a crazy price" compared to what's available elsewhere. The desire is for the company to be competitive on a PLC or LCOE basis, something it stresses it can deliver. While offtakers may appreciate stories of sustainable content, security of supply and the support of local jobs, pricing will remain critical.
Scale will be critical to this, of course, but Bye also suggested that Europe's manufacturing scene must remain dedicated to existing, proven and demonstrably economic technologies, which is to say mono PERC cells and modules, at least in the short term. "I really think that if you want to be competitive in Europe, you can just be dedicated to monocrystalline silicon technologies because this is already at an economic scale, [and] in Europe you can produce solar panels because the cost of electricity, from three to one cents per kilowatt hour, is absolutely competitive," Bye said, noting the availability of relatively cheap power in certain European jurisdictions.
Where Europe may fall down is the availability of finance, and in particular for areas of the ecosystem that are perhaps more risky, such as in frames or other components.
Europe's finance community must get on board
Earlier this year, Meyer Burger secured a €125 million (US$142 million) syndicated loan that is backed by a loan guarantee from Germany's federal government which it is using to help finance its manufacturing facilities. While the financing was well received, Borgmann said it was a "hell of a lot of work to actually convince everybody that this is the right thing to do," and this was supporting an investment which is deemed far less risky than other components of the value chain. Bye concurred, adding that financing Norwegian Crystals' ingoting and wafering facilities is no walk in the park.
Borgmann adds that the intensive work required to secure investments in solar manufacturing, as opposed to downstream solar deployment, which continues to attract investors aplenty, is a potentially make-or-break factor for Europe's hopes of a solar renaissance. "We really need policymakers to understand that now's the time to really de-risk and help de-risk these investments and make the big, big, big investments that are necessary," he said.
Bloc policy will play a crucial role in determining the availability of finance for solar manufacturing, as Diederik Apotheker, senior business developer at Invest.nl, a funder established specifically to arrange financing packages for sectors deemed too risky elsewhere. Apotheker noted that while investors do subscribe to ESG criteria which would facilitate investments into renewables manufacturing, the changing nature of EU taxonomies, be it over the carbon footprint of solar modules, commercial clarity or employment, financing requirements become stringent. But the European Commission and European Investment Bank could facilitate greater swathes of investment flowing into European manufacturing by expanding its range of guaranteed products – similar to how the German Government guaranteed Meyer Burger's financing.
Of course, policy could also play a far more hands on role in determining the success of European manufacturing in the shape of tariffs or subsidies. But this is an area which would appear to split the industry.
Tariffs and a sense of de ja vu
The mere mention of tariffs relating to solar manufacturing in Europe invokes memories of the minimum import price, unintended consequences and legal wrangling which left the industry torn over the best way to proceed on contentious issues such as anti-dumping. In some respects, it's very much a case of plus ça change, with talk over potential tariffs or subsidies continuing today.
But the discussions are more nuanced now, with manufacturers present at the high-level industry forum keen to distance themselves from the punitive tariffs of the past. Implementing tariffs to artificially inflate the price of modules on the market today runs the risk of breeding a European industry that becomes reliant on those market inputs, one that is unsustainable and, simply put, uncompetitive.
"I don't like tariffs. Tariffs are typically, or could become, some sort of intubation so that we don't get the competitive tension that we need as an industry to be competitive. I cannot repeat that enough," Goran Bye said. Likewise, Solarwatt's Armin Froitzheim said his company were no supporters of tariffs in the sense that "tariffs are always things that… once you're on it, it's very nice, but it's basically impossible to get off and makes you unsustainable in the long-term".
The industry does, however, need to be realistic and reactive to policies being implemented elsewhere in the world, such as India's production linked incentive (PLI) or US Senator Jon Ossoff's Solar Energy Manufacturing for America Act, which could be included within the Biden administration's budget reconciliation bill any day now. Bye described India's move as a "very pragmatic approach" that "seems to be working". Indeed, last month it was revealed the PLI has attracted around 55GW of bids. Initiatives in the US, which extend as far as the withhold release order on polysilicon supplies and a collection of trade tariffs on Chinese imports, are more informed by national security and therefore motivated differently. Both measures, however, are designed to incentivise domestic manufacturing in ways which Europe may have to countenance in one way or another.
"There needs to be different policies, and it's very much about policymakers playing this role as a catalyser to reach that critical scale. We need to get there, and for that, we need the initial support," Froitzheim said.
The critical factor is not in rewarding, subsidies or even incentivising manufacturing, but in using policy to create a level playing field. Once markets compete on something resembling an even keel, there is no reason to suggest solar manufacturing in Europe cannot be competitive, the panel concluded.
Alone in this together
There will, evidently, be clear roles for policy, financing, demand and scale manufacturing to play in encouraging Europe's solar manufacturing chain to rise from the rubble – almost literally in Meyer Burger's sense, given how they will occupy facilities formerly belonging to SolarWorld – and restoring a complete value chain on the continent.
But one of the most important and perhaps oft-forgotten factors is for the value chain to rise up together as one collaborative effort. "We all need to work together as an industry to build this ecosystem… It goes beyond the immediate industry and goes into the glass industry, to the polymers," Borgmann said, echoing similar notions expressed by the panel about how ensuring a full value chain develops in Europe could also serve to de-risk parts of the value chain by way of ensuring customers.
It's also worth noting at this point that this sense of collaboration should extend beyond Europe as well. Borgmann said solar manufacturing should not be considered as a "purely European initiative" and instead one that should encourage more collaboration with markets such as the US, where his company is plotting its next expansion. "We are probably even stronger if we tackle this together," he said.
Bye, meanwhile, suggested that while the goal of Europe's solar manufacturing initiative is to reduce reliance on China, it should not come at a cost of shutting that market out. "We are confident that we still have to source materials and coexist with a Chinese supplier," Bye said, referring back to potential consequences of tariffs.
Europe must, therefore, navigate a complex landscape of policy, trade, financing and closer collaboration in order to transform its solar manufacturing scene from one capable of producing a "drop in the ocean" to one with the potential of triggering a tidal wave of module supply. It has the ingredients, the technological knowhow and the eagerness to get it done.
All that's left now is for action to match the rhetoric.