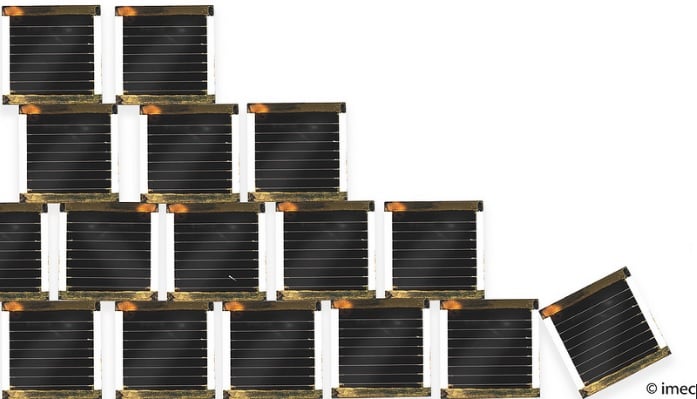 Nanoelectronics R&D organisation imec has been appointed as the lead to a three-year €5 million EU funded R&D program on perovskite solar cells that brings together a number of European research and commercial partners.
The "ESPResSo" (Efficient Structures and Processes for Reliable Perovskite Solar Modules) consortium includes well-known research organisations conducting perovskite material developments for solar cell applications, such as Ecole Polytechnique Federale de Lausanne (EPFL), Switzerland and Consiglio Nazionale delle Ricerche (CNR), Italy; perovskite solar cell scale-up and industrialization members imec, Belgium, Universita degli Studi di Roma Tor Vergata (UNITOV-CHOSE), Italy and Fraunhofer Institute for Solar Energy Systems ISE, Germany; and experts in sustainability and renewable energies CSGI (Consorzio Interuniversitario per lo Sviluppo dei Sistemi a Grande Interfase), Italy and University of Cyprus.

Commercial materials partners include Dycotec Materials, Dyenamo AB, and Corning SAS as well equipment manufacturer, M-Solv.
Perovskite solar cell technology developers included in the consortium are Saule Technologies, BIPV developer, Onyx Solar Energy.
However, notable for its absence is Oxford Photovoltaics based in the UK, which had recently moved to new R&D premises and has a pilot production facility in Germany.
The company was recently awarded €15 million in funding from the European Investment Bank (EIB) to support the transfer of its perovskite on silicon tandem solar cell technology from lab to fab commercialisation.
The ESPResSo consortium noted that it would focus R&D on alternative cost-effective materials, novel cell concepts and architectures, and advanced processing know-how and equipment to overcome the current numerous limitations of developing commercial perovskite technology.
The consortium said that it aimed to bring perovskite cell performance close to its theoretical limit by demonstrating cell efficiency of more than 24% (on 1cm²) and less than 10% degradation in cell efficiency.

This will be measured generally accepted standard test (IEC) conditions of conventional silicon solar cells, such as thermal stress at 85°C, 85% RH for over 1000hrs.
The consortium will also work on commercial scale cells and modules that are expected to use slot-die coating and laser processing that are intended to enable modules with more than 17% efficiency showing long-term (>20 years) reliable performance as deduced from IEC-compliant test conditions.
The ESPResSo team also expected to demonstrate integrating modules in façade elements demonstrating a levelised cost of electricity (LCoE) of ≤ 0.05€/kWh.