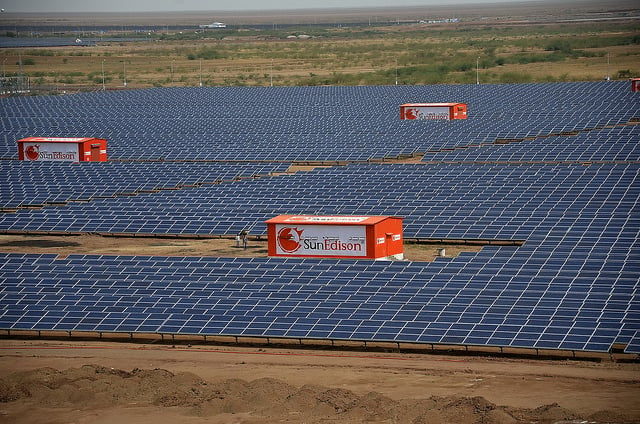 India's Ministry of New and Renewable Energy (MNRE) has now approved a total of 33 solar parks in 21 states with a total capacity of 19.9GW.
This is an increase of six from the 27 solar parks that had been approved at the end of last year with an aggregate capacity of 18.4GW.
At a meeting of the Parliamentary Consultative Committee of the MNRE and Ministry of Power, Ashvini Kumar, managing director, Solar Energy Corporation of India (SECI), said SECI has been appointed as the implementing agency. SECI has already released INR549 million (US$8 million) to respective state development agencies out of the INR3.74 billion that was sanctioned.
India has now come extremely close to achieving the original aims of the ultra-mega solar park development plan which targeted 20GW capacity.
Bids for solar park capacity in the last quarter has seen solar tariffs drop dramatically to record lows. This is partly due to solar parks removing the cost of land acquisition and solving evacuation issues that can be major challenges for non-solar park plants.
Last week speaking at an event held by the UK's Solar Trade Association (STA), 'British Opportunities in International Solar Markets: India Focus', Amit Kumar, partner at PricewaterhouseCoopers India, said that most bidding in India over the next two years will be for solar parks.
However, he also said: "Those who are backed by foreign funds – they are winning all the bids – which essentially means that they are having access to cheaper finance, [lower debt finance].
"These are long-term funds with a lower rate of interest than domestic banks and that is what is bringing down the cost of the plants. Essentially solar is no longer a technical game. It is a pure financial game."
He added: "We are not sure whether more solar parks can come up. That depends on the interest of participating states and the availability of the land, because for one solar park the minimum requirement is 500MW.
Kumar said that once all the solar park capacity is filled up, investors in independent solar plants will have to identify the land themselves.
Kumar added: "That is a challenge for foreign investors, which means that [they] need to plan for the next one or two years."
At the STA event, Surinder Raina, general manager, renewable energy, of India's state owned utility NTPC, which has tendered much of the solar park capacity to date, said that the solar park scheme will go on improving. There may be shortcomings at present, but the Government of India will continue to invest in the land and connectivity of the solar parks, he said.
Raina also cited the benefits of developers having to deal with NTPC as the procurer rather than the heavily debt-laden distribution companies of the various Indian states.
NTPC is also currently taking steps to reduce emissions in air and water and also to increase efficiency of plants related to the solar parks plan.
At the Parliamentary Consultative Committee meeting, energy minister Piyush Goyal said India surpassed the milestone of 5GW solar in January this year and would achieve its target of 18GW by the end of next year.
Last year MNRE joint secretary Tarun Kapoor also announced that India would be introducing the new concept of 'Solar Zones', which will be even larger than the mega solar parks.