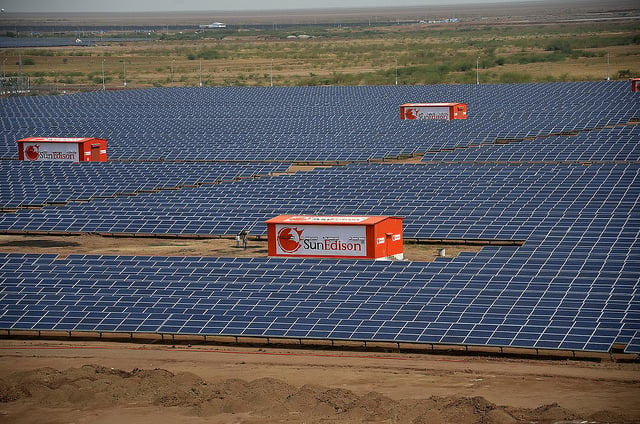 India is expected to approve a doubling of its solar parks policy to reach 40GW capacity by 2020 in the next two months, according to key figure at the Ministry of New and Renewable Energy (MNRE).
The minstry had last approved a total of 33 solar parks in 21 states with a total capacity of 19.9GW in February.
Reuters reported new comments from Upendra Tripathy, MNRE secretary, who said: "We are adding 25 more solar parks to create a buffer for exigencies like SunEdison. Solar parks are a hit with companies. A lot of them are interested."
Bankrupt SunEdison, which had a large pipeline of PV projects in India, including 500MW at a tariff of INR 4.63/kWh in Andhra Pradesh, has caused some concerns for the industry although major companies including Indian conglomerate Adani and Finland-based power giant Fortum have been earmarked as potential buyers of SunEdison's India assets. It remains to be seen if any firm is willing to take on the Andhra Pradesh capacity at such a low tariff.
The government assists PV developers with the solar parks policy by identifying and acquiring all the necessary land as well as setting up transmission lines for a specific off-taker.
When asked whether there is an issue with some solar parks being more expensive for developers than when not using solar parks, Jasmeet Khurana, associate director, consulting, Bridge to India, told PV Tech: "There is a trade-off. When the government does it, it will be slightly more expensive, but then the risk is on the government and not on the developers and then they price it accordingly.
"In fact solar park bids have actually been at lower tariffs than non-solar park bids in some cases even though solar park is a bit more expensive. […] The government thinks it is a huge success and I don't think they will be working at the pricing per se."
Last month the World Bank approved its largest ever solar loan of US$1 billion set to aid the Indian sector, of which US$200 million will be used to support internal infrastructure in solar parks and another loan amount to be used by state-owned transmission and utilities firm Power Grid Corporation to help support transmission from solar parks.