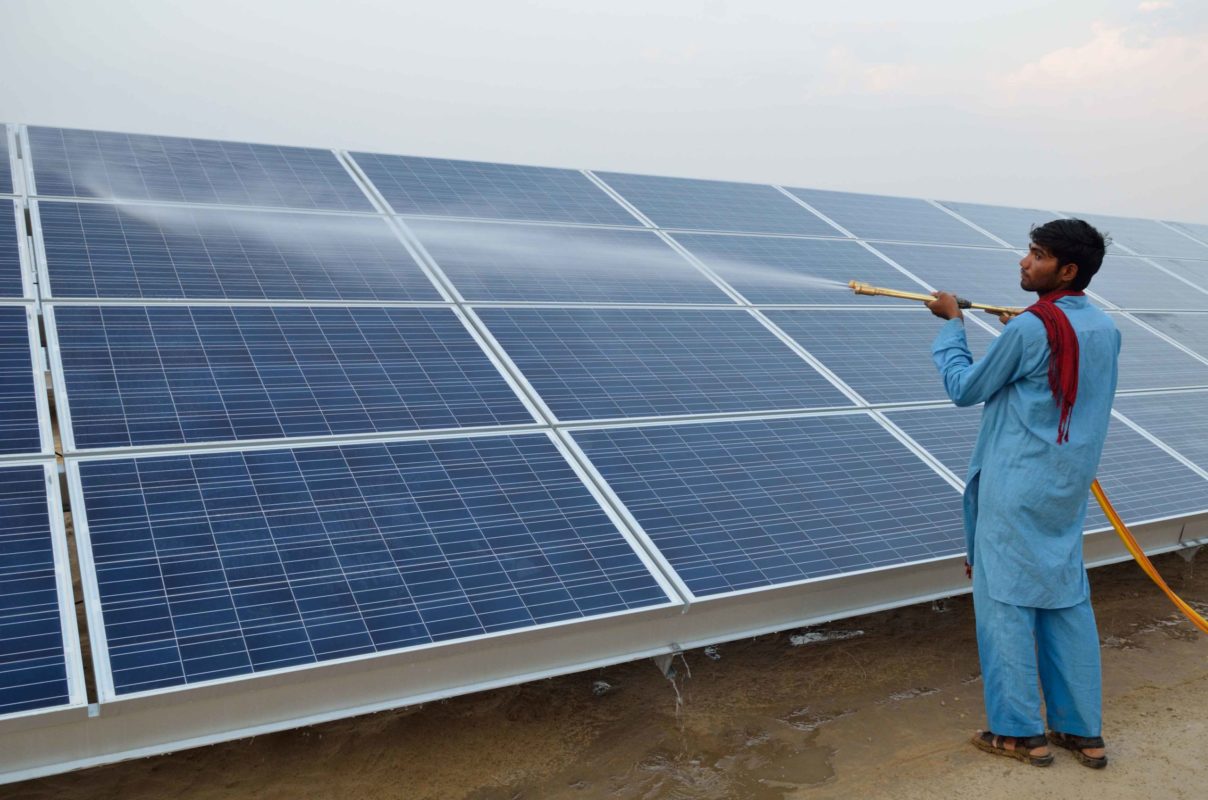 India's installed capacity of solar PV has surpassed the major milestone of 10GW, according to consultancy firm Bridge to India.
The country is expected to add a total of 5.1GW in 2016, up 137% from last year. Moreover, Bridge to India forecasts additions of between 8-10GW every year from 2017 onwards, which would account for a significant chunk of the ambitious 100GW by 2022 target. Next year, India is also expected to become the third biggest solar market worldwide behind China and the US.
Bridge to India cited strong policy support since the BJP government came to power in 2014 as well as continuously decreasing costs of solar as the key drivers for the market picking up rapidly in the last two years. Indeed, aggressive competition and interest from foreign developers has seen Indian solar tariffs plummeting for the last 18 months. Big names including Softbank, Fortum, CLP, Adani, Tata Power, ReNew and First Solar are all active in the market.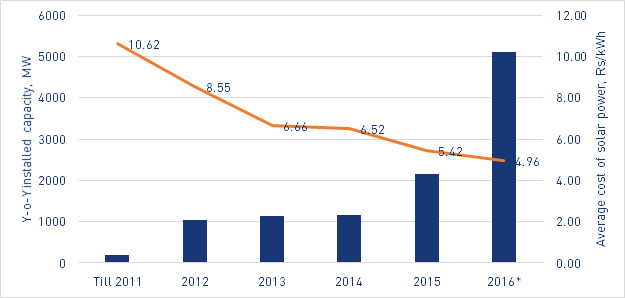 Vinay Rustagi, managing director, Bridge to India, said: "Many people are going to ask the obvious question – if we have taken more than five years to achieve 10GW, can we reach 100GW in another five years? It is a very steep target in our view. But rather than quibble about the target, the important point is to acknowledge the transformational economic, environmental and social potential of solar technology and to create a conducive environment for its growth."
India's solar deployment is highly concentrated with 80% of installations in just seven states as of mid-November. Tamil Nadu is the state with the highest deployment, followed by Rajasthan, Andhra Pradesh, Gujarat, Telangana, Madhya Pradesh and Punjab. Some states with huge energy demands as Maharashtra and Uttar Pradesh are well behind.
After a major roll-out of tenders, utility-scale dominates with 85% of the market share. While rooftop accounts for just 10%, having recently surpassed 1GW, Bridge to India said this segment has been growing at "a very healthy" CAGR of 98% from 2011 to 2015. Rooftop will also be boosted by improved net metering and subsidy handouts. Solar for the C&I sector has also reached grid parity in most states.
However, the off-grid segment, an essential part of Narednra Modi's plan to electrify every village in India, has reached only 360MW and is expected to perform "below potential".
Bridge to India cited early signs of success from Ujwal DISCOM Assurance Yojana (UDAY) scheme, in reducing the deficit per unit of electricity for India's weak distribution companies. So far, at least eight of the 17 states have joined the UDAY scheme including the worst performing states such as Haryana and Uttar Pradesh. Alleviating the vast debts of these off-takers is a critical concern for the PV sector.
Energy and mines minister Piyush Goyal recently claimed that the Discoms of Rajasthan, which were the highest loss-making in all of India, could be the first to turn around a profit in 2017.
The solar park scheme with an original target of 20GW is also set to be doubled to 4OGW after huge interest from the private sector, because the parks remove the challenges of land acquisition and power evacuation for developers.
Meanwhile, eight Green Energy Corridors are being constructed, with financial assistance from German development bank KFW, in order to transmit power from solar rich states to areas with high power demands. Yesterday Power Grid Corporation of India (PGCIL) sought US$1 billion loan from the Asian Development Bank (ADB) to help finance parts of these corridors.
Solar is clearly booming in India and a recent report from Bloomberg New Energy Finance also described Solar PV as "King of Indian Renewables".