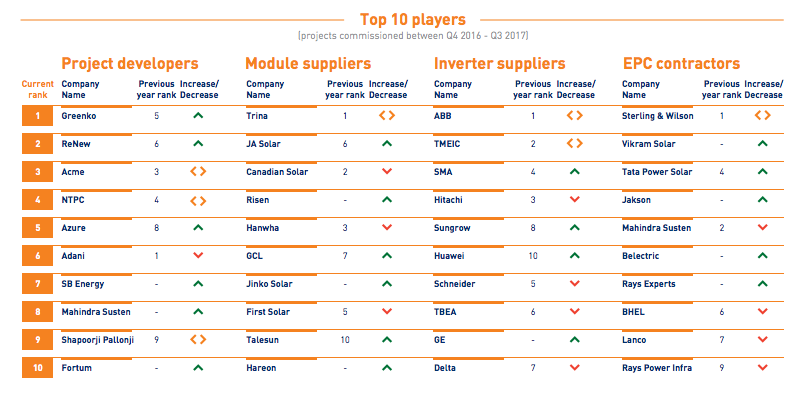 While India will hit 20GW of installed solar PV capacity this year, its annual deployment is expected to slow down to 5GW, according to consultancy firm Bridge to India, which released its latest 'India Solar Map 2017' today.
India's installed PV capacity grew by more than 84% in the last four quarters, with 7.5GW of additions in this 12-month period. Of this, 57% has come from three southern states – Telangana, Karnataka and Andhra Pradesh.
Telangana, with 2,792MW of commissioned capacity, has now pushed into the number one spot for states, trailed by Rajasthan, Andhra Pradesh and Tamil Nadu.
Greenko and ReNew Power have remained atop the developers chart in terms of installed capacity, while Acme is in third place. Bridge to India's Solar Map noted that seven developers now have a portfolio greater than 1GW in India, including commissioned and pipeline projects.
Vinay Rustagi, managing director, Bridge to India, said: "It is a curious time for [the] solar sector in India. We are coming off a period of exceptional growth of over 80% over last three years.
"But the future looks more subdued – demand for solar power is slowing down when tariffs have fallen to a low of INR2.42/kWh [US$0.038] level making solar power the cheapest new source of power in India. Utility-scale solar capacity addition is expected to slow down to about 5GW per annum. Consequently, we expect investors to shift their attention to the secondary market, where some large M&A transactions are in the pipeline."
There are another 10GW of solar that have been allocated and are at various stages of development. More than half of the pipeline (62%) is earmarked for four southern states – Karnataka, Tamil Nadu, Andhra Pradesh and Telangana.
The top three module suppliers are all based in China, led by Trina Solar (16.6%), JA Solar (9.2%) and Canadian Solar (8.7%). Waaree was the largest domestic manufacturer, followed by Vikram Solar and Tata Power Solar. Ever so slightly turning the tables, there has been a marginal increase in the market share of Indian manufacturers, but China still dominates supply with more than 80% market share. The first major turbulence felt by the Indian PV sector came with reports recently of Chinese suppliers reneging on contracts in India.
For inverters, ABB topped suppliers with 26.7% market share, followed by TMEIC and SMA, each with around a 15% share.