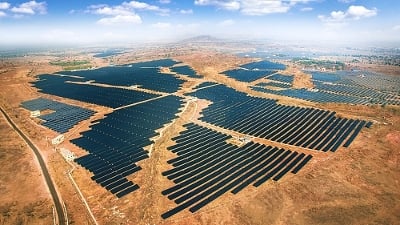 India will install an estimated 8.8GW of solar in 2017 according to the consultancy and market research firm Bridge to India.
The number is lower than the 9.8GW predicted by Mercom last month. Despite the lower figure, it would still be sufficient to see India replace Japan as the third-largest source of PV end-demand in 2017.
According to the latest version of the Bridge to India Solar Handbook, this represents growth of 76% compared to 2016.
"[The] Indian solar market has grown by an average of 72% in the last three years and is now worth approximately 8-9GW per annum," said Vinay Rustagi, managing director, Bridge to India. "Growing market size and strong government commitment to the sector have attracted the world's leading private sector players as well as resulted in lower tariffs for consumers. As the sector matures, however, there is a formidable new challenge arising in the form of how to absorb rising share of intermittent energy into the grid," he added.
While the report expects 56GW of new additions in the next five years, its accompanying CEO survey shed some light on the primary concerns within the industry.
"The industry is more optimistic about growth prospects but at the same time more circumspect about their individual business outlook because of growing competition and squeezed profitability," explained Rustagi. "There is more optimism about [the] rooftop market with expectation of 12GW (CAGR 41%) to be added by 2021. The biggest concern for the sector is grid integration of growing renewable capacity followed by poor financial condition of DISCOMs, notwithstanding the progress made on UDAY reform package. Also, about 45% of the respondents feel that poor net metering implementation remains a major challenge for growth of the rooftop solar market."