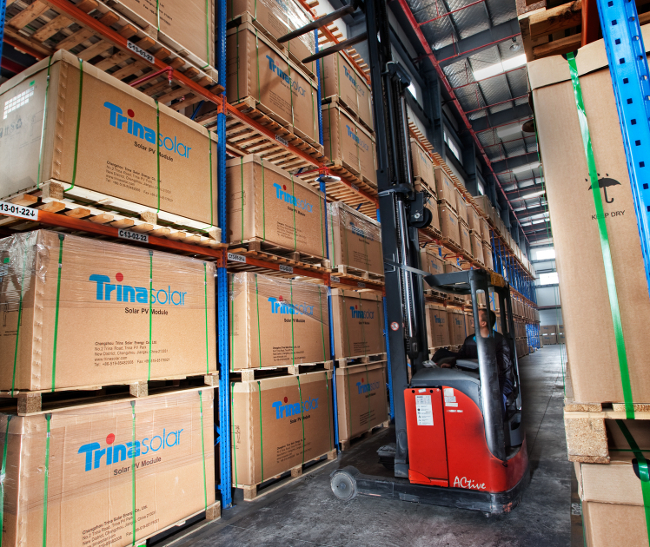 UPDATED: India's Directorate General of Trade Remedies (DGTR) has recommended imposition of a safeguard duty on imports of solar cells from China and Malaysia over a two-year period, starting at 25% in year one.
In year two of the duty, it would be reduced to 20% for the first six months and to 15% in the final six month period. It would also apply to imported cells that are already assembled in modules or panels.
DGTR said the aim is to "prevent complete erosion" of India's solar manufacturing base.
A source from one of the petitioners told PV Tech that there are two more steps to be taken for the recommendations to become law: "The Standing Committee of Safeguards will meet, in which there are several representatives of the government, and they will then decide on this recommendation. Once their decision is taken then they will send the necessary paperwork to the Ministry of Finance who will issue the customs notification for making it law."
Vinay Rustagi, managing director at consultancy firm Bridge to India, told PV Tech that the process has been going on for a very long time and the expectation is that a final decision would be announced very soon unless someone again appeals against the decision (as happened when Shapoorji Pallonji took the recommendation of a provisional safeguard duty to the Chennai High Court earlier this year).
SEZ confusion persists
Ever since the original safeguard duty recommendation, there has been uncertainty over whether product from Indian manufacturers whose facilities are in Special Economic Zones (SEZs) will be subject to the safeguard duty.
Bridge to India's latest release stated: "There is no relief provided to SEZ-based units including Mundra, Vikram and Waaree. These 'domestic manufacturers' would be subject to duty when they sell modules in the domestic market unless they are given a special dispensation by the government. But the domestic manufacturing industry excluding SEZ-based players can barely meet 5% of total domestic demand."
However, Neeraj Chhabra, a research fellow at DGTR, Ministry of Commerce, told PV Tech that in this latest recommendation, SEZ units will be exempt from the safeguard duty as long as the solar cell was made in India.
Rakesh Tiwari, CFO, Mundra Solar, a unit of Indian conglomerate Adani, told PV Tech that the recommendation looks to the Customs Tariff Act for guidance. The Act guides on the movement from SEZ to parts of India that are outside SEZ's, also known as Domestic Tariff Areas (DTA).
With this in mind, Tiwari said that as the safeguard duty is imposed on solar cells, if solar cells are imported to an SEZ and then converted to modules, and then sold into DTA, they will be subject to the safeguard duty on the cell component. Whereas if wafers are imported to the SEZ and then converted to cells and then to modules, they will not be subject to the safeguard duty.
Indian firms Helios, Websol and Mundra all import wafers and manufacture solar cells in SEZs.
However, PV Tech has received various commentaries that suggest some parties also have different understandings of the latest issuance. Another Indian firm, Vikram Solar, which assembles modules in an SEZ, said there was still ambiguity in the matter.
Gyanesh Chaudhary, MD and CEO, Vikram Solar, supplied the following statement to PV Tech: "It should be noted that if safeguard duty is imposed without exempting SEZ to DTA removal, it will affect the domestic manufacturing industry adversely as 3,825MW out of 8,898MW of installed capacity of solar modules is based in SEZ and 2,000MW out of 3,164MW of installed capacity for solar cells is based in SEZ.
"If Government wants to impose safeguard duty, it should exempt SEZ to DTA clearance of solar cells and modules from the ambit of SGD, otherwise it will lead to counterproductive results and destroy the domestic manufacturing industry which is already in bad shape.
"Or otherwise Government of India should come out with a specific exemption by restricting safeguard duties imposition to input costs (which is subject to duties of safeguard) for all SEZ to DTA clearance to accord equal protection to units in SEZ and DTA. Imposition of safeguard duties in the current manner will make SEZ units uncompetitive and will force them to shut their operations."
Meanwhile, Vinay Rustagi said that the DGTR has only said that it is not able to recommend duty protection for SEZ units because of their legal constitution and various prevailing laws. It has however left a window open for other government authorities to deal with this decision.
Reaction
Discussing the overall recommendation, Rustagi said: "It's a very disappointing and fraught decision. The period of duty is obviously only two years which is very hard to understand because that is just too short for any new capacity to be set up. By the time any new manufacturer comes on stream, he will not be able to get any benefit under safeguard duties and I doubt any existing manufacturers will have the cash flow or the wherewithal to make any substantial benefit out of this.
"At the same time, it is going to be very, very harmful for the developers because of the whole test of negotiating a pass-through and expecting Discoms to take on the extra cost. To me it seems like a self-defeating exercise, without any meaningful outcome."
Some solar tenders now include a pass-through option on the tariff in case of any change in the statutory laws like the imposition of an anti-dumping or safeguard duty on the solar PV modules.
Regarding the overall decision, Mundra Solar's Tiwari said: "We are delighted. That is going to save the domestic industry and we are looking forward to it. From our point of view it is a very balanced approach the government has taken to keep in view the interest of all the stakeholders, but we wanted a bit higher rate to be applicable.
"Even in the US the starting rate was 30% and here in the case of India, the injury margin is much higher than what it was there in the US."
Adani is now hoping that the Ministry of Finance will raise the percentage to the range of 40-50% in its final notification.
The ISMA was still going through the DGTR's recommendations at the time of writing and was unable to provide comment.
DGTR's conclusions before reaching its recommendations were as follows:
There has been a significant increase in imports of the Product Under Consideration (PUC) in absolute terms as well as in relation to total Indian domestic production over the entire Period of Investigation (POI).
The domestic industry has suffered serious injury, considering overall performance, on the basis of listed economic parameters such as market share and profitability, which have sharply declined over the injury period 2014-2015 to 2017-2018 (Annualised) whereas market share of imports have increased during the same period. This has caused significant overall impairment to the domestic industry. The rise in imports and coinciding serious injury caused to the domestic industry during the injury period, establishes causality.
The domestic industry has been able to demonstrate that the developments in the market on surge in imports of the PUC were unforeseen in the context of Article XIX of GATT.
There will be some impact on the Solar Power Developers and also ultimate consumer as a result of safeguard duty on the PUC.
It is however concluded that imposition of safeguard duty in this case would be in public interest because it will prevent complete erosion of manufacturing base of Solar industry in the country which is upcoming and holds promise for a stronger manufacturing base in the country in future, at the same time, it is also in the public interest, to prevent undue escalation of Solar power cost, tariff to the final customer and that attainment of the target of 100 GW of Solar Power Deployment by 2022 is not derailed. The consideration of two competing interests require a balanced view.
From the analysis of post POI data, it has been observed that the position of domestic industry further deteriorated on account of continued low price of import of PUC which continued price injury to the domestic industry, thereby establishing the threat of injury as well.
A 75% safeguard duty was originally recommended by the Directorate General of Safeguards Customs and Central Excise in January, but in line with expectations, the latest recommendation has seen a rationalisation to a far lower duty.
Sunil Rathi, director, at Indian manufacturer Waaree Energies, said: "The current proposal from the DGTR comes as a relief and further strengthens our faith in the Government's support towards Indian manufacturers. Imposition of 25 per cent safeguard duty will provide the necessitated boost to solar cells and module manufacturers. We believe it will help achieve the required energy security in the country, and motivate players to become active partners, as India transitions towards becoming a renewable energy reliant country.
"Given a conducive environment, Indian manufactures are capable of innovation, product efficiency and quality. Safeguard duty is bound to ensure an even playing field for both domestic and imported products. We also foresee this initiative to help in more investments on R&D and disruptive technology."
Article updated to include comment from Gyanesh Chaudhary, Rakesk Tiwari and Sunil Rathi of Vikram Solar, Mundra Solar and Waaree Energies, as well as a statement from Bridge to India.