India's energy and mines minister Piyush Goyal has challenged Germany and the city of Munich to a race with the ancient holy city of Varanasi to become the first large metropolis in the world to be 100% powered by clean energy.
Speaking at the Indo-German Energy Forum at Intersolar Europe, Goyal noted that Munich, which has a population of more than a million, already has a target to have a 100% clean electricity supply by 2025. In a moment of spontaneous inspiration, Goyal said that the oldest city in the world, Varanasi, which also has a population of just over a million, should challenge Munich to become the first fully green-powered city.
It was not clear whether Goyal will press ahead with this initiative as a genuine policy given the spontaneity of the announcement, but the minister showed strong intent, giving orders to present officials from the Ministry of New and Renewable Energy (MNRE) and Solar Energy Corporation of India (SECI) to start working on the idea immediately.
Goyal said: "As soon as we get back lets have a small team work on it, work with the different sectors, wind, biomass, solar, waste-to-energy, maybe even bring some storage people into it for the peak-loading balance and lets have this race between Munich and India."
In a rousing speech, Goyal praised Germany for its leadership and pioneering influence on the whole solar PV sector as well as in all kinds of sustainability. He invited Germany and other stakeholders to be a part of the Varanasi plan, which would send a statement across the world as a confirmation of the energy transition.
Nobody can take away the sun from India
"Let's together show the world what can be done in making the world's oldest city the world's first city to be 100% powered by clean energy," Goyal said.
He also requested SECI to initiate conversations with German financiers GiZ and KfW bank to bring up a special line of credit and make Germany India's global partner in this Varanasi programme.
Goyal also said that the chief minister of Uttar Pradesh, the northern state in which Varanasi is located, is "very passionate" about the environment, committed to clean energy and likely to give full support to the plan.
Only last week India's Centre for Environment and Energy Development (CEED) released a report stating that Varanasi has the potential for 676MW of rooftop solar installations by using just 8.3% of available roof space.
The city is famed for its burning ghats along the banks of the River Ganges.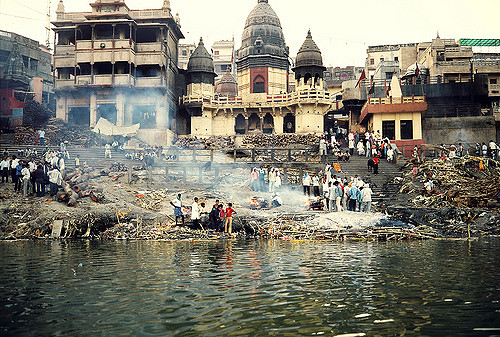 Paris Agreement – 100GW solar target 'non-negotiable'
Speaking just before President Trump pulled the US out of the Paris climate agreement, although in full knowledge that it was likely take place, Goyal used the Forum to reconfirm that India's 100GW solar by 2022 target is "absolutely non-negotiable".
"Irrespective of what happens, what are the geopolitical considerations around the world, how the dynamics of relationships change between nations across the world – nobody can take away the sun from India."
Electric Vehicles
Goyal, who has also helped set extremely ambitious goals in the electric vehicle space in India, also visited BMW's electric car manufacturing plant in Leipzig on Wednesday. As a result of this, the minister said he would go back to India with a redoubled commitment in electric mobility. He also predicted that within eight years, electric cars will be available for half the price of petrol or diesel cars.
"That is going to be the day where everybody will want to have a solar panel on their rooftops. Everybody is going to want to have a facility where they can charge their electric car using solar energy from their rooftop and drive their way along almost for free. And that ladies and gentlemen is the business opportunity – particularly in a country like India where two thirds of the buildings that will be in existence in 2030 are yet to be built."