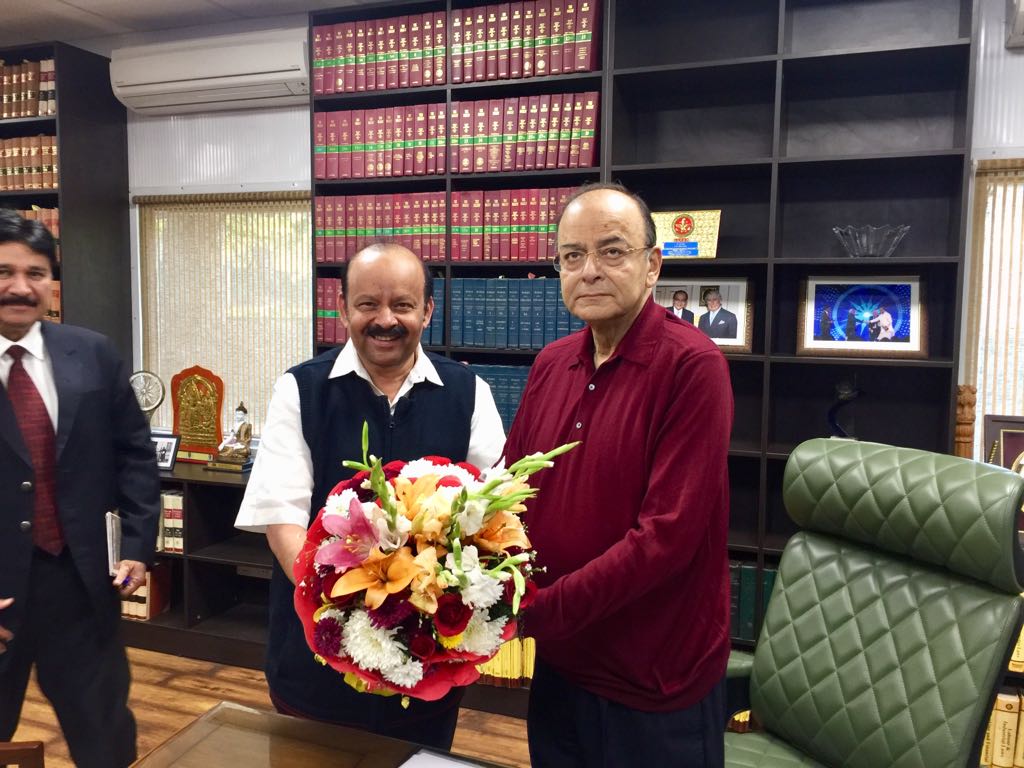 India's 100GW solar target is under threat from remedial action against imports of solar modules, unless a range of recommended solutions are considered, according to the Indian Solar Association.
In a letter addressed to Indian finance minister Arun Jaitley, C.Narasimhan, president of the Indian Solar Association and chairman of Raasi Group, noted that solar deployment levels in the country are already well below the allotted targets for each year.
Indeed, while the installation numbers have drawn high levels of praise globally, the fact remains that they are well below India's annual target numbers.
The sector now faces the threat not only of an ongoing anti-dumping investigation against solar cell and module imports from China, Taiwan and Malaysia, but also a parallel investigation for the imposition of Safeguard duties, which are geographically agnostic.
Any further burden on developers, distribution companies (Discoms) and the public energy consumer in the form of duties would lead to a further slowdown in deployment, claimed Narasimhan.
Stating a case in clear favour of dropping the idea of remedial action against imports, the letter stated: "The Indian Solar Association believes that the Indian module manufacturers should be at level playing field with foreign suppliers, i.e. in terms of technology, efficiency of deliverables, meeting demands etc., before they are brought at par on pricing terms with foreign suppliers.
"Government may accordingly consider giving price incentives, subsidised credit and other such financial incentives before introducing any ADD."
Narasimhan also claimed that the imposition of duties in other countries had failed to provide substantial short or long-term benefit for local manufacturers. He also cited uncertainty around the effects of duties on developers that have signed power purchase agreements (PPAs) for projects, but have yet to procure modules. He claimed that such developers had not factored ADD into their quoted tariffs and further squeezing of already tight margins could render some projects unviable.
As many analysts have noted already, the Association president also listed the heavy build-up of other challenges that are impacting developers, including the GST tax, poor enforcement of must-run status and renegotiation of tariffs by Discoms.
Narasimhan added: "In the absence of certainty there would be serious bankability issues with lenders and may affect the timely completion of the project."
As a result, the Association asked the government to consider five solutions:
Exempt all existing PPAs from ADD.
Alternatively, make ADD effective 9-12 months after the notification to allow developers who have signed PPAs to complete projects without burden on Discoms or the public.
The government should exempt solar systems from GST or to remove the 5% tax on solar modules and all other equipment, materials and services used in PV.
Due to a dispute with the Custom Department regarding correct classification of solar modules, importers of PV equipment are facing problems and delays at ports. The Association requested the Custom Department to categorise modules in a way that would alleviate the import duty issue.
Lower the cost of capital. Financing should be provided to solar developers and manufacturers at a rate lower than 7%, a service that could be delivered by Indian Renewable Energy Development Agency (IREDA) or via a newly created exclusive bank. Project bankability would also be improved by a special insurance for the generation guarantee of projects.
Back in December PV Tech published a guest blog from H.R. Gupta, general secretary, Indian Solar Manufacturers' Association (ISMA), which provided an alternative take on the situation from the manufacturing side.
Original headline has been revised.