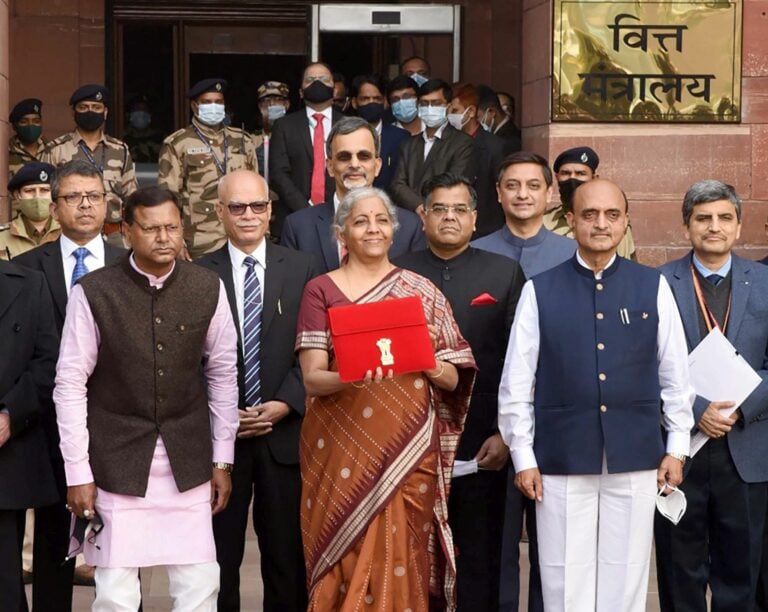 Solar capacity will remain a key focus of the Indian government's spending this year, but some existing challenges for the industry could still hamper growth, according to experts. 
India's minister of finance Nirmala Sitharaman highlighted that green growth remained one of the government's priorities in the budget as India has been moving towards the goal of net zero carbon emissions by 2070. In the latest budget, Sitharaman said a total of INR350 billion (US$4.27 billion) was assigned for priority capital investments towards energy transition and net zero objectives. 
For the upcoming financial year, the Indian government allocated more resources to the ministry of new and renewable energy (MNRE), from INR70.3 billion in 2022 to INR102.2 billion this year, increasing by more than 45.4%.
The government reiterated its focus on solar power with the allocation of INR53.3 billion. This allocation was linked to central financial assistance towards multiple schemes run by the ministry, such as solar rooftop subsidies, the development of solar parks, viability gap funding (VGF) for the central public sector undertaking scheme, which, according to the India Science, Technology and Innovation portal, aims to set up solar PV projects through government producers using domestic cells and modules in a WTO-compliant manner.
"We expect these funds to be utilised for building solar parks and distributed solar initiatives," said Vinay Rustagi, managing director of research firm Bridge to India.
About INR20 billion was allocated to Kusum (Kisan Urja Suraksha evam Utthaan Mahabhiyan), a scheme launched in 2019 to ensure energy security for farmers in India by installing renewable energy power plants on barren or fallow land. 
"However, the implementation of the scheme needs to be continuously monitored as it heavily relies on states for actual spends and has seen patchy progress in the past," said Pranav Master, director of energy, commodities and sustainability at credit rating agency Crisil. 
Moreover, the Indian government also announced that battery energy storage systems with a capacity of 4,000MWh would be supported with VGF. 
"[This] is a surprise. [It is] a long-held demand of the industry as high capital costs have been a huge challenge for battery deployments. However, the exact subsidy amount has not been disclosed yet," Rustagi said. 
Although the Indian government has been ramping up its efforts to expand domestic manufacturing of solar panels, heavy reliance on imported modules continues to be the major challenge in the Indian solar industry.
"Supply chain constraints, such as rising manufacturing costs, a levy of basic customs duty (BCD) on modules and cells, and the implementation of the revised approved list of models and manufacturers (ALMM) list, have posed a significant challenge in terms of economics for the developers as well as domestic manufacturers," said Master. 
To help tackle the problems, the Indian government previously announced the planned outlay of INR240 billion under the PLI scheme, which will considerably boost domestic PV manufacturing and aim to address risks associated with imported modules. 
Other challenges faced by the Indian solar industry include land availability in resource-rich areas close to substations and the availability of low-cost funds. 
"Given the capital-intensive nature of solar power projects, the availability of funding at competitive rates is critical. However, funding risk could arise owing to weak investor sentiment, rising interest rate regime, currency depreciation and any material policy change," Master explained. 
He added that as the budget continued to emphasise energy transition through budgetary outlays for new and renewable energy, further announcements could be expected during the course of the year.
Although the budget focused on driving green growth, Master believes that nudging corporates and the financial sector towards sustainability-linked target setting and ensuring credit availability would help accelerate the shift.
In the budget, the Indian government also announced a green credit programme under the environment protection act, which "incentivises environmentally sustainable and responsive actions by companies, individuals and local bodies, and help mobilise additional resources for such activities".
Last year, the Indian government imposed BCD of 25% on solar PV cells and 40% on solar PV modules from April 2022. After about a year, Master said this had led to an increase in capital costs by 15-22%, considering procurement of the imported modules, and therefore constrained module availability in India.