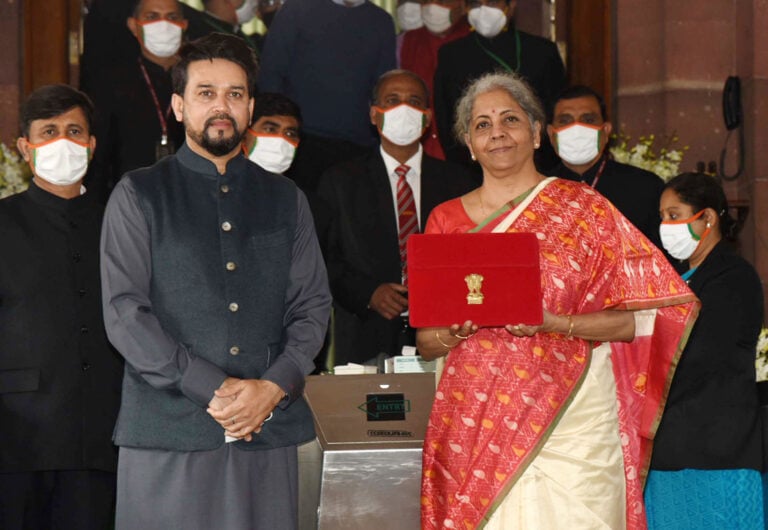 The Indian government's budget announcement on Monday (1 February) is set to be a "game-changer" for domestic manufacturing following the imposition of a Basic Customs Duty (BCD) of 25% on solar PV cells and of 40% on solar PV modules from April this year.
That's according to Vinay Rustagi, managing director of research firm Bridge to India (BTI), who said the BCD announcement would do more for domestic manufacturing than the further INR19,500 crore (US$2.6 billion) of funding announced for India's Production Linked Incentive (PLI) scheme. Other analysts, however, were more bullish about the impact of the PLI funding increase.
PV Tech Premium spoke with experts in India to examine what the budget means for the country's solar industry, exploring the impact on domestic manufacturing as well as deployment.
BCD to ramp up domestic manufacturing
While the PLI announcement made for great headlines with a quadrupling of its funding, Rustagi – who has referred to the budget as "a damp squib" – said the greater impact on domestic manufacturing would come from the expected BCD figures.
Rustagi said that the PLI fund is "not a substantive amount" but that with other measures such as "the BCD and assured demand for residential and agricultural solar in place, it is also quite unnecessary".
Meanwhile, "the announcement of 25-40% BCD is expected to be a game changer for domestic manufacturing prospects, much more so than the PLI scheme enhancement," he said.
The idea behind the BCD is that taxing the import of modules from China, which currently supplies about 80% of India's demand, would spur the development of a domestic manufacturing base that can support the country's downstream sector.
India has been vocal in its desire to reduce its dependency on Chinese imports amid souring diplomatic relations between the two countries.
BTI predicts that India, which is targeting 280GW of installed solar capacity by 2030, will have a total integrated manufacturing capacity of 35-40 GW by 2025, up from a solar module manufacturing capacity currently at 8.8GW and a cell manufacturing capacity at 2.5GW.
When it comes to the impact on deployment, Rustagi said that utility-scale projects, which make up the biggest market segment, "should be largely unaffected as the additional cost will be passed through to offtakers under the PPA provisions".
Although, regulatory and legal uncertainly surrounding the tariffs and increased capital constrains could push some projects back. "Some projects may, however, face issues due to working capital constraints and legal disputes," noted Rustagi.
PLI impact disputed
While Rustagi believes the "effective PLI payout will be only 5-7% of total revenues in the first 3-5 years of operations", others have been more optimistic about the impact.
Jyoti Gulia founder and CEO of JMK research said that at least 40GW of manufacturing capacity can be incentivised by the scheme "in addition to the existing PLI-linked 10GW capacity".
"Direct investment in the country on account of PLI budget expansion would potentially rise to INR90,000 crores (US$12 billion)," she said.
The PLI scheme was implemented in April last year by the Ministry of New and Renewable Energy and requires applicant manufacturers set up a plant with a minimum capacity of 1GW, while the maximum capacity that can be awarded to one recipient is 50% of their bid capacity or 2GW, whichever is less.
The scheme will "encourage the addition of domestic manufacturing capacity but will not directly affect capital costs or installed capacity targets," said Varun Agarwal, senior project associate at World Research Institute (WRI) India. "Currently, the capital cost of solar is around INR5.2 crores (US$694,370) per MW," he added.
Ulka Kelkar, director of climate at WRI India, told PV Tech that given India's ambitious solar targets, "all budgetary incentives are a step in the right direction".
Modules produced by the PLI beneficiaries must have a minimum efficiency of 19.5% with temperature coefficient of Pmax better than -0.30%/°C, or an efficiency of 20% with temperature coefficient of Pmax equal to or better than -0.4%/°C.
"This scheme rewards higher efficiency modules/cells which will reduce wastage due to poor quality solar modules," said Ashwini Hingne, senior manager of WRI India's climate programme, adding the scheme will "reduce import dependence and logistical costs".
In short, experts' opinions on the impact of the budget differ, with some dispute about the efficacy of the PLI compared with the BCD. Nonetheless, they all agreed that the budget was a boon for the domestic PV manufacturing industry, although there are concerns surrounding project delays.
---
PV Tech's sister site Energy-Storage.news has taken a detailed look at the storage announcements included in the Indian budget, examining the impact on the country's storage sector.
PV Tech Premium has broken down the key mechanisms and avenues available to businesses looking to set up manufacturing facilities in India as well as laying out the instruments for investing in the country's growing solar sector more broadly.