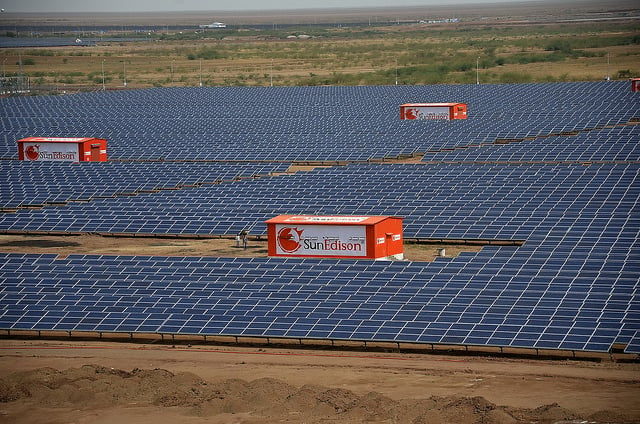 Difficulties in financing Indian solar projects with extremely low tariffs and the wobbling of major solar player SunEdison will not impact the long-term prospects of India's PV market, according to two senior banking and finance representatives.
To date, no developers that won solar projects with a tariff below five rupees per unit in India, have managed to close on financing, and commentators have said it is unclear how many of these projects will succeed in obtaining the necessary capital. Meanwhile, various reports cite the possible souring of bankers' attitudes toward projects with low tariffs in India.
However, Moiz Saif, associate director, sustainable investment banking, Yes Securities, India, told PV Tech: "It is a speed bump – there's no doubt about that. Having said so, I don't think it will affect the long-term trajectory. The microeconomics are in place already where solar has a better risk return profile than conventional sources of power."
Similarly Sean kidney, chief executive of the Climate Bonds Initiative, said that India remains a highly attractive market for investors in search of yields and there is no shortage of capital.
He added: "Is there a hiccup because people have been too aggressive in pricing and therefore can't make a deal? Possibly, but it's going to be a short-term, not a long-term problem.
"There is still significant net in-flows of capital into India and into the solar sector and a little bit of upping and downing does not change the momentum of growth."
Tariffs broke below five rupees per unit for the first time in November 2015 when SunEdison scooped 500MW of capacity in Andhra Pradesh at a price of INR4.63/kWh (US$0.07) and since then auctions have seen this tariff matched by Softbank's joint venture with Foxconn and Bharti Enterprises, and then beaten by Finnish firm Fortum at INR4.34/kWh.
Last friday, the embattled firm SunEdison confirmed that it was seeking debtor-in-possession (DIP) financing, via an SEC filing.
Consultancy firm Bridge to India said it believes that banks are "extremely reluctant" to commit debt for the recent aggressive bids and said that lenders are "hesitating" while SunEdison "totters" and the low tariffs spark concern of project viability.
Yes Securities' Saif said the main reason is that much of the sub-five rupee bidding was "borderline" and was primarily done by players who may have underestimated the cost of project development in India and overestimated a fall in module prices. Moreover, any fall in module prices has been negated to some extent by the depreciation of the rupee. Over the last 12-15 months, the rupee went from 62-63 rupees per US dollar to 67-68 rupees per dollar. Bridge to India has also cited concerns about the prices of modules possibly "firming up" in the next 6-9 months.
Saif added: "With all that in place and with the backdrop of difficulties of certain developers, it may be challenging to finance these projects at the current tariff."
Nevertheless, he said that if some of these projects do not get implemented, there could be a case of rebidding followed by a clear rationalisation of the tariffs going forward. Recent auctions in Uttarakhand and Jharkhand have already seen bids rise above five rupees again, so there is already an element of rationalisation, although tariffs do depend on levels of irradiation in different states.
Last week's auction in Karnataka did see six developers go below five rupees again, of which five were domestic firms. However, Jasmeet Khurana, associate director, consulting, Bridge to India, said there was less concern over whether these specific projects can raise capital.
Ultimately, even in a scenario of rebidding and some low tariff projects not getting commissioned, Saif said: "I don't think it will affect the overall solar vision of the government, but yes, it may bring in certain delays and a little bit of short-term pain for some of these [entities] who have given bank guarantees."
Kidney added that people bidding aggressively for contracts is not unique to India and this is the nature of a competitive economy. If some of the deals fall over due to "foolish pricing" then the Indian government will learn how to improve its auctions going forward.
Kidney said: "It can frighten people – no doubt about it – but that doesn't mean that you are not getting massive scale developments happening every day in India."
He also said that the rupee depreciation remains a concern for all stakeholders, yet capital is still moving.
Avoiding Non-Performing Assets
Saif said: "Luckily the banks have adequate expertise to evaluate solar projects and have taken a more rational route by not financing some of these unviable projects, so at least we don't see a situation of Non-Performing Assets (NPAs) happening in the future."
For example, NPAs would come about if some of these projects at INR4.30-4.40/kWh got financed by the banks, became operational and then failed to generate enough cash flow to repay the loans.
In any case, Bridge to India said it believes that over the coming year, a significant number of projects are likely to get delayed or cancelled and tariffs may either stabilize or even rise marginally from current levels, echoing Saif's comments that there will still be some amount of short-term pain for developers by way of their bank guarantees.
This comes just a few days after a Dilip Nigam, Solar Mission, at the Ministry of New and Renewable Energy (MNRE), told PV Tech that the government is "very confident" that it will reach its 12GW deployment target for the financial year 2016/17. Meanwhile, Tarun Kapoor, MNRE joint secretary has also said that SunEdison's troubles would only have a small impact on India's overall solar deployment targets and any incomplete PV projects would be retendered immediately.
Kidney said progress will come in jagged lines, adding: "The Indian economy in five years is going to be such a large slice of the global economy that institutional investors cannot afford not to be exposed just for diversification reasons, so the tides of history are in our favour."