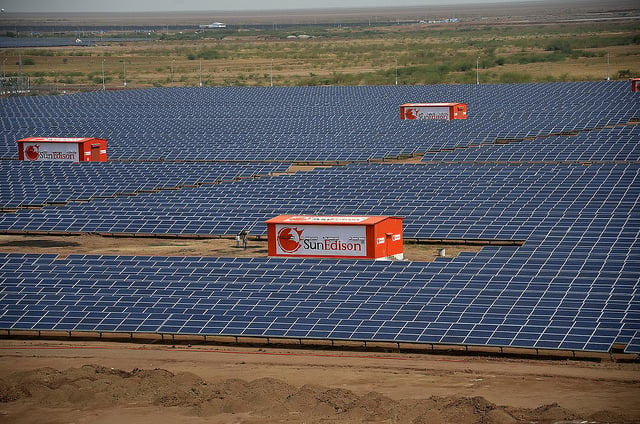 India's Ministry of New and Renewable Energy (MNRE) has released a document clarifying the rules for state government offtake of solar park capacity.
The country is currently in the process of extending its solar park capacity from 20GW to 40GW.
In its previous regulation, it was stated that state governments must buy at least 20% of the power produced from any solar park via the distribution company (Discom). However, the rules have been clarified to say that if the state government has agreed to buy more than 20% of the power from one or more solar parks in the state, then it is permitted to purchase a lower portion of power from subsequent parks, as long as at least 20% of the aggregate power generation of all the solar parks in the state has been purchased.
In the background of this annoucement, Mercom Capital Group has reported that State-run utility NTPC is looking for an offtaker for the solar power generated at the 250MW Kadapa solar park in Andhra Pradesh. French firm Solairedirect had won the capacity in an April auction with a bid of 3.15/kWh (US$0.0487), which at the time was the lowest ever PV tariff in India. However, Andhra Pradesh State Power Distribution Company (APSPDCL) has reportedly refused to sign a power purchase agreement (PPA) due it being able to procure power at a lower cost from other sources as well as having a power surplus.
MNRE has also released an application document for proposing solar parks, and another listing many of the factors that need to be taken into account when planning solar parks and projects within solar parks.
In related news, the World Bank plans to provide US$100 million of financing for the development of internal infrastructure of solar parks in India, with Indian Renewable Energy Development Agency (IREDA) facilitating the offer.
This financing comes on top of the US$625 million of low cost financing provided by the World Bank for rooftop PV developers, via a Programme for Results (PforR) to be directed by the State Bank of India.
A central government release stated: "These programmes will increase the availability of debt financing, de-risk commercial financial flows, and build capacity across the solar PV industry to significantly expand the programme of rooftop solar PV across India. The first 100MW of solar rooftop financing under this loan has just been approved."
Consultancy firm Bridge to India recently reported that Indian rooftop solar had reached nearly 1.4GW of deployment by the end of March having doubled in 12 months.
There has also been some controversy around delays in solar park infrastructure.