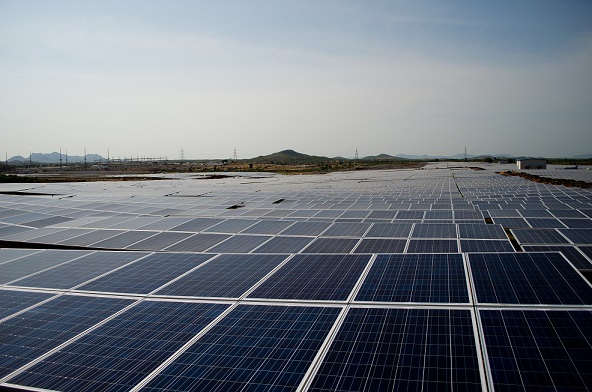 The lowest bid quoted in Indian state-run utility NTPC's auction for 2GW of interstate transmission system (ISTS)-connected solar was INR2.59/kWh (US$0.037).
The L1 bid from Acme Solar for 600MW marks a 15 paisa rise from its previous low bid of 2.44 rupees for the 2GW ISTS auction held by Solar Energy Corporation of India (SECI) on 3 July, where six bidders overall had been happy to bid at 2.54 rupees or lower – before the implementation of the safeguard duty on cell and module imports that has now also been temporarily deferred.
Today, Shapoorji Pallonji and Azure Power also matched the L1 tariff for 500MW and 300MW capacity respectively, while SB Energy (Softbank) won only 600MW despite bidding for the full 2GW as it quoted a slightly higher tariff of 2.6 rupees.
The results were as follows:
| Bidder | Tariff (INR/kWh) | Capacity (MW) |
| --- | --- | --- |
| Acme | 2.59 | 600 |
| Shapoorji Pallonji | 2.59 | 500 |
| Azure Power | 2.59 | 300 |
| SB Energy | 2.60 | 600 |
In a tender that had been heavily oversubscribed, Aditya Birla, Mahoba Solar (Adani), Eden, Rutherford Solarfarms (Canadian Solar), Tata Power Renewable Energy, Giriraj, Alfanar, Mahindra, Hero, ReNew, and Nisagra all missed out on capacity.
After the safeguard duty imposition, NTPC gave bidders an extra week to work the duty into their bidding calculations before holding the auction.
NTPC's most recent 750MW solar auction drew winning bids of INR2.72-2.73/kWh, but these were specific to the state of Andhra Pradesh rather than ISTS-connected projects, which can be placed anywhere in India.