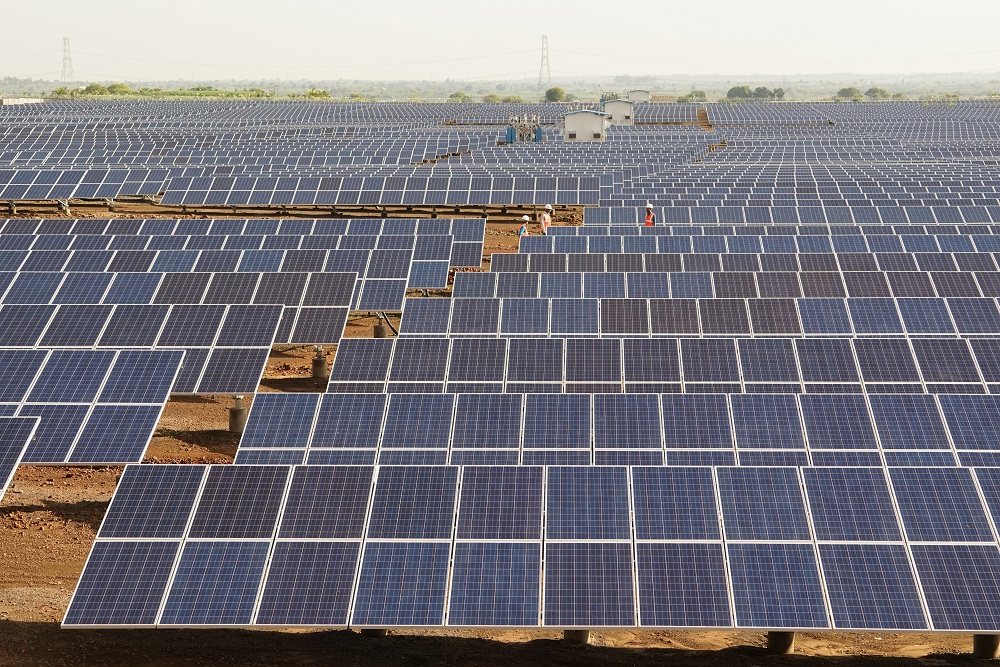 Tariffs for utility-scale solar power in India are expected to go below the four rupee (US$0.059) mark next year, which would be a "radical moment" for India's entire power sector, according to consultancy firm Bridge to India.
Jasmeet Khurana, associate director, consulting, Bridge to India, told PV Tech that tariffs are likely to fall to these new lows in some of the multiple tenders from Indian utility NTPC expected next year.
Tenders from Solar Energy Corporation of India (SECI) already have a fixed tariff of four rupees in states that have already seen tariffs fall below INR 4.50/kWh, (or 3.93 rupees if accounting the trading margins from SECI), but developers can claim viability gap funding (VGF) support on top of the tariff. However, Khurana said that there is a probability of developers offering a discount on the benchmark tariff and not claiming any VGF.
Having a lower tariff without VGF subsidy would therefore be an actual price below four rupees.
Khurana said: "The REWA tender; the 750MW project in Madhya Pradesh. That may the first tender to see sub-four rupee tariffs."
The tender process for the REWA solar park is ongoing and is likely to see results come out next year.
Rooftop solar has already seen tariffs hit INR 3/kWh this year, but these include significant subsidies from the government.
Looking back at 2016
In its review of 2016, Bridge to India said that tariffs falling below five rupees had helped solar to gain grid parity with many other sources of new-build power. The lowering costs also helped to improve demand from the distribution companies (Discoms) despite relatively weak overall demand for power.
As previously reported, aggressive developers, who also helped push the tariffs to new lows, will have gained relief from the falling module prices stemming from reduced demand in China.
Capacity additions and tendering in 2016 continued to steam forward, with an estimated 4.9GW of solar deployment, a 101% increase on 2015 figures, while the nation also crossed the major 10GW milestone. Tenders were also floated for 9GW of grid-connected solar projects including 900MW for rooftop solar systems. India's rooftop solar segment also crossed the symbolic 1GW mark in September.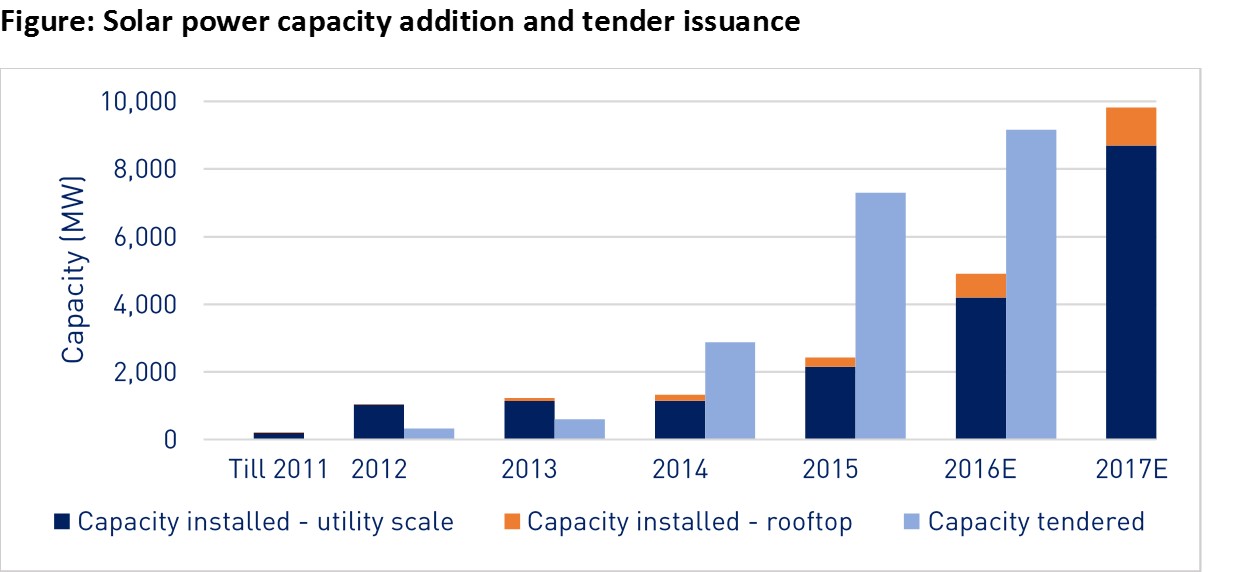 An enormous portion of all capacity tendered (90%) was won by Indian firms
Other key moments of the year highlighted by Bridge to India included:
Discoms' financial health improving under the UDAY scheme
Steep fall in equipment prices
Improving M&A activity (Welspun to Tata Power, SunEdison to Greenko, Punj Lloyd to IDFC Alternatives) among others, and international IPO by Azure Power
India's ratification of the climate accord
The Bridge to India update stated: "The year has been bountiful in all respects for the sector with most key indicators growing 2-3x over last year."
Troubles ahead
Despite the milestones reached, Bridge to India cited some more sobering expectations for the coming year – adding: "All this positivity is somewhat tempered by growing incidence of delayed power purchase payments by many Discoms and curtailment risk, two risks which badly affected [the] wind power sector during the year. Solar sector has so far been lucky to escape likely because of smaller capacity (9GW vs 28GW of wind power capacity) and much greater political attention. However, these risks pose significant challenges to the sector despite strong government support and UDAY scheme."
The oversupply of modules in China has also negated much of the efforts of the 'Make in India' programme, which has tried to establish India as manufacturing hub. Indian PV manufacturers face a major challenge from the cheaper prices in China.
Bridge to India also said remains "pessimistic" about the new domestic manufacturing policy.
2017 in numbers
Finally, the consultancy forecast new capacity additions of more than 9GW in 2017, up 90% over 2016. It also expects up to 8GW of new utility-scale capacity allocation by NTPC, SECI and various states. India will remain one of the fastest growing markets around the world, while some other major markets slow down.