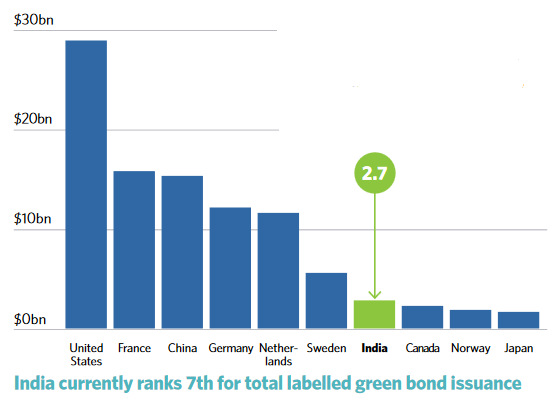 India's green bond market took off this year becoming the seventh largest labelled green bond issuer with US$2.7 billion issued as of 12 October, according to the Climate Bonds Initiative (CBI).
The 'India State of the Market Report' from CBI said that the majority of these Indian issuances occurred this year, with four out of seven bonds issued in 2016 certified against the Climate Bonds Standard.
Indian issuances so far include:

CBI highlighted the INR20 billion (US$299 million) bond from India's largest utility NTPC, which will be used specifically for wind and solar projects and relevant transmission infrastructure. It is one of the only bonds from a fossil fuel-based balance sheet being used to finance new green projects. CBI said such an initiative needs to be replicated by large fossil fuel companies across the globe.
Renewable energy developers Hero Future Energies and Renew Power, who both have extensive solar activity in India, also both issued bonds for wind power projects this year.
The report also stated: "US$2.5 trillion is required to meet India's climate change mitigation targets by 2030 and approximately US$1 trillion investment in infrastructure every five years to satisfy demand. Around half of the total investment is expected to come from the private sector. As bank balance sheets become increasingly constrained by sector exposure limits and capital ratio requirements, capital markets are expected to play a bigger role."
In January, the Securities and Exchange Board of India published its official green bond requirements for Indian issuers. CBI said India's regulators had shown leadership by being the only country other than China to provide national level guidelines and regulation to the market.
Gaurav Bhagat, head, capital markets, FIG, South Asia, Standard Chartered, said: "A couple of years ago issuers weren't sure whether to label their bonds as green. Today, issuers see the potential of green bonds, and see certification as a 'must-have.'"
There are another US$15.7 billion of unlabelled climate-aligned bonds outstanding in India at present, however, this was mostly allocated to rail and hydro projects