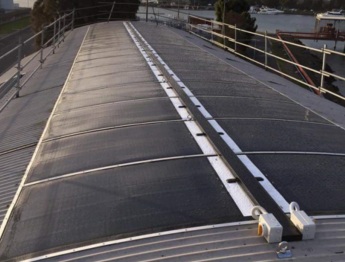 PV project developer and EPC Inovateus Solar has added MiaSolé's ultra-lightweight flexible CIGS solar panel products to its range of technologies to its sales channel partnership.
"Since our company's inception, we have been strong supporters of flexible thin-film photovoltaic technology," said TJ Kanczuzewski, president of Inovateus. "We believe that the high-efficiency, ultra-lightweight technology that MiaSolé is advancing will continue to fulfill a need in the solar marketplace."
MiaSolé is showcasing its latest product range at Solar Power International 2016, which include substrates with up to 17% conversion efficiency and weigh less than 0.5 lb per square foot.
The commercial flat rooftop market as well as the commercial BAPV (Building Applied Photovoltaics) rooftop market has remained a niche, despite previous companies pioneering the market more than 10 years ago.
MiaSolé became a subsidiary of struggling Hanergy Thin Film Power Group in December, 2012. Hanergy TF recently reported total sales in the US for the first-half or 2016 of approximately US$2.5 million.
"Inovateus Solar has an exceptional track record of successfully developing and installing hundreds of megawatts of solar power systems in the U.S. and around the world, as well as supplying solar components to hundreds of distribution customers," said Anil Vijayendran, vice president of product sales and marketing at MiaSolé. "They will be an ideal sales channel partner to help put more of MiaSolé's new generation of ultra-lightweight flexible solar panels into operation in a wide range of solar applications and locations."