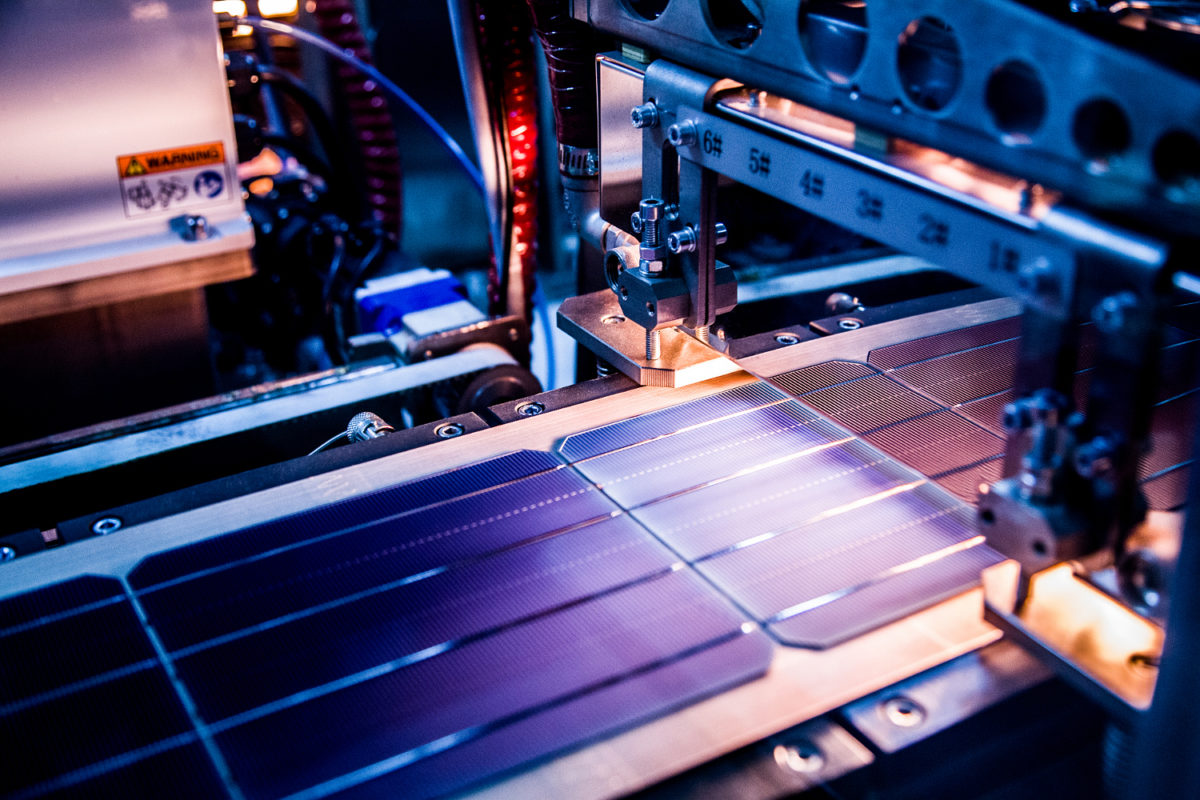 Based on analysis of 21 PV manufacturers that were listed on various stock exchanges around the world in 2018, PV Tech can reveal the top 10 R&D spenders.
As shown in the chart below, LONGi Group increased R&D expenditure from US$175.5 million in 2017, to US$182.7 million in 2018, marking the seventh consecutive year of increased spending and setting a second consecutive year of record spending in the PV industry. No surprise then that LONGi Group was ranked first in PV Tech's annual R&D spending report for 2018.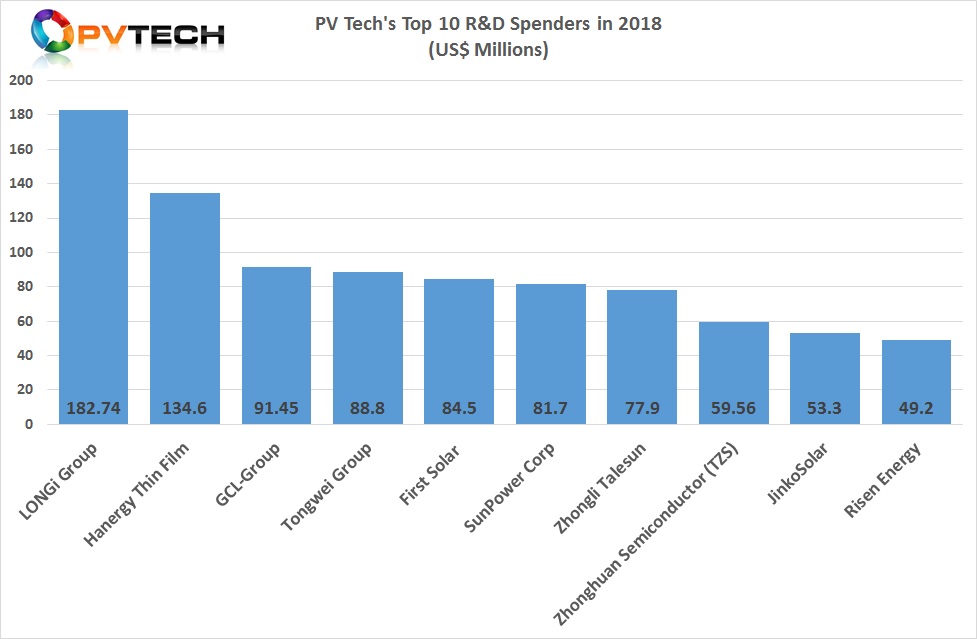 What may be surprising is that Hanergy Thin Film (now renamed Hanergy Mobile Energy Group) had become the second biggest spender on R&D in 2018, reporting expenditure of US$134.6 million, up from US$79.2 million in the previous year when it was ranked fifth.
It should also be noted that both LONGi Group and Hanergy Thin Film were the only companies tracked that surpassed over US$100 million in R&D spending in 2018.
Despite a significant reduction in year-on-year spending, GCL Group was ranked third with spending of US$91.4 million, down from US$165.2 million in 2017, when ranked second only to LONGi Group.

Moving up the rankings was Tongwei Group, reporting R&D expenditure of US$88.8 million in 2018, compared to US$53.4 million in the previous year. The company was therefore ranked fourth in 2018, up from seventh in 2017.
Dropping down one position in the rankings was First Solar and SunPower with spending of US$84.5 million and US$81.7 million, respectively in 2018. First solar was ranked fifth and SunPower was ranked sixth highest R&D spenders in 2018.
Zhongli Talesun, which has been included in the report for the first time had R&D expenditure of US$77.9 million in 2018, up from US$69.8 million in the previous year. The company would have been ranked sixth in 2017 but actually falls one position to seventh in 2018.
Tianjin Zhonghuan Semiconductor (TZS) is another new entrant to the report. The company had R&D expenditure of US$59.9 million in 2018, up from US$53.5 million in the previous year. As a result it was ranked eighth, down one position if it had been represented in the 2017 report.

Leading SMSL, JinkoSolar increased R&D spending to US$53.3 million in 2018, up from US$45.2 million in 2017. Although record spending for the company, its ninth ranked position meant it dropped from being ranked eighth in 2017.

Risen Energy lowered R&D spending in 2018 to US$49.2 million, compared to US$56.4 million in the previous year. As a result, dropping from being ranked sixth in 2017 to tenth in 2018.
The chart below shows the top R&D (ranked) spenders in 2014 and tracks spending over the last five year period. It also includes several companies that were not ranked in 2014 but are firmly in the leader rankings in 2018. Subsequently, two companies (Yingli Green and Hareon) that were ranked in 2014 have dropped out of the rankings since then.

It is interesting to note that to have been a top 10 ranked spender in 2014, meant expenditure of at least US$30 million, while in 2018 the figure starts at US$50 million.