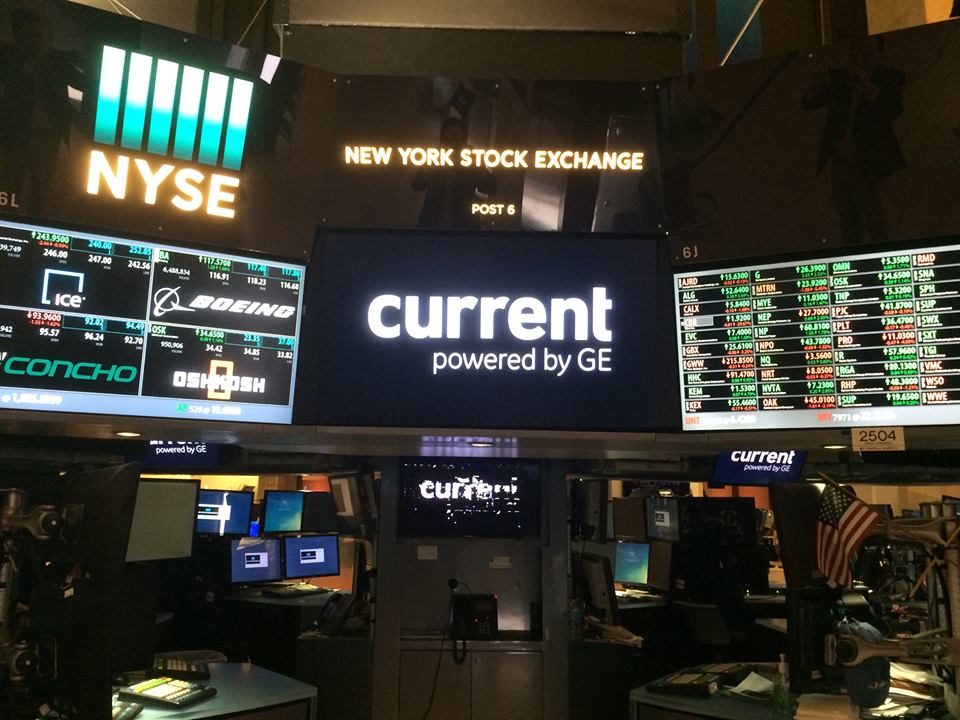 GE is hoping that with its 'all-in-one' integrated service offering, its new commercial energy management venture can also help put some momentum into US commercial-scale solar.
PV Tech spoke with Erik Schiemann, manager for solar at Current by GE. The division was launched last autumn and aims to look closely at a business customer's energy usage and supply and then integrate solutions from a range of available renewable and energy efficiency technologies using digital energy management.
"An energy company creating solutions for end customers, pooling those technologies together but not necessarily pushing those technologies on their customers," was how Schiemann put it, also adding that the kind of integrated solutions offered such as 20-year warrantied solar systems are long-term propositions that mean the company will be positioned as a service provider or "trusted energy advisor or partner" over the lifetime of each contract.
In other words, Schiemann said, Current by GE wants to be a one-stop-shop for corporate customers to reduce energy bills and make some environmental wins in their corporate social responsibility (CSR) activities. The company will incorporate LED lighting, solar, energy storage, EV charging and other tech into the value proposition, with Schiemann referring to customer sizes ranging from businesses with a single 500kW solar system at present to those with tens of megawatts' load. Customers signed up so far include luxury hotel chains and supermarkets.
By offering solar as just one part of that complete service, Schiemann said Current hopes it can put fire under the C&I sector.
"Our hypothesis is that we can help increase total adoption [of commercial solar]."
"When we start to approach the customers not just with the lens of solar on but with a lens of a long-term energy solutions provider, we're opening up the opportunity to allow more customers overall to convert to our solution set."
C&I segment has 'lagged', is 'stagnant'
The Current by GE offering is initially being rolled out in the US. In common with most maturing PV markets, the US commercial solar sector continues to lag far behind its utility-scale and residential counterparts for deployment. A recent report by GTM Research said the segment has been "stagnant" since 2012, with analyst Nicole Litvak telling PV Tech that the market remains relatively unconsolidated, with few truly dominant players compared to the lead enjoyed by the likes of SolarCity and Sunrun in the residential space.
However, despite bottlenecks including the difficulty of finding appropriate customers, Litvak said GTM is expecting the commercial and industrial space to reach US$3.8 billion in value by 2020. Litvak also said bigger companies, particularly those of Fortune 500 size, could begin to drive activity in the market. Many smaller companies are simply not able to take a long-term view on their energy usage.
"The C&I segment has lagged compared to residential and utility. One of the concerns is the longevity of the counterparties – the actual customer – especially when you go to the middle market, to smaller companies.
"The other [concern] is from a perspective of the long-term risk holder, which is the owner of the system – so here we're speaking specifically about third-party ownership. Not enough companies are at scale yet on a solar development side where they can now take a portfolio view and look, almost like we do now in residential with FICO scores, we can tranche, just like they do with home loans, and say, this is my highest tranche and those might be made up of Fortune 500 companies. The middle tranche could be Fortune 501 to Fortune 5,000 companies. Then there's this other tranche, they have various strengths because they may not be public and we may not have the data on them."
Meeting multiple aspects of energy needs could open doors for PV
Spreading the portfolio in this way also spreads the risk, Schiemann said. The Current man has a long background in the PV industry himself and said that the perceptions potential customers have of PV are improving, but that work remains to be done and claimed the presence of a historically well-known name like GE could be of some reassurance.
"From a solar perspective there's a total lack of education – from a customer's perspective. There's misconceptions in the market, a failed company or bankruptcy here or there, which I think causes hesitancy," Schiemann said.
"But if Current can come in to that same customer, show them across our portfolio the energy solution and strategy we're going to provide to them, that will help them gain ease on the solar perspective – but also show them what they can do with a much larger company and how they can meet not just one aspect of their energy needs but multiple aspects of their energy needs. Hopefully that'll drive that conversion and get that market going to the same pace as residential and utility."