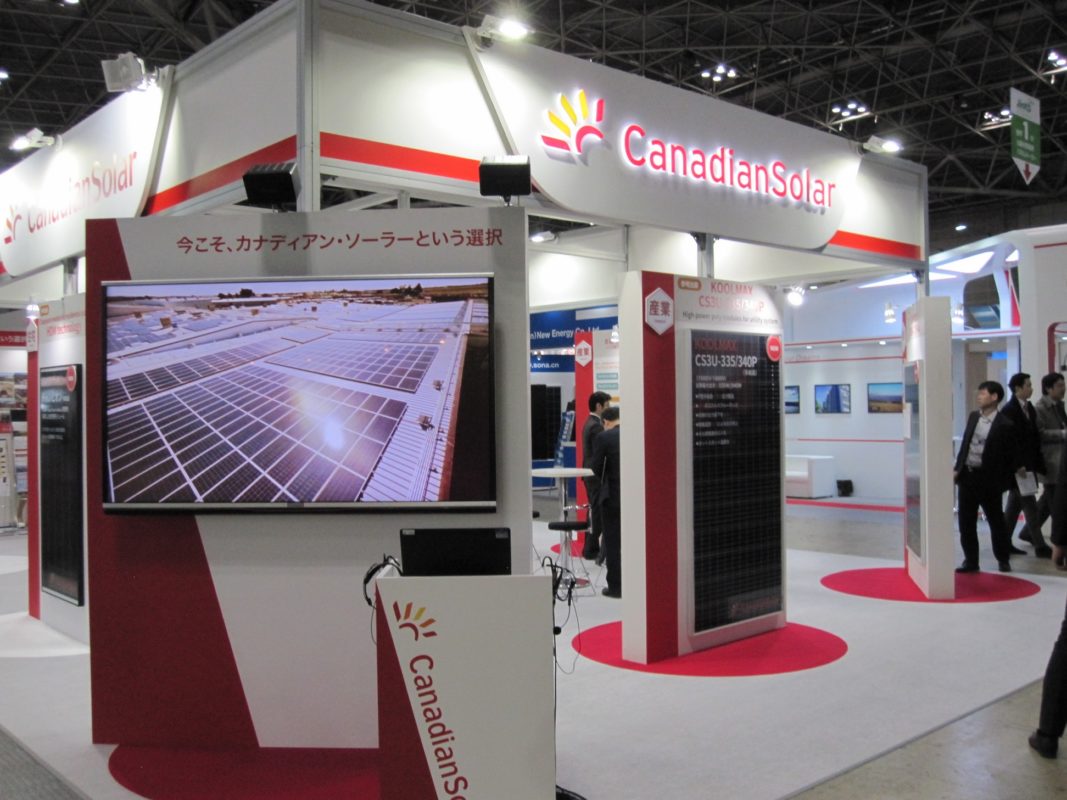 The prospect of Japan introducing a tender system for large-scale solar project rights from this year does not phase international companies doing PV business in Japan, who have said they are ready for the new policy.
Dr Shawn Qu, CEO of Canadian Solar, and Terry Zhao, CEO of Chinese inverter company Sungrow's Japanese subsidiary both told PV Tech that the prospect of annual 500MW auctions for PV projects over 2MW is not an obstacle to their ambitions in the region.
"We are prepared. We are ready to participate in the tenders under the new rules," Qu said.
"Competition is always there," he added when asked if the new auction system would lead to aggressive price competition across the industry.
"Even with the FiT, it has already dropped several times and now the tenders will allow some market elements into this process. But there have been tendering mechanisms in many other countries where Canadian Solar participates, so we are not surprised at all, we will be fully prepared and will participate."
Ontario-headquartered Canadian Solar recently connected a 24MWp PV plant in Yamaguchi Prefecture, bringing its total portfolio in operation in Japan to 46MWp. That project was awarded the feed-in tariff (FiT) rate of ¥40 (US$0.35)/kWh, applicable in 2013, the second year of Japan's large-scale FiT scheme.
Although the FiT rate has since fallen drastically, this year dropping to just ¥21/kWh for projects to be awarded under the tender, Canadian Solar has a further pipeline in Japan of 167MWp of projects under construction and 66MWp of projects ready to go, all at higher FiT rates than this year's reduced rate.
"We still have a good inventory of high FiT projects that will take a few more years to build out. [Furthermore], we've been in this business for 16 years. We know that grid parity is the ultimate goal and we think we can beat conventional energy sources on price, so [the lowering of the FiT rate] was not a surprise to us at all," Qu said.
Inverter maker welcomes increased competition through tenders
Meanwhile, Sungrow Japan, which has a target to supply 200MW of inverters in the country this year, wants to be in the country long-term, CEO Terry Zhao said.
"Unlike some other Chinese companies, we want to be in business in Japan for 20, 30 years from now," Zhao said.
The company has introduced two inverters to the Japanese market, including a central inverter solution specifically for 2MW+ PV plants, meaning it has a lot at stake in Japan's megasolar (local term for large-scale) market. Zhao said that Japan's falling FiT would not deter the company.
"The FiT will drop to ¥21 next month, but even that is dearer than in other countries. In the Japanese market, costs are very high so we and panel makers need to bring whole system costs down. The FiT could still drop to ¥20 or ¥18 and we would still be ok [as an industry]," Zhao said.
Sungrow welcomes the introduction of tenders, according to Zhao.
"It is good news for us, because [to be successful] in auctions, you have to lower costs. For lower costs, if the inverter is cheaper, it's not enough. But we can make the whole system cheaper, with 10% payback [in Japan]. For our inverters, the transformer will be cheaper in some cases. With some other inverter makers you need two transformers for just 1MW of PV. With ours, for a 2MW system you can use just one transformer instead of two. These technical aspects will make our customers win the auctions [we hope]. We see it as a positive step," Zhao said.
What may make the process more complex and difficult for some are new rules governing the right to connect to Japan's regional grid network, Izumi Kaizuka, a market research expert at Tokyo-based RTS PV, told PV Tech. In addition to securing rights through auctions, project developers must also enter what could be lengthy discussions with whichever of Japan's 10 regional utilities – which are also the country's grid operators – to get their PV plants grid-tied, which is a necessity to receive the FiT.