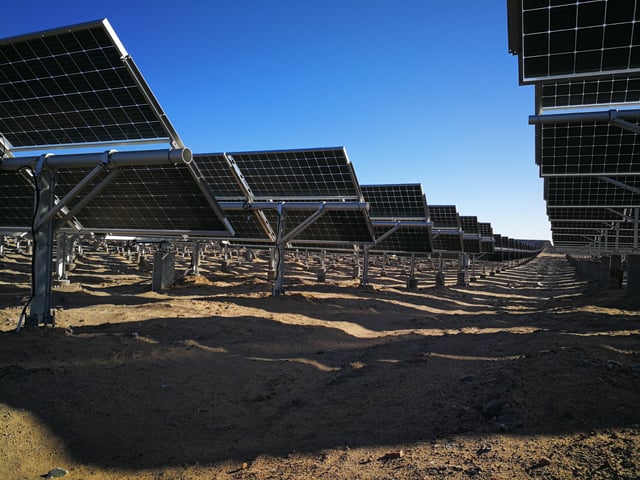 'Silicon Module Super League' member LONGi Solar, a subsidiary of leading monocrystalline wafer producer LONGi Green Energy Technology, is showcasing its expanding range of high-efficiency P-type monocrystalline modules at Intersolar Europe.
A key highlight will be LONGi Solar's 'Hi-MO3' half-cut P-type mono PERC (Passivated Emitter Rear Cell) bifacial module. The innovative half-cut bifacial P-type -mono PERC module follows on the heels of its Hi-MO1 PERC low-LID module in 2016 and Hi-MO2 bifacial PERC module in 2017.
Hi-MO3 uses half-cut techniques to reduce the operating current of the cell by half, effectively reducing resistance losses and increasing power by 5-10 watts on average. With bifacial technology, the front-side power of the module reaches 320W (60-cell), and the bifaciality is higher than 75%.
The bifaciality factor relates to bifacial cells when tested under standard test conditions (STC), taking into account the front and rear side power rating. The bifaciality refers to the ratio of the front to the rear power that was measured.
Under shaded conditions, Hi-MO3 yields more energy than a full-cell module array. The advantages of Hi-MO3 include lower hot spot temperature that reduces LCOE by a factor of 10% or more compared to conventional products at all irradiation levels, according to LONGi.
"This 3rd generation of Hi-MO with higher power, higher yield and lower hot spot effect further improves product efficiency and performance, which in turn accelerates the reduction of LCOE," said Zhong Baoshen, Chairman of LONGi. "It's the result of the R&D team's relentless focus on technological innovations. We expect that the launch of Hi-MO3 can bring new breakthroughs to the development of the industry."
In May 2018, LONGi Solar announced that it had set a new conversion efficiency record of 20.66% for a P-type monocrystalline bifacial 'shingled' cell formatted module. The China General Certification Center (CGC) was said to have validated the record.
Based on the high conversion efficiency of single-sided PERC, bifacial PERC cells generate power from both the front and rear sides, adding 10%-25% higher yield at a cost similar to single-sided PERC. The shingling of the cells reduces losses between the cells and strings, while connecting ribbons are rear located, adding front side surface area and boosting overall module performance.
LONGi announced in January 2018 that the world's largest (100MW) field testing PV power plant, owned and operated by Qinghai province State Power Investment Corporation's Huanghe Hydropower Development Co. Ltd., would include 20MW of HiMO2 PERC bifacial modules. In total, 71MW of bifacial modules from a range of manufacturers' products were being tested , which meant the test plant would also become the world's largest bifacial solar power project.