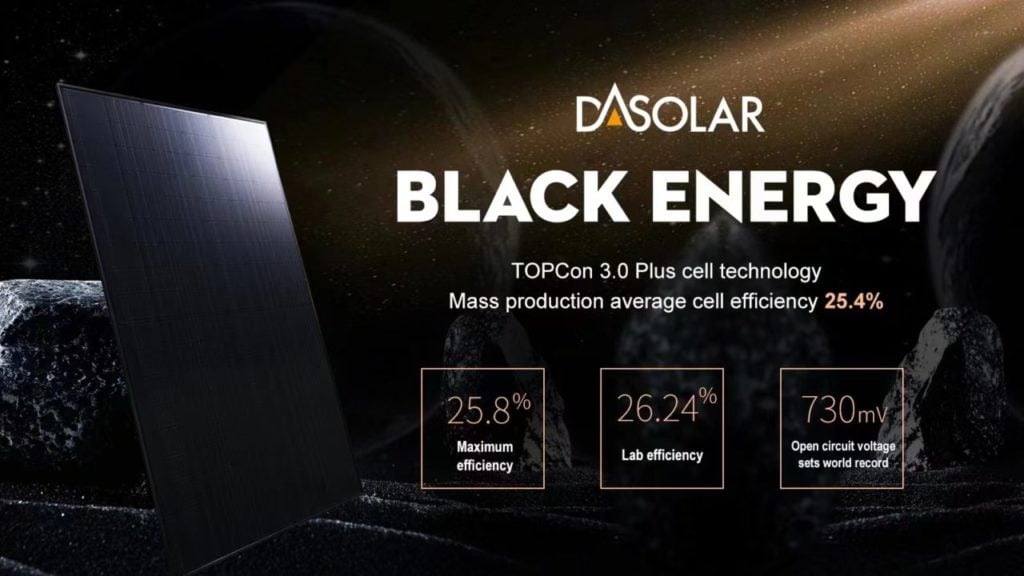 Senior VP Vincent Cao sat down with PV Tech at Intersolar Europe 2023 last month to chat about the company's products, current and future technologies, overseas ambitions and financial strength.
PV Tech: What are the highlights among the products you are displaying at Intersolar this year? Can you give us a brief introduction to each?
This article requires
Premium Subscription
Basic (FREE) Subscription
Unlock unlimited access for 12 whole months of distinctive global analysis
Photovoltaics International is now included.
Regular insight and analysis of the industry's biggest developments

In-depth interviews with the industry's leading figures

Unlimited digital access to the PV Tech Power journal catalogue

Unlimited digital access to the Photovoltaics International journal catalogue

Access to more than 1,000 technical papers

Discounts on Solar Media's portfolio of events, in-person and virtual
Or continue reading this article for free
Vincent Cao: This is the second time for DAS Solar to display its products in Munich and this year we've brought products including our n-type tunnel oxide passivated contact (TOPCon) pure black module. We call it DAS Black. It is based on n-type TOPCon technology, with a module efficiency of almost 22.6 % and a power output of 440 watts.
One of the most important features of the product is it's lightweight. It normally takes two people to carry a module, but we've produced one weighing below 21 kilograms, so it's possible for one person to take it up to a rooftop. The second feature is lower degradation due to it being n-type. This is our main product here. It also comes in a larger size with 78 cells and a power output of 640 watts, which is ideal for utility-scale projects. We additionally have on display other lightweight modules that are suitable for older roofs which are unable to support heavy weights. This is a niche market, but I think we have a very good solution with our combination of shingled technology with aluminium foil on the rear side, which gives the module better water resistance.
DAS Solar is considered to be one of the leaders in n-type technology. With the industry being so competitive, what do you think differentiates your products from those of other manufacturers?
There are a lot of companies moving to develop TOPCon technologies, but I think DAS Solar is the first to commercialise a TOPCon production line to a gigawatt scale. Our R&D team, led by Dr. Song Dengyuan, who was a PhD student under the supervision of Prof Martin Green at the University of New South Wales (UNSW) in Australia and a researcher there for 10 years, works on both cells and modules. They have decades of research experience and I don't think that any other company's R&D team has such a strong background. This is one of the differences. The second one is that DAS Solar's founder, Mr. Liu Yong, also served as CTO at a Tier 1 cell and module manufacturer and is an avid supporter of new technology, constantly embracing innovation, a fact perfectly illustrated by us upgrading our TOPCon from version 1.0 to 2.0 and then to 3.0 plus.
We're already heading for TOPCon 4.0, which has a new carrier-selective passivation contact material and cell structure, allowing us to increase efficiency to 26-27%. It's already one per cent ahead of the competition. If you look at the current market, many people are promoting TOPCon, but their products are not yet released. We, in contrast, started to work on TOPCon back in 2018, and now have 5 years of experience in increasing the yield of TOPCon cells in mass production, meaning that we already have 1.5-2GW of reference projects around the world.
What is your current production capacity? Do you think it's going to be sufficient to satisfy customer demand going forward?
By the end of this year, we will have a capacity of around 30GW each for cells and modules. During 2024, the capacity for each will increase to 40-45GW.  We plan to be a top tier company, hence the reason we are expanding our capacity very quickly.
The current market penetration level for TOPCon products is around 20%, but in 2024 this will increase to 50% or maybe higher, meaning we have a huge opportunity. We are very confident – we understand the technology and we understand how to run the brand. We understand the customer needs. We are sure we can deliver 30GW of modules to our customers.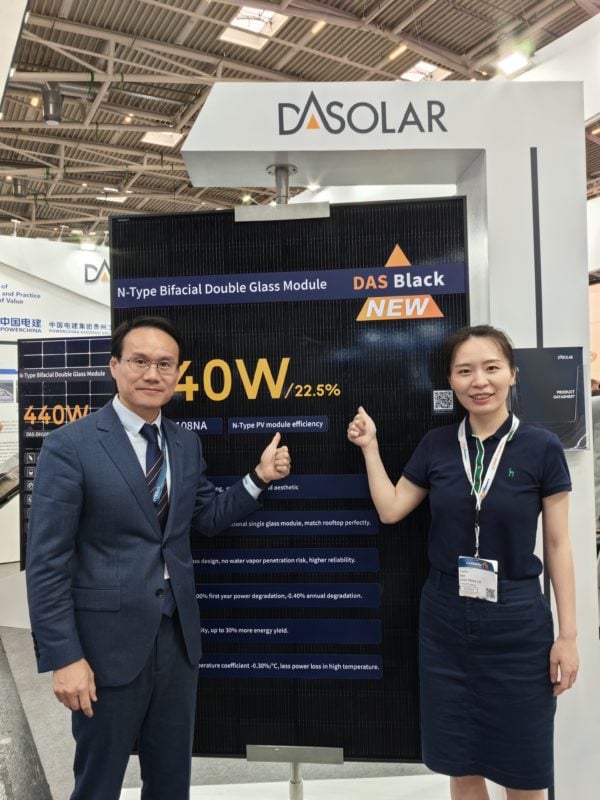 In terms of overseas markets, what are your priorities for the next year?
Europe remains the top priority, because if you look at the global map, China is at around 120GW per year. We already have a market share of 10-15%, but there is always a ceiling for one company. The European Union has 27 countries, with some 43GW of solar capacity installed last year, with this year's figure likely to be around 70GW. This is clearly an important market and represents our first priority, starting with Germany and Central Europe. This is why we set up our subsidiary in Frankfurt last December.
A later phase will see us set up offices in Italy, Greece, Spain, Portugal and the UK. We will build local teams, to be closer to our customers and better understand what they need.
After Europe, the Middle East is another important market, because there are a lot of projects there. There's around 5-10GW of projects being planned in the next 2 years and they already accept n-type TOPCon modules. It's very important for DAS Solar to be there.
Then we have Japan and Australia. We have already set up an Australian subsidiary in Sydney and we are also a registered company in Tokyo. Going forward, we will have the option of manufacturing overseas, probably in Japan or Europe. 
The likely split between domestic and overseas shipments for the next year – you already said 15% in China, so around 85% overseas? 
Yes, that's correct. We have a strong team and are looking forward to the challenge. 
You have a connection with the University of New South Wales in Australia and have recently made public a partnership you have with Martin Green's team for the future development of a module with an efficiency of 40%. Is that realistic?
Yes. The solar cell with Singlet Fission on Silicon (SFOS) launched by this project can have a theoretical maximum efficiency of more than 40% because the SF layer on a silicon PV device can double the EQE over the wavelength range over which it absorbs. The Photovoltaic Research Center at UNSW is a global photovoltaic innovation highland, through high-end talents and advanced R&D equipment, focusing on basic SF material and mechanism research into the SFOS cell. DAS Solar has a significant amount of accumulated research, industrialization experience and advanced laboratory facilities for TOPCon cells, and focuses on research into the SFOS cell's industrialization integration and large-scale mass production technology. Through the efforts of both parties, it is expected that this new generation of solar cell technology will be promoted just as UNSW invented the PERC cell 40 years ago.
If you look at your planned road map going forward a couple of years, what effect will that partnership and developing the high efficiency module have on your overall plans?
The theoretical efficiency of a crystalline silicon solar cell is 29.4%. Therefore, the future R&D goal of DAS Solar is to break through that efficiency limit. At present, the technical path to break through this bottleneck is the tandem cell, such as a combination of a tandem cell of silicon and perovskite with a new SFOS cell, which is very challenging. That said, we are confident that our cooperation with Martin Green's team will ultimately push through the theoretical limitation of the crystalline silicon cell and enable us to industrialise.
If successful, we would like to see an ultra-high efficiency module become available because the higher the efficiency, the higher the power output and you then lower the cost of the panels.
Do you have any idea as to when this module could be part of your portfolio?
We forecast that this cell technology could be commercialised by the company in maybe 3 years' time, perhaps a little longer, at which time this kind of high efficiency module could be introduced to the market. In the meantime, we will still use TOPCon 4.0. We always have to be thinking three years ahead. 
DAS Solar is a young company, but we are a very promising company because of our shareholders. We have very strong shareholders. Normally, the first question I ask my customers is 'Do you know the scale of the largest hydro dam in the world?'  I will then say CTG, that's one of our shareholders. They then quickly understand who is behind you. And then I always say Dr. Song is on our team, which means we have both strong financial backing and a very strong R&D team. Customers don't need to worry about our future.