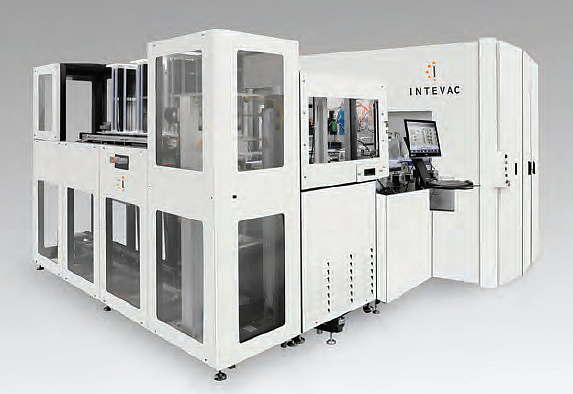 Specialist semiconductor and PV equipment supplier Intevac reported first quarter 2017 financial results that included a 40% increase in new orders, driven by its largest single order in its Thin-film Equipment segment that includes its solar product offerings with a 12 system follow-on order in March for its solar 'ENERGi' implant tools.
Revenue in the first quarter of 2017 was US$30.4 million, including US$21.5 million of Thin-film Equipment segment revenue. However, the segment sales are not expected to include the solar ion implant order until later in the year, after tools are shipped to a customer in China planning to ramp N-type mono IBC (Interdigitated Back Contact) solar cells and modules, including bifacial modules.
Management noted in its first quarter earnings call that the solar ion implant order was valued at around US$23 million. The company had not disclosed the value of the order when it was announced in March, 2017.
Intevac's Thin-film Equipment segment sales have been increasing significantly since the third quarter of 2016, partially driven by new solar orders for implant and PVD tools. Intevac reported total new orders in the quarter of US$35 million
"Recent traction in orders and revenue in new markets reflect important milestones in the future growth trajectory of our company," commented Wendell Blonigan, president and chief executive officer of Intevac. "In the first quarter, we recognized revenue on VERTEX volume production systems and received follow-on orders for 12 ENERGi implant tools, both of which represent the crossover from pilot tools to capacity production systems in each of our new Thin-film Equipment growth markets.
Intevac reported that its order backlog totalled US$73.0 million at the end of the first quarter, compared to US$68.5 million at the end of 2016. The order backlog at the end of the first quarter of 2017 included one 'MATRIX' PVD solar system and 14 ENERGi solar ion implant systems.
Blonigan noted in the earnings call that the market for its MATRIX solar product would remain limited, due to sector challenges.
"We believe that many customers have been reassessing their N-type strategies and some high efficiency N-type capacity has been announced coming offline. We continue to expect the market for our MATRIX solar products focused on high efficiency N-type cells will be soft over the next year and until overall weakness in the solar module pricing has improved," noted Blonigan.
"While there are many moving parts in the solar business, we continue to monitor the environment for N-type solar investments and given the nearly $23 million order just received, we are leaving our five year solar revenue outlook unchanged at $175 million," added Blonigan.