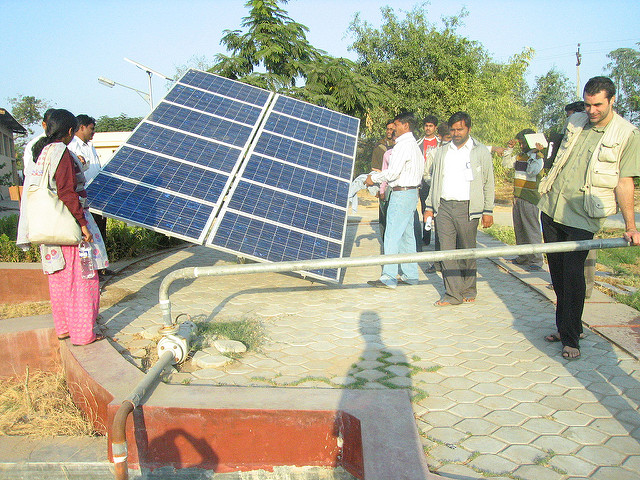 Participants in Solar Energy Corporation of India's (SECI) 500MW rooftop solar tender have put in a high variation of bidding levels with some states undersubscribed, according to Jasmeet Khurana, associate director, consulting at Bridge to India.
Khurana told PV Tech: "Some companies have still quoted unreasonably low rates. The variation between bids is too high to call these bids rational."
Tariff's quoted hit as low as INR3/kWh (US$0.045) in Chandigarh, Himachal Pradesh, Uttarakhand and Puducherry and as high as INR6.2/kWh in Punjab.
Project costs were as high as INR74,950/kW in the Andaman and Nicobar Islands and Lakshadweep, and as low as INR45,100/kW in North Eastern States/Sikkim.
It should be noted that both the lowest tariffs and lowest project costs were found in 'special category' states, which receive a 70% subsidy, from the Ministry of New and Renewable Energy (MNRE).
Such subsidies were approved by India's Cabinet Committee on Economic Affairs in January while scaling up the budget for grid-connected rooftop solar in the country from INR6 billion (US$90 million) to INR50 billion up to 2019/20.
The lowest prices for each state were as follows:
A SECI release said that it will soon unveil the full list of bidders with quoted prices and capacities.
India is forecast to add 700MW of rooftop PV in the year 2016 and cross the cumulative 1GW benchmark this month, according to Bridge to India.
Meanwhile, third party financing could support more than half of India's solar rooftop segment by 2022, but several policy initiatives must be introduced to make this model attractive, according to a recent report from advisory organisation the Climate Policy Initiative (CPI).