US-headquartered high-efficiency solar panel manufacturer SunPower Corp recently held its 'Capital Markets Day' event that indicated a slow turnaround in its business fortunes would be a key development in 2019.
A key challenge for a company that has undergone several major restructurings in recent years has been the lack of profitability.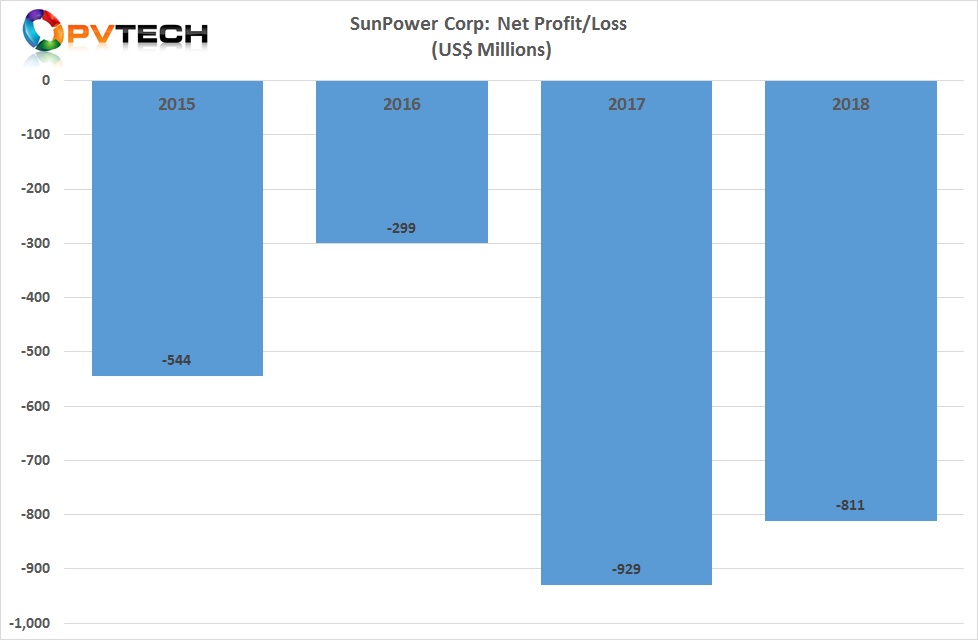 This, in turn, has been underlined by high operating expenditure (opex) with limited manufacturing capacity. The restructuring, notably in its manufacturing operations over several years has finally come through as SunPower's total and manufacturing headcount is in decline.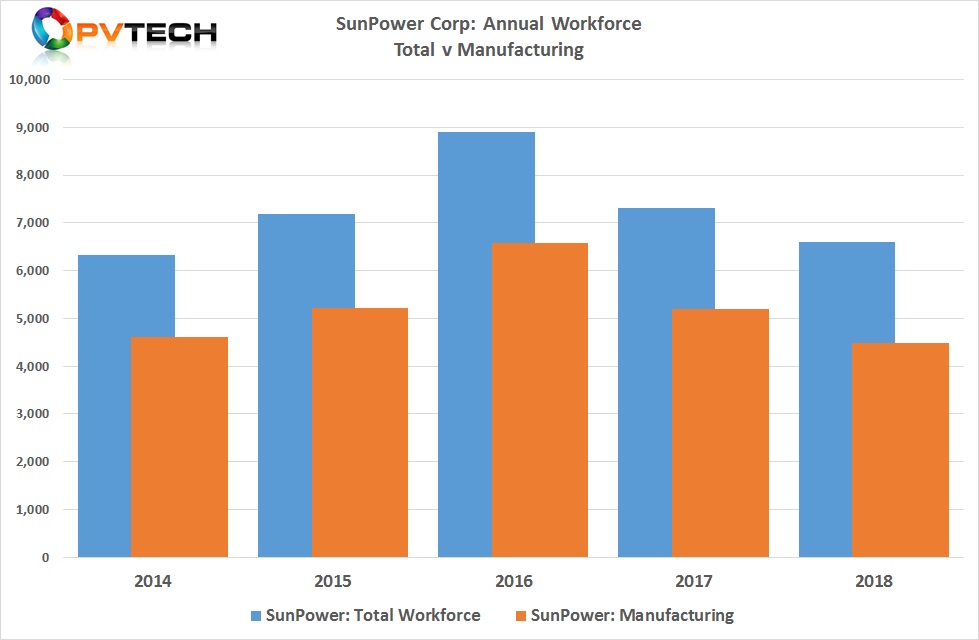 When the company closed an aged solar cell plant as well as all module assembly operations in the Philippines and shifted module assembly to Mexico the total headcount continued to increase through 2015 and 2016. However, two successive years of headcount reductions have followed in 2017 and 2018.
Although Manavendra Sial, SunPower's CFO may have been a bit optimistic when claiming that SunPower's business model had been "transformed" with three strong business segments ready for growth in 2019, what was clear was that opex had been reduced by over 25%, since 2016.
Further opex improvements are expected this year, notably, corporate opex to less than 2% of sales, while annual non-GAAP opex is expected to reach a target of US$270 million in 2019, US$10 million lower than previous guidance given in its last earnings call in February 2019.
With manufacturing remaining its biggest cost base, not least in headcount (despite meaningful reductions) its opex and capex requirements are set to decline further. Sial noted that SunPower's capital expenditure (capex) per-watt was on target to have been reduced by 70% in 2019.
Sial also highlighted a 60% reduction in net debt since 2016, as well as nearing the end-point of its legacy polysilicon contracts with Hemlock Semiconductor, which would boost operating cash in the second half of 2019 by the tune of around US$110 million, going forward.
However, it is back to SunPower's perennial manufacturing constraints that without increased low-cost manufacturing capacity increases, revenue would remain in a narrow range as seen since 2015.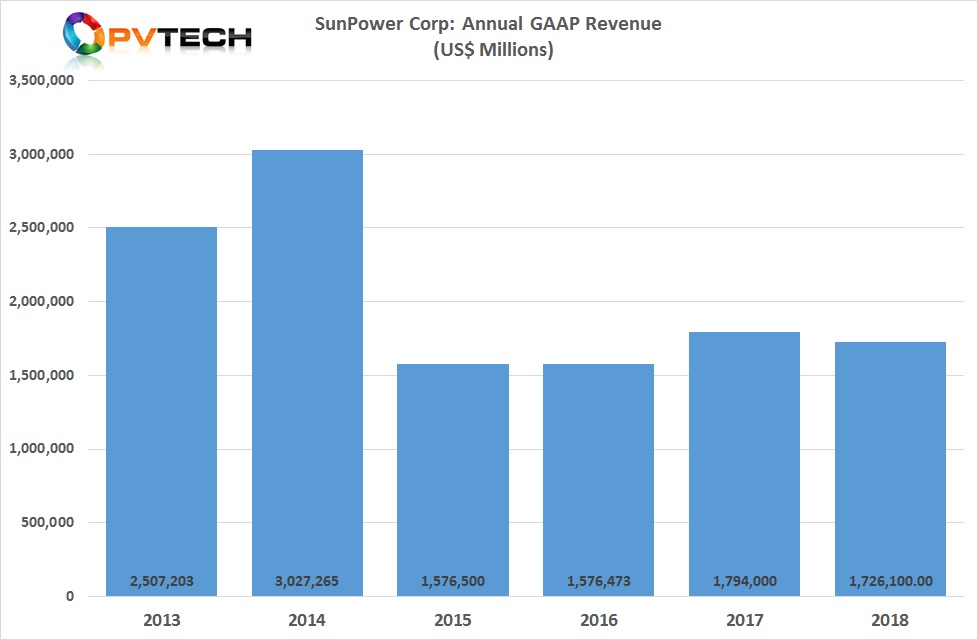 Module shipments increasing
The big change in 2019 is the shipment (deployments) guidance given by SunPower. Having deployed 1.1GW in 2015, it has taken the company a further three years (2018) for deployments to have reached almost 1.5GW.
Guidance for 2019 is in a range of 1.9GW to 2.1GW, although an extra 200MW upside was touted in relation to warehousing this quantity of modules from a safe harbouring perspective, due to the ITC step-down at the end of 2019. SunPower confirmed to PV Tech that it had already started the warehousing.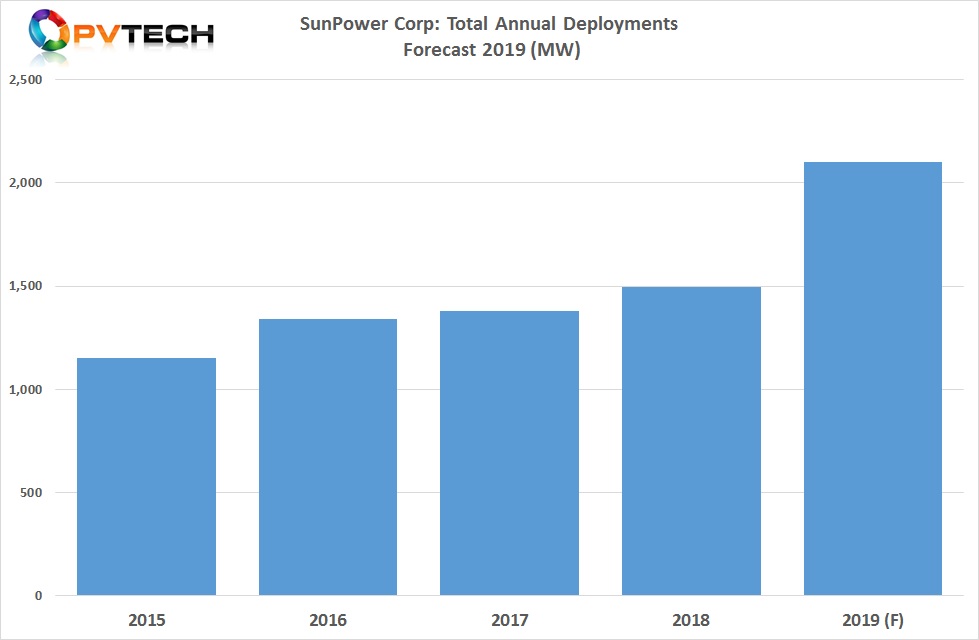 The extra capacity is coming from the ramp of its first NGT production line (120MW approx.) at its plant in Malaysia. The company has already placed orders for the equipment needed for its second NGT line at Fab 3. SunPower shipped its first NGT modules to customer sites in the fourth quarter of 2018, with the first line fully ramped in the first quarter of 2019.
SunPower's CEO, Thomas Werner told PV Tech after the Capital Markets Day event that with both NGT lines operational, capacity of the lines would be around 250MW by the end of the year.
Although SunPower is migrating production capacity away from its E-Series modules to NGT production, Werner noted that further NGT line migration at Fab 3 would, "depend on funding" from strategic partner's that were being assessed. The higher efficiency (25%) NGT cells added MW capacity over the E-Series cells.
Should a deal be struck, SunPower wants to complete the full conversion of Fab 3 and expand Maxeon Gen 5 (NGT) capacity to around 1.8GW.
Also available to SunPower in 2019 will be around 150MW to 160MW of P-Series PERC (Passivated Emitter Rear Cell) modules from its acquisition of SolarWorld Americas and its manufacturing operations in Hillsboro, Oregon.
However, the significant increase in guided deployments comes from its asset-lite Joint Venture (JV) with Chinese partners, Dongfang Electric Company (DEC) and Tianjin Zhonghuan Semiconductor (TZS), which is the main manufacturing centre for its P-Series modules.
Werner confirmed to PV Tech that the company has an option to offtake two-thirds of total nameplate cell and module capacity of the JV, which stands at 2GW. However, Werner confirmed that the plan in 2019 was to offtake approximately 900MW in 2019. To put this in perspective, SunPower reported total production in 2018 of 1,175MW.

Clearly, SunPower has both the in-house and external capacity to exceed the high-end of its module deployment guidance for 2019.
Driving demand
Of course for SunPower to breakout of manufacturing capacity constraints, end-market demand for its products has to match its deployment targets.
Jeff Waters, the recently appointed CEO of SunPower Technologies (SPT), which is primarily the renamed manufacturing operations of the company, produced a rarely seen cluster of charts that highlighted the regional demand expectations for its modules in 2019.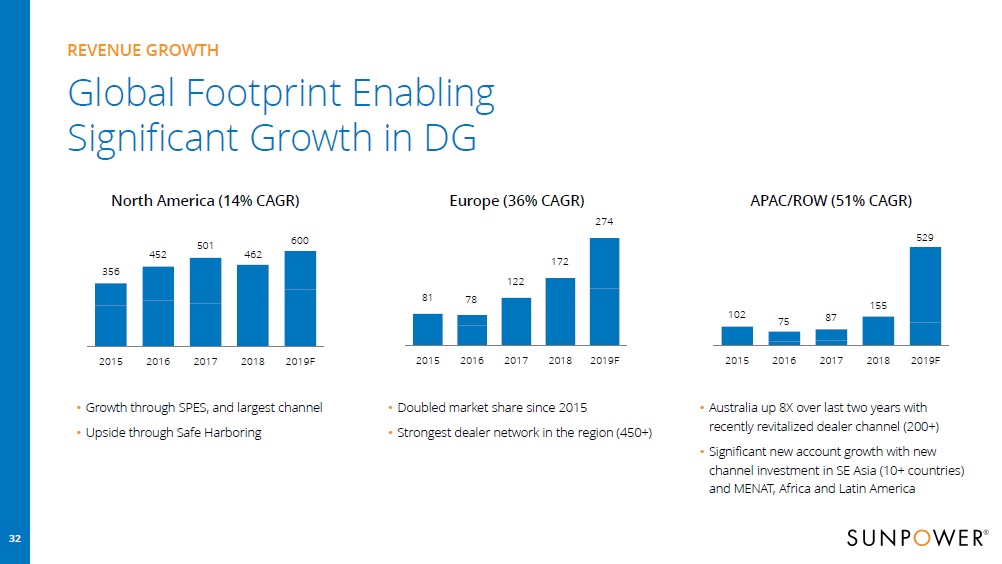 Clearly, SunPower's main downstream market is the US. Waters noted that its SPES business segment that includes the residential and commercial businesses in North America were its largest business unit and expected deployment growth of around 14% in 2019.
Deployments are targeted at 600MW in 2019, up from 462MW in 2018, yet North America has the slowest regional growth rate and deployments declined in 2018. This is a key reason availability increased and therefore deployments increased in Europe.
Out of the total North America deployments in 2018, the residential sector accounted for around 279MW, compared to around 242MW in 2017, when total deployments were 501MW.

Competition in the US residential market has not only increased with many 'local' installers taking market share away from the largest players (Tesla, SunPower, Sunrun and Vivint Solar) but competition has increased with key high-efficiency module manufacturers such as LG Electronics and Panasonic focusing on the US market and rapidly growing mono-PERC producers such as JinkoSolar and LONGi Solar also gaining market share traction.
As the chart below shows, SunPower lost market share to Sunrun in 2018, which also supplanted long-term leader, Tesla by year-end. Indeed Sunrun has been a roll in 2018 and has guided deployment growth to be in the range of 16% to 18% in 2019. Sunrun's total deployments in 2018, were 373MW, an increase of 15% year-over-year.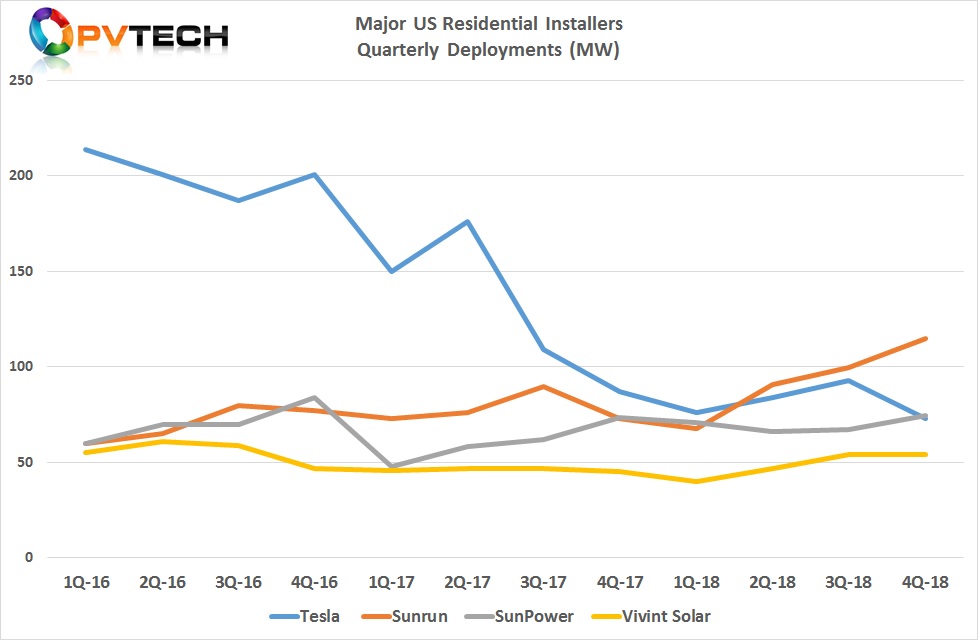 However, an all-embracing APAC/ROC regional segment is expected to have growth of 51% in 2019. This would be driven by strong demand already experienced in Australia that is being supported by a "revitalised dealer channel" in the country, which exceeded 200 dealers.
Yet, growth was also expected South East Asia, Africa and Latin America, driven by P-Series module availability.
Although Europe had been SunPower's main market a decade ago, limited module production to meet in particular, US and Japanese demand had limited module availability in key markets such as Germany, UK and France in recent years.
But dealership expansions, coupled to the availability of E-Series and a sprinkling of X –Series modules, notably in 2018, has meant SunPower has doubled its demand since 2015. SunPower is expecting European deployments to be around 274MW in 2019, up from 172MW in 2018, a 36% growth rate.
It would seem that SunPower has a good chance to break-out of its capacity constraint issues of recent years and meet or exceed its deployment targets of 1.9GW to 2.1GW while meeting its GAAP revenue guidance of US$1.8 billion to US$1.9 billion.
This would demonstrate the start of a potentially sustainable growth trajectory of both key business metrics. However, the return to profitability would demonstrate a complete turnaround in SunPower's business and this according to the 'Capital Markets Day' commentary from executives, would be in 2021.