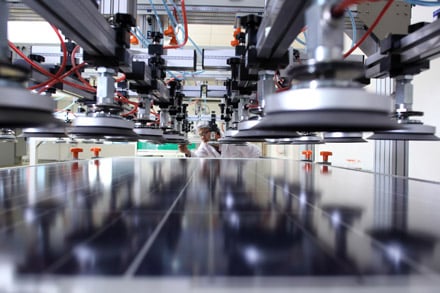 'Silicon Module Super League' (SMSL) member JA Solar may have met first quarter 2017 guidance on key financial metrics and guided a strong second quarter, due to an increase in demand from China but management commentary turned cautious for the second-half of the year on limited customer demand visibility.
With global module average selling prices (ASP's) continuing to decline due to overcapacity in the industry, profitability is becoming a key metric once again to monitor whether the industry is heading for another period of profitless prosperity.
JA Solar reported relatively strong first quarter results as total shipments were 1,392.7MW, consisting of 1,325.1MW of modules and 50.2MW of cells to external customers, and 17.4MW of modules to its in-house downstream projects. External shipments increased by 32.5% year-on-year and only down 2.6% from the previous quarter.
The SMSL member reported net revenue of US$536.4 million in the quarter, an increase of 6.4% from the prior year period but a decrease of 7.5% from the previous quarter. Gross margin was 11.7%, down from 12.9% in the previous quarter.
PV module ASP declines meant JA Solar reported an operating profit of only US$11.6 million, compared to US$32.4 million in the first quarter of 2016, and US$53.8 million in the fourth quarter of 2016.

Net income slumped to US$1.2 million, compared to US$23.0 million in the prior year period and down from US$51.3 million in the fourth quarter of 2016.
JA Solar reported a gross profit of US$63.0 million, which declined 24.7% from the prior year period and 15.9% sequentially.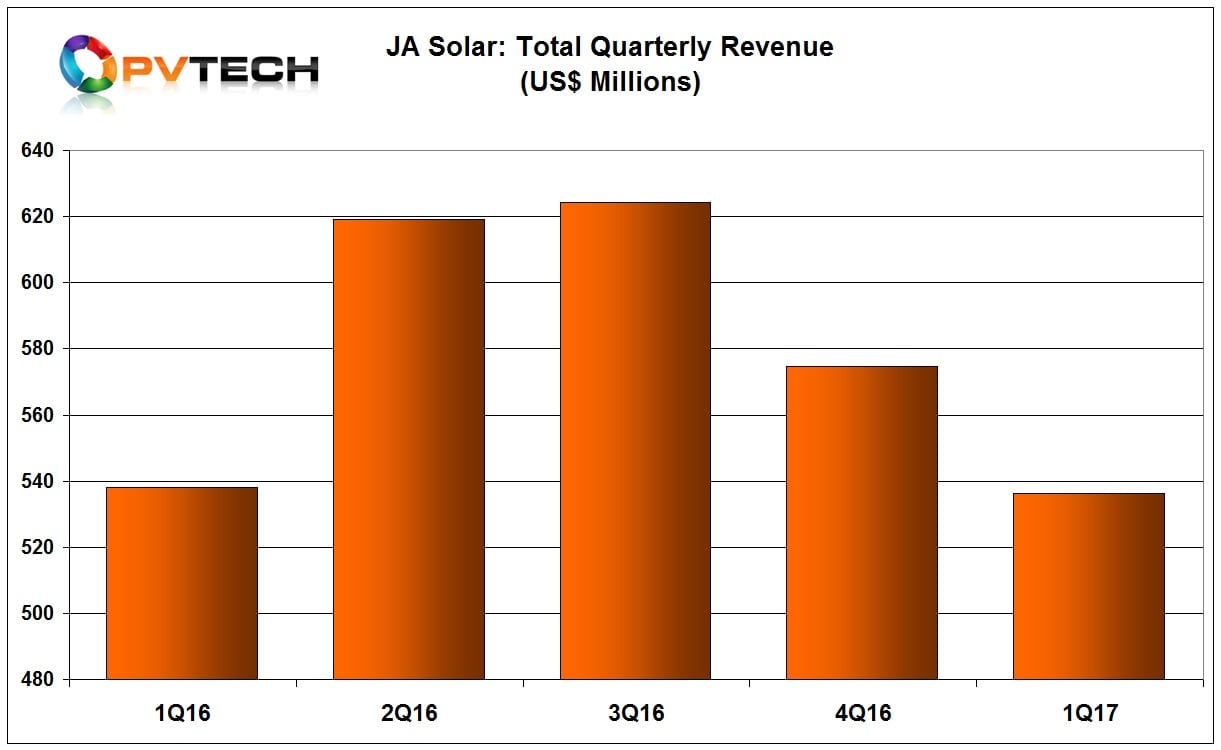 Baofang Jin, Chairman and CEO of JA Solar commented: "Our operating results were in line with our expectations. We delivered high-single-digit year over year revenue growth on robust external shipments, driven by strength in the Asia Pacific markets. We expect solid demand from China in the second quarter, driven by accelerated activity ahead of subsidy reductions. Despite this near-term strength, we are cautious on the business outlook for the second half of 2017, given limited visibility into customer demand, as well as the competitive pricing environment across multiple geographies."
Jin added in the JA Solar financial release that it would be streamlining its operations and that its relatively broad geographic sales footprint, coupled to cost controls and flexible business model would help it through the current industry cycles, without being more specific.
Guidance
JA Solar guided total cell and module shipments to be in the range of 1,550MW to 1,650MW for the second quarter of 2017, while the majority would be external shipments.