The PV-Tech market research team can now reveal that the four solar PV module suppliers meeting AA-Rated bankability status are JinkoSolar, First Solar, LONGi Solar and Canadian Solar.
In the first quarterly release of the PV ModuleTech Bankability Ratings, effective Q3'19, no module suppliers qualify in the highest AAA-Rated band, with just four companies (mentioned above) meeting the next-highest rating of AA.
The company names were revealed this week during a set of two webinars I delivered, explaining the methodology, validation and output underpinning the new PV ModuleTech Bankability Ratings system that scores/grades and benchmarks any PV module supplier in the industry today.
This article provides further details on the number of companies meeting 'A' and 'B' grade status; the two most important grading categories for bankable PV module suppliers to commercial, industrial and utility PV sites. I will also show historic trends of the four leading AA-Rated companies forming the key results from the Q3'19 bankability rankings generated by the PV-Tech research team.
Why generate a Bankability Ratings system for the PV industry now?
For those that dialled in and listened to either of the webinars I delivered this week, much was spoken about the need for a credible, fully-independent, transparent and professional ranking system to differentiate between the hundreds of companies selling PV modules today; and also within the high-number (40-50) of PV module supplier currently claiming to be on someone's tier-1-type membership grouping.
Occasionally, during the series of six articles I posted on PV-Tech between 30 June and 8 August 2019 (starting here, and ending here), I alluded to the chronic need for the PV industry to mature from the somewhat academic approach of ranking and benchmarking PV module suppliers. As the stakes get higher (the more the industry moves to 100MW-plus utility site deployment as the norm), the requirement to differentiate between suppliers becomes even more paramount.
During the webinars, I pointed out that the role of such benchmarking platforms should be firmly to allow investors, banks, project developers and EPCs to short-list potential suppliers during the initial stage of the overall module supplier selection process. This should provide clear guidance as to the financial and manufacturing (supply in particular) strengths and weaknesses of potential module suppliers, and crucially, how they benchmark relative to one another today, and over the past 12-18 months.
How banks and lenders (and of course developers and EPCs) generate their short-lists is their business, but few have sufficient (and independent) means of doing this to everyone's satisfaction, or in keeping track of changes to their select group of PV module suppliers as changes occur within the sector.
It has alarmed me more than once over the years to scan through lists of bank's 'approved' PV module suppliers, only to learn that their lists had not been changed for over two years, and that many on the lists were technically bankrupt and going through Chinese-style asset reassignment to a new owner-entity.
The short-listing – or whitelist generation – phase ultimately sets the basis for proper module supplier due-diligence and final choice for site delivery. The due-diligence phase is where the IE's, auditors, reliability testing and certification bodies enter the scene. This grouping typically performs steps here to a very high standard, and many in fact are able (by virtue of business volumes accrued over the years) to generate their own 'rankings' or 'top-performer' lists. However, these are based entirely on work these bodies are contracted to do at any given time.
Therefore, like any competitive analysis, the key issue is how and when to use the output best, rather than to extend optimistically the scope and expectations from any single part of the whole module-selection process.
In the webinars, I used the example of Yingli Green to show how a company, that had been on several tier-1-type or top-performer listings until 2016, had in fact declined to our speculative risk grade category in 2014, and had been in the highest risk-category (C-Rated) since 2017. While Yingli Green was used as a case-study here, there are countless other module suppliers that have been known to shout loudly about being a tier-1 module supplier, but were in fact technically insolvent and exhibiting chronic financial results.
It seems incredible that the PV industry has been operating in this manner for the past 10 years or so, and in particular when solar moved into asset-class territory, and out of the cottage-industry residential FIT-frenzy that stimulated its initial commercial growth phase (where bankability was barely relevant).
Ultimately then, the driver for the PV ModuleTech Bankability Ratings was to provide full and transparent benchmarking of any PV module supplier (selling to commercial, industrial and utility segments globally); without any bias, prejudice, naïve assumptions or loaded pre-conditions of entry into a media-hyped membership grouping.
Fundamental to this entire process is being able to correctly balance the contributions from module supply (manufacturing) and corporate solvency (financial). It requires a broad range of knowledge across technology and production issues and supply globally, in addition to understanding exactly how the whole upstream and downstream segments operate in practice; where the key drivers are profitability, financial health, asset returns and risk. Framed in this way, it is perhaps not a surprise why professionally produced company rankings and benchmarking have been somewhat alien concepts until now within the industry. Hopefully, this will change going forward.
More explanation of using Altman Z score for PV module suppliers
I used the webinar platform also to explain more on the use of the Altman Z model (Altman, E.I., Journal of Finance, Vol. XXIII, No. 4, pp 589-609, 1968.) for PV module suppliers. It was discussed in length during the six-part series of articles recently on PV-Tech, but it remains critical that this part of any credible bankability analysis is done properly (and fully explained).
It should be remembered that the Altman Z score method was proposed over 50 years ago, to predict the likelihood of manufacturing companies (above a pre-set annual turnover threshold) going bankrupt in the near future.
The model has stood the test of time, and is so well known and accepted across different sectors that using this as a starting point is probably still the best place to begin for the PV industry. It allows everyone to know clearly what the starting parameters are (namely the five accounting ratios employed within the Altman Z model).
To back this up, many third-party observers to the PV industry routinely cite Altman Z scores for publically-listed PV companies. However, there is one major problem here: the output shown does not seem to be aligned to how the PV industry actually operates: or else almost every company would be bankrupt by now!
In fact, simply applying the 1968 equations of Altman to the PV industry of 2019 can and does create more questions than answers. Anyone that has read perspective-based studies by Altman and others – looking at the applicability of the Altman Z model – will know that the key thing is to understand the numbers in the context of the industry in question. This is obvious, but it does require the user to actually know how the PV industry works in the first place. This may be part of the problem.
As an example, let me state now where uneducated-use of Altman Z data creates problems in the PV industry today.
In the past few weeks alone, I have come across a couple of statements issued in the context of tier-1 and top-performer analyses from various third-party bodies. Essentially – at the same time – it was stated that only three PV module suppliers were not at risk of bankruptcy today, and then there was a list of 40-50 module suppliers that were assigned tier-1 status.
Quod erat demonstrandum: virtually all tier-1 companies are at risk of bankruptcy in the next couple of years. Judge for yourself if this truly makes sense? Or if it is remotely useful for anyone today trying to decide which module suppliers to short-list for site selection?
During our research phase in understanding the operating results of PV module suppliers (going back 5-10 years), it became clear that the use of the Altman Z ratios was not the actual problem. The mistake related entirely to an incorrect interpretation of the numeric values generated and a misunderstanding of PV module supplier operations and the overall sector.
How we converted the Altman Z scores to solar module financial strength scores (in a 0 to 10 scale) was covered in detail within part five of the PV-Tech article series.
It is worth pointing out that starting from Altman Z scores – and doing statistical analysis to convert these to the 0-10 scale – is done solely to preserve the starting point being the Altman Z approach that has widely accepted.
A more correct method would be to do a PV-specific regression or multivariate discriminant analysis based purely on ratios derived from PV module suppliers during the past 5-10 years. It is likely no-one has even attempted this, but may well be something to consider in the future. This would almost certainly have to discriminate between non-Chinese and Chinese headquartered companies, with a further differentiation between Chinese (listed on US stock exchanges) and state-owned/controlled Chinese entities within which is a subsidiary solar module operation operating as a dedicated business unit.
It may seem I am somewhat labouring the point; but the fact that tier 1 lists have routinely been comprised of companies that either have red-flags in abundance or are operating close to technical bankruptcy, should serve to highlight why correct assessment matters.
The four PV module suppliers with top-performing AA-rating status in Q3'19
It would be fair to say that most of the people that dialled into the webinars this week were doing so to learn which four PV module suppliers were in the top-performing AA-Rating band today.
The graphic below reveals this set of 'most-bankable' PV module suppliers today: JinkoSolar, First Solar, LONGi Solar and Canadian Solar.
No PV module supplier scores the highest rating of AAA, and in fact, rarely over the past 10 years, has any PV module supplier been in this band. More on this below.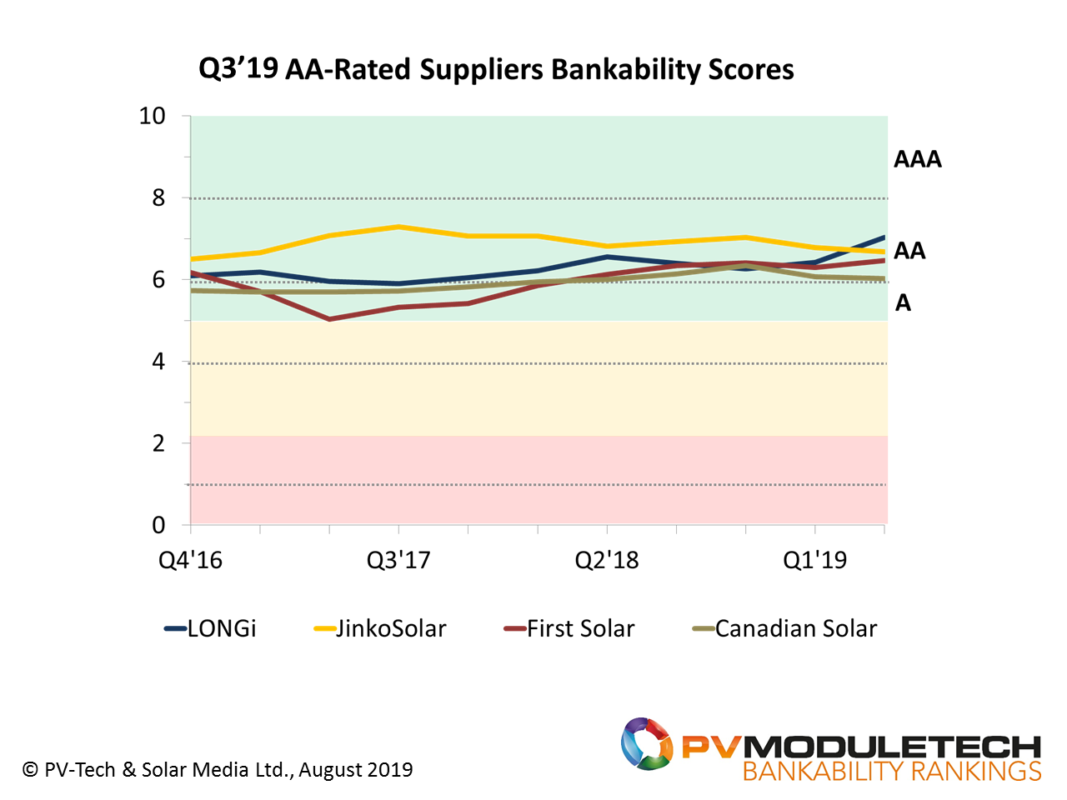 A total of eight companies have 'A' rated status (four AA-Rated as outlined above, and four others with A-Rating). Interestingly, only six companies fall into the three 'B' rating categories. Therefore, just 14 PV module suppliers (out of a pool of several hundred in the industry today) have PV ModuleTech Bankability Ratings of B or higher.
All other PV module suppliers (several hundred in total) fall into the 'Speculative' zone (CCC, CC, and C), and are therefore assigned as risky propositions when large-scale solar site deployment is under consideration. Normally, the companies in 'C' bands either have limited capacity availability, have failed to keep shipment volumes (to non-residential segments) up with overall industry growth rates, or are in poor financial health; or for many it is a combination of both.
To show some further detail on the four AA-Rated top-performers today, the webinar talked through different graphics for these suppliers; this was done to support the overall methodology validation. A version of this is shown in the graphic below now.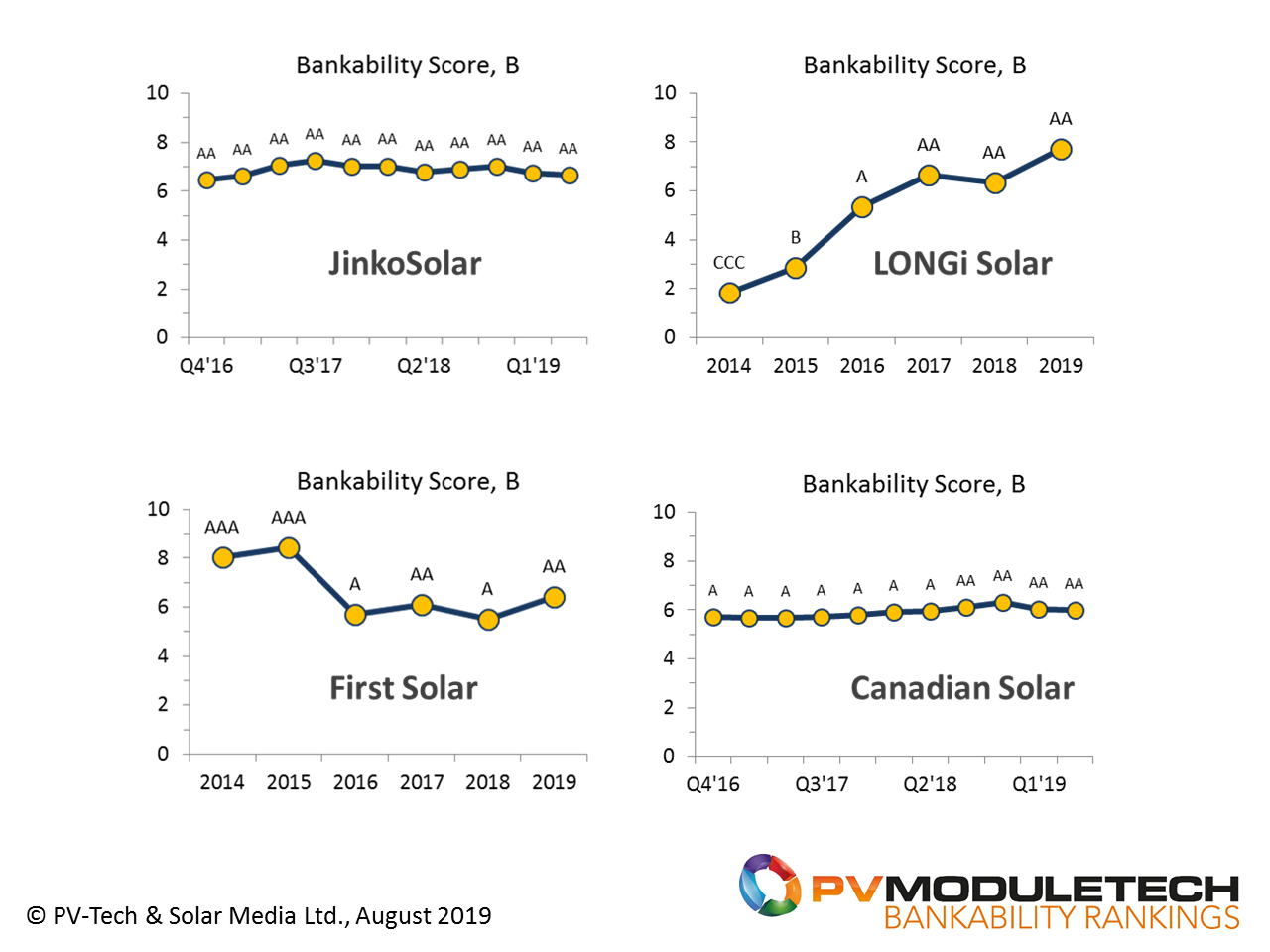 I decided that looking at either quarterly ratings (going back 12 quarters from today), or year-end ratings (covering six years including forecasted year-end 2019 ratings), was most useful during the webinar discussion. The choice of annual or quarterly trending for each company depended on which option best showed changes over the defined period. In reference to the graphic above, we can interpret the bankability scores and ratings for each as follows.
JinkoSolar: The graphic above shows that Jinko is the only PV module supplier to have AA-Ratings for the past 12 consecutive quarters. It confirms what is seen in the market, especially when one considers how the company has been so effective in gaining market-share globally in the regions that truly matter for utility-scale solar.
LONGi Solar: The trending here by year confirms the company as the high-growth supplier of the past few years, moving from CCC-Rated to AA-Rated bands. Key here is the growth trajectory relative to the other AA-Rated companies, suggesting that 2020 is going to be the year that LONGi finally reaches widespread global brand recognition as a PV module supplier.
First Solar: The choice of annual data here is done to highlight that First Solar is the only PV module supplier to have been AAA-Rated during the past six years. The cyclic trending is directly related to the operational reset that has been occurring at the company during the past few years, in reprioritizing its manufacturing module supply strategy, and in making massive investments into new Series 6 panel facilities. Assuming profitability targets are hit with regards Series 6 production, it is possible that First Solar could return to AAA-Rated territory during 2020.
Canadian Solar: When looking at Canadian Solar's strategy, it is clear that the company has managed to effectively pursue a dual manufacturing/downstream business within the industry that most other have desired but failed at. This comes over in the graphic above (upstream specific of course) that shows an almost straight-line scoring output (conveyed also in annual figures). It confirms that Canadian Solar has managed to keep its module output at premium-bankable levels, with overall corporate operations benefiting from the timely sale of short-term owned assets (flipping).
Correlating historic trends forms part of the overall validation process of the PV ModuleTech Bankability Ratings methodology. Any PV module supplier, present or in the past, has to be validated in this manner, in order to confirm that the scoring system, and rating bands, are what is seen within the sector. As we reveal companies in the A, and 'B' bands, over the coming months, we will show that bankability scores and rating categories for all other PV module suppliers can be understood in this way.
PV ModuleTech 2019 conference becomes go-to bankability forum for the industry
PV-Tech's annual PV ModuleTech conference was originally configured to provide developers, EPCs and utility-scale investors the opportunity to understand factors relating to module quality, reliability and performance.
With the release of the PV ModuleTech Bankability Ratings, the event now becomes a must-attend platform, where module suppliers will be addressing specifically how their offerings can maintain or elevate them to AA-Rated status or better.
The latest agenda for the forthcoming PV ModuleTech 2019 event was released in the past few days, and can be viewed here. It shows that three of the four AA-Rated module suppliers, highlighted above, will indeed be explaining many of the factors that are implicit in their top-performer rating grades.
Complementing these talks are most of the leading third-party bodies that conduct due-diligence phases on short-listed or selected module suppliers for large-scale project globally; IE's, auditors, reliability testing and certification bodies. Speakers are confirmed from companies such as PV Evolution Labs, RETC, PI Berlin, STS, Clean Energy Associates, and Kiwa Asia.
The whole event will in fact start with a 45-minute presentation I will give, where all companies occupying bankability ratings in the 'A' and 'B' categories will be previewed, including benchmarking guides that will assist developers and EPCs guidance going forward.
To attend the PV ModuleTech 2019 event in Penang on 22-23 October 2019, please follow the registration link here.