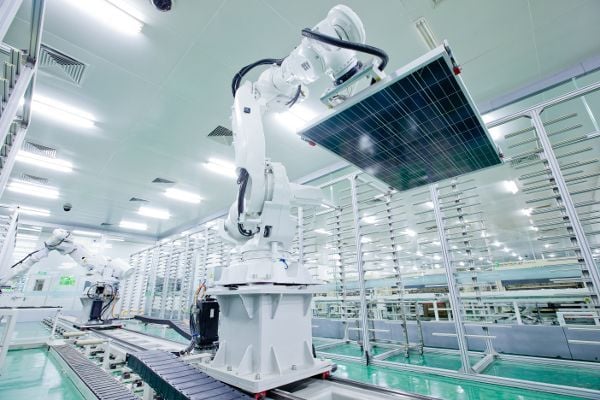 Leading 'Silicon Module Super League' (SMSL) member JinkoSolar has reported higher than guided second quarter PV module shipments and reiterated total shipments guidance to be in the range of 11.5GW to 12GW in 2018.
The SMSL reported total PV module shipments of 2,794MW, up from 2,015MW in the previous quarter and the second highest quarterly record, which was set (2,884MW) in the prior year quarter. The company had previously guided shipments for the second quarter of 2018 to be in the range of 2.4GW to 2.5GW.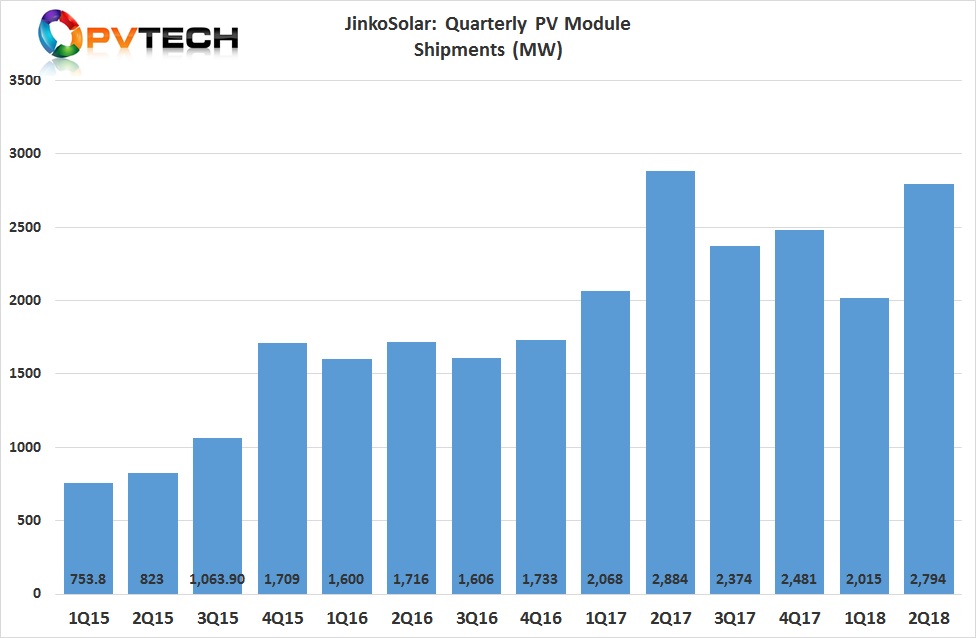 Kangping Chen, JinkoSolar's Chief Executive Officer commented, "We delivered a strong quarter with module shipments hitting 2,794 MW while generating total revenue of US$915.9 million. Leveraging our cutting-edge technologies, strong global sales network, and industry leading cost structure, I'm confident in our ability to generate sustainable profits and growth going forward."
"Growth during the quarter was strong and we expect this momentum to continue into the second half of the year despite the impact from the new policies issued by the Chinese government on May 31 as shipments to overseas markets are expected to continue growing and account for an increasing proportion of our shipments. We believe these new policies will have a relatively limited impact on our operations over the short-term and are optimistic about our future prospects. We expect demand from Top Runner Program, poverty alleviation projects, local government subsidies, and self-contained DG projects to continue to drive the growth in the Chinese market, especially in regions with ample sunlight and high commercial power prices."
"We already have good visibility of our order book for the entire year which is predominantly made up of overseas orders to markets which are growing rapidly and will generate significant opportunities ahead. We are taking full advantage of our market leading position and production facility in Florida to expand our presence in the US market. Demand in emerging markets continues to grow, especially in Latin American and the Middle East and North Africa. We are devoting our resources there towards securing large long-term orders through our mature sales network which spans a number of markets there. We believe the Indian solar sector will maintain its long-term growth trajectory despite the short-term impact of recently announced tariffs and will continue to explore opportunities there."
JinkoSolar reported a lower gross margin of 12.0%, compared with 14.4% in the first quarter of 2018. This was due to Average Selling Price (ASP) declines.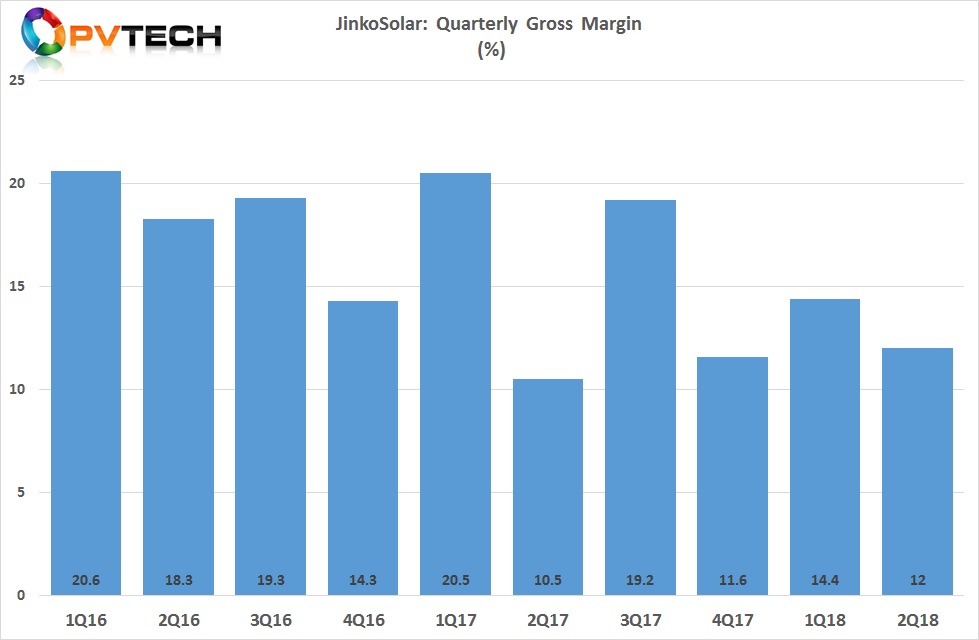 Total revenue in the quarter was US$915.9 million, an increase of 32.7% from the first quarter of 2018.
Gross profit in the second quarter of 2018 was US$110.0 million, compared with US$104.6 million in the first quarter of 2018. Income from operations was US$14.3 million, compared with US$19.9 million in the first quarter of 2018.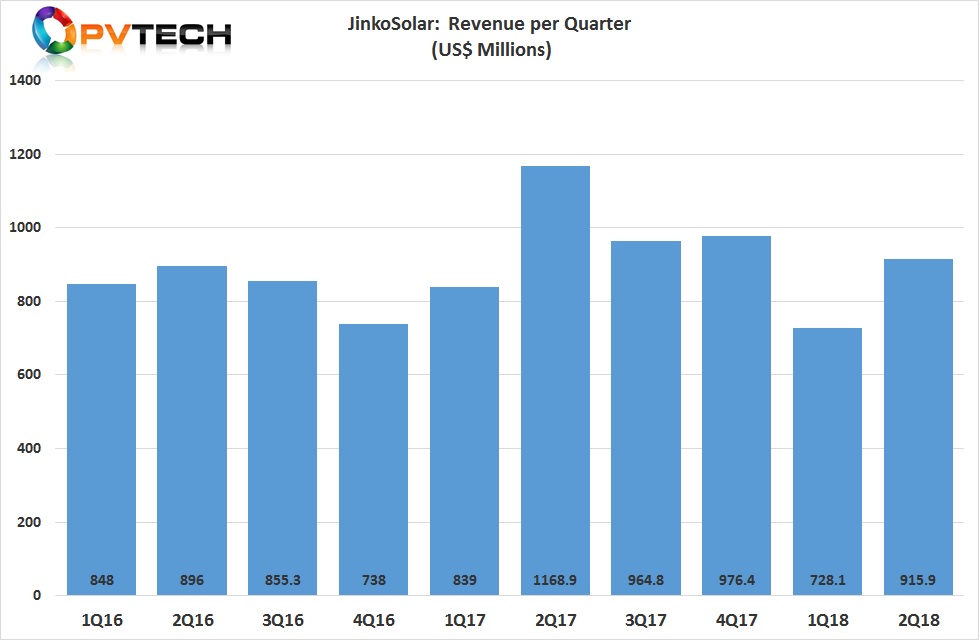 Manufacturing update
JinkoSolar said that its nameplate capacities remain unchanged quarter-on-quarter. As of June 30, 2018, the SMSL's in-house annual silicon wafer capacity remained at 9GW, while solar cell capacity remained at 5GW and solar module production capacity also remained at 9GW.
The company had previously guided wafer capacity would reach 9.7GW in 2018, along with 6GW of cell capacity and 10.5GW of module assembly capacity.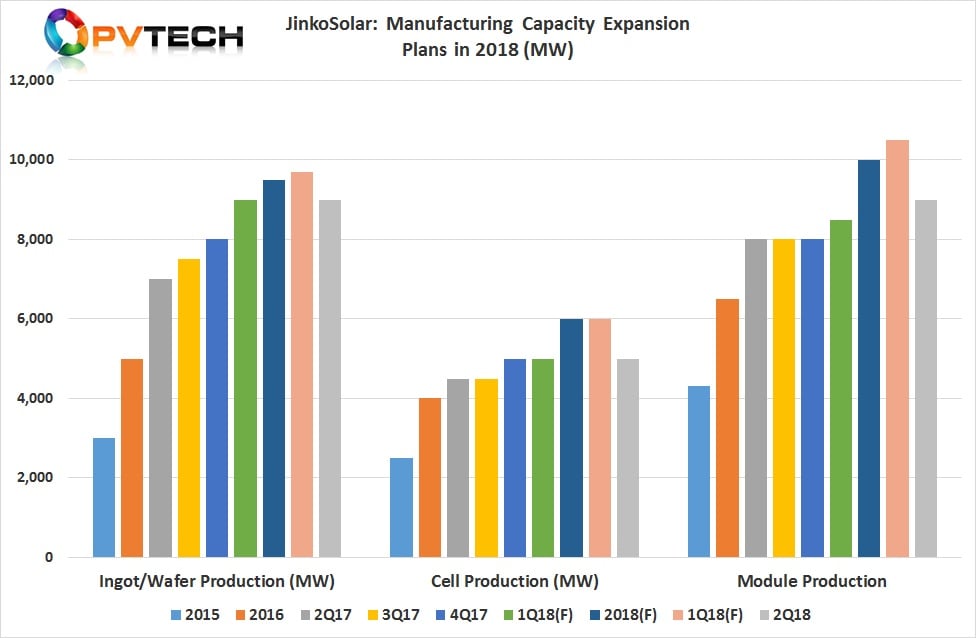 "We continued to develop high-efficiency technologies while optimizing the cost structure of our products," added Chen. "We made significant progress in improving wafer efficiency and reducing both oxygen content and light induced degradation. We are increasing our mono PREC cell capacity which will reach 4.2GW by the end of year. We are also investing in N type technology, especially HOT double sided cell technology. The falling cost of raw materials and our deep experience in rapidly rolling out new technologies will allow us to further optimize our cost structure going forward and help us increase market share by providing clients with high-efficiency products at cost effective prices."
Guidance
JinkoSolar expects total solar module shipments in the third quarter of 2018 to be in the range of 2.8GW to 3.0GW, which could be a new company and industry quarterly shipment record.