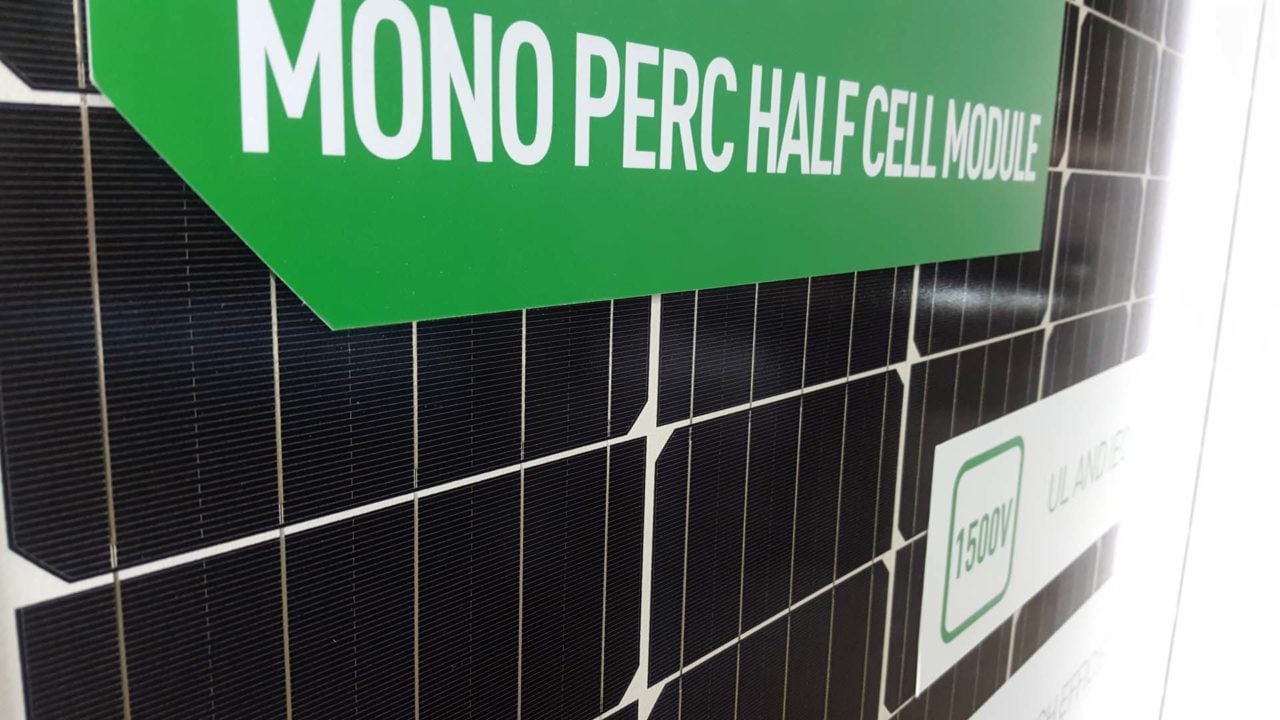 Leading 'Silicon Module Super League' (SMSL) member JinkoSolar has increased its module shipment guidance, ensuring its global market leadership in 2017.
In reporting third quarter 2017 financial results, JinkoSolar guided full-year module shipments to be in the range of 9.6GW and 9.8GW, up from the previous quarter guidance of shipments between 8.5GW and 9.0GW.
Based on recent global solar market forecasts, end market demand could reach or exceed 100GW, indicating JinkoSolar's market share was in the region of 10%.
Financial results
JinkoSolar reported third quarter module shipments of 2,374MW, exceeding guidance the high-end of guidance of 2,300MW. However, shipments declined 17.7% from 2,884MW in the second quarter of 2017 and an increase of 47.8% from 1,606 MW in the third quarter of 2016.
The company reported total revenue in the reporting quarter of US$964.8 million, a decrease of 19.0% from the second quarter of 2017 when revenue reached US$1.17 billion.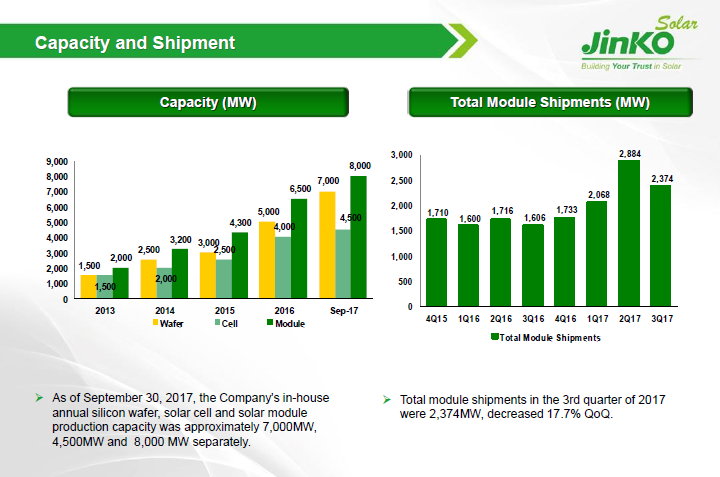 Gross margin was 12.0%, compared with 10.5% in the second quarter of 2017 and 19.2% in the third quarter of 2016. The sequential increase after a margin squeeze in previous quarters was said to be down to cost control measures and a reduction in the usage of OEM manufacturers.
However, the year-over-year decrease in gross margin was mainly attributed to the decline in module ASPs seen in the third quarter of 2017.
JinkoSolar reported a gross profit in the quarter of US$116.1 million, compared to US$123.1 million in the second quarter, and up from US$94.3 million in the first quarter of 2017.
Kangping Chen, JinkoSolar's Chief Executive Officer said, "Demand in China remained strong during the quarter as the distributed generation ("DG") market there grows rapidly. We have fully evaluated the various remedy recommendations from the US International Trade Commission and are awaiting its final decision on the Section 201 petition. Regardless of what the final outcome is, we strongly believe in the US solar market's long-term growth trajectory and will adjust our strategy there accordingly. Demand in Europe has shown signs of an improvement as the effects of electricity parity sink in for more countries. The Indian market is growing rapidly and is expected to become the world's third largest. The sustainable, long-term development of emerging markets such as Australia, Jordan, Egypt, Mexico and Brazil has greatly improved as solar system costs rapidly drop and regulators gain more experience in promoting green energy and organizing electricity auctions. We will continue to strengthen our leading position in various emerging markets by expanding our service teams there and enhancing our brand image."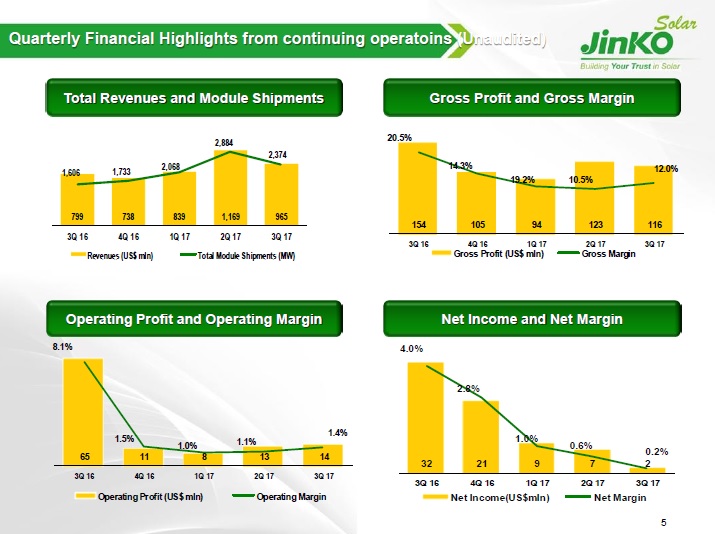 Manufacturing update
JinkoSolar noted that its in-house annual silicon wafer capacity stood at 7GW at the end of the third quarter, up 1GW from the prior quarter.
Solar cell capacity as expected was 4.5GW, while module capacity did increase by a further 500MW in the third quarter, as expected, reaching 8GW.
"The optimization of our mono wafer costs and diamond wire cutting application to our multi wafer production lines remain on track and are expected to be completed next quarter. Our tech team continues to make solid progress in developing half-cell and bifacial n-type cells technologies. We also made progress in developing new technologies such as Hydride Oxide Thin Film. Overall, we will continue to allocate resources towards innovating new and exciting solar technologies to strengthen our leading position in the market," added Chen.
However, the management said in the earnings call that it was remaining cautious over announcing further capacity expansions in the current market climate. Management also noted that it would consider starting volume production of its Hydride Oxide Thin Film in the future.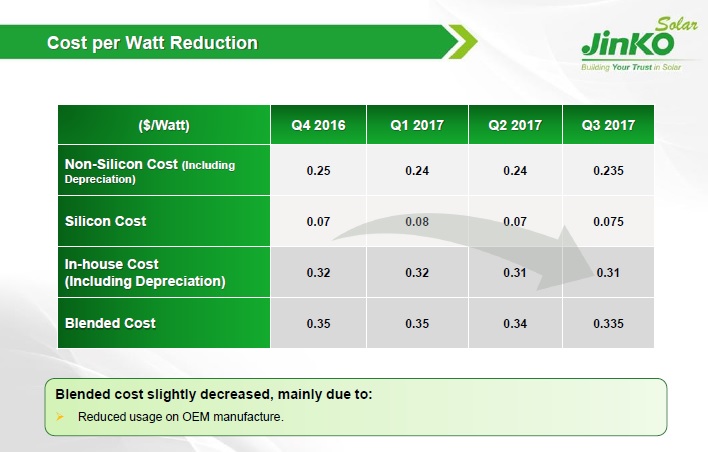 Guidance
JinkoSolar said that it expected total solar module shipments in the fourth quarter of 2017 to be in the range of 2.3GW to 2.5GW. As stated, full-year shipments are expected to in the range of 9.6GW to 9.8GW.