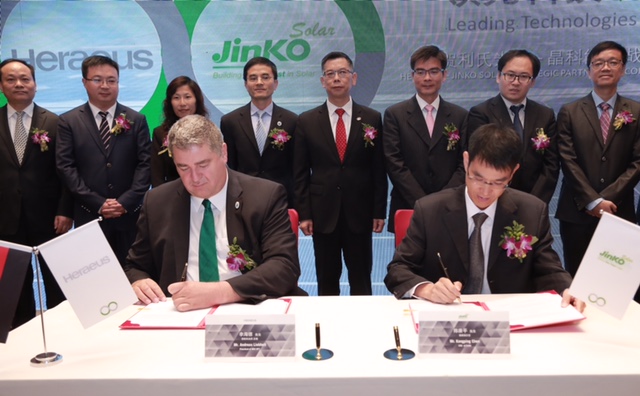 Major metallization paste producer Heraeus Photovoltaics said it had signed a major strategic partnership agreement with 'Silicon Module Super League' (SMSL) leader JinkoSolar that will focus on what the company said would be the development of a new generation of "Super PV Cells" with higher efficiencies and lower costs.
Heraeus said that it started collaborating with JinkoSolar in August 2015, which led to JinkoSolar exclusively using Heraeus' front-side silver pastes.
In 2016, JinkoSolar was using tailor-made products from the materials supplier for mono PERC and 'black silicon' (multi c-Si wafers cut with diamond wire & textured) cells that provided more than 0.3% efficiency gain and a 15% reduction in the cost per-watt.
Part of the new agreement includes further efficiency gains and lower production costs related to black silicon cells and N-type monocrystalline cells.
Andreas Liebheit, President of Heraeus Photovoltaics said, "This is the third time our companies have signed a strategic partnership, and it sets a new benchmark of successful cooperation between upstream and downstream companies for the ever-changing and challenging PV industry. We believe that with a closer cooperation between the two leading companies, PV is expected to become the most economical and widely used energy form in the near future."
Notably, JinkoSolar has been increasing its R&D activities and as a result the company's annual R&D spending since 2014 has more than doubled, according to PV Tech's annual R&D spending report.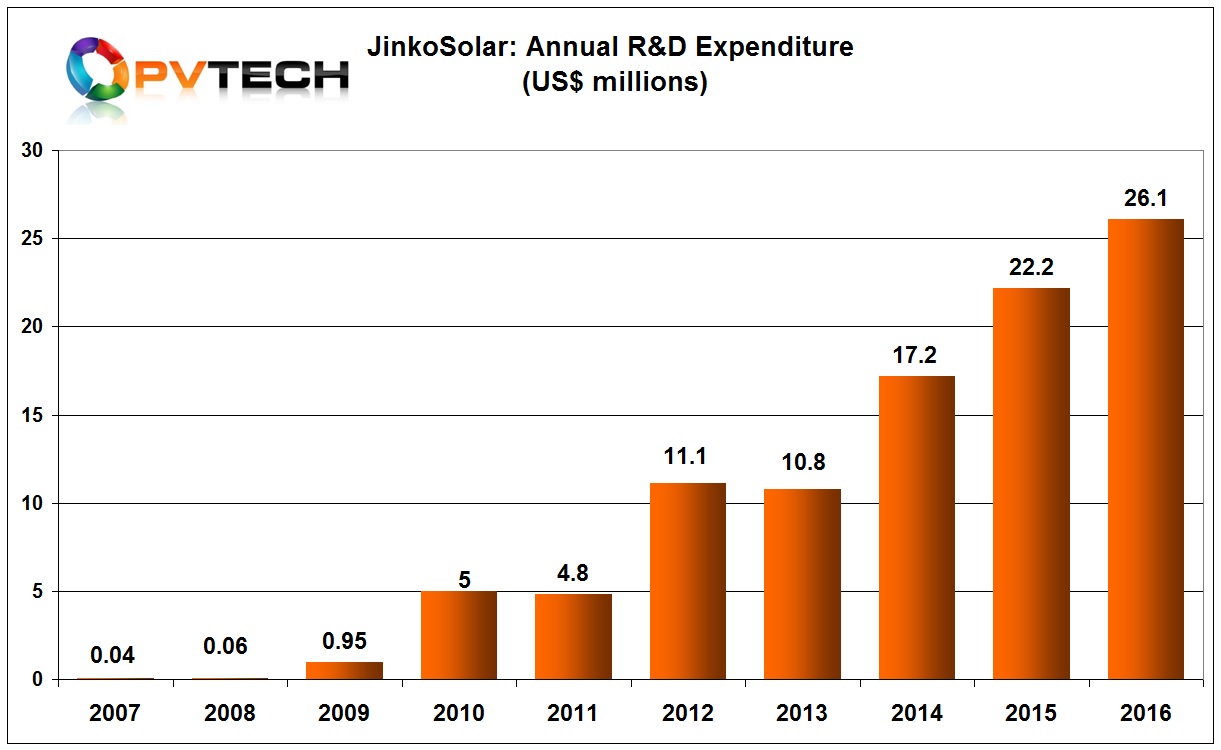 JinkoSolar had previously been a laggard in R&D spending but had leveraged relationships with both equipment and material suppliers to support conversion efficiency gains and lower product costs that have been regarded as the lowest in the industry.
Increased R&D spending by JinkoSolar in 2016 had focused on P-type mono PERC R&D including migrating to diamond wire and 'black silicon' texturing of P-type multi PERC cells as part of the start of research activities on its "Eagle+" solar modules, which were expected to have multicrystalline cells with conversion efficiencies of approximately 20.4% in lab tests by a third party in 2016. The company had also achieved a record P-type multicrystalline cell efficiency of 21.63% in 2016.
Chen Kangping, CEO of JinkoSolar noted, "As one of our key partners, Heraeus Photovoltaics has provided great support to JinkoSolar's growth over the past three years, and helped us to rank No. 1 with a global PV modules shipment of 6.7GW in 2016. With our shared envision and firm commitment to renewable energies, we are excited to sign this landmark agreement with Heraeus Photovoltaics, and convinced that our cooperation will lead to more fruitful results."