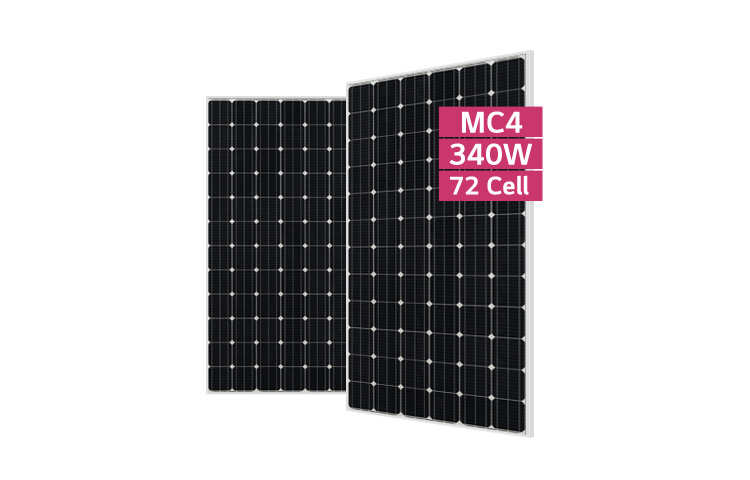 LG Electronics USA has started shipments of its flagship 'NeON 2' 72-cell solar panels in the US commercial and utility-scale markets. LG's N-type double-sided cell structure provides more energy with a 6.41- by 3.28-foot, footprint that comes in 365 to 375 watt ratings.
Problem
US commercial and utility-scale PV markets are increasing turning to 72-cell module configurations that reduce BOS (Balance of System) costs, deploying fewer modules and racking required to meet project electricity output requirements. Deploying high-efficiency bifacial modules also provides for higher output depending on ground/roof surface conditions, lowering LCOE.
Solution
This new series builds on LG's 60-cell NeON 2 modules that use LG's N-Type double-sided cell structure, which allows the light, reflected from the rear of the module to be reabsorbed, generating even more power. LG's flagship NeON 2 uses N-type monocrystalline wafers and cells that were developed through an elaborate process control, adopting a semiconductor processing solution, which boasts higher mobility of electric charge. As a result of their improved temperature coefficient, the NeON 2 72-cell panels can generate more electricity on sunny days and even performs more efficiently on cloudy days, allowing one module to generate more energy per square foot, regardless of environmental factors. NeON 2 panels feature LG's 'Cello' technology, which utilizes circular-shaped wires to scatter light for better absorption while reducing the electrical loss and increasing power output and reliability by spreading the current with 12 thin wires rather than the traditional three busbars.
Applications
US commercial and utility-scale markets.
Platform
The three models, LG365N2W-G4, LG370N2W-G4 and LG375N2W-G4, are designed to deliver outputs ranging from 365 to 375 watts, in a 6.41- by 3.28-foot panel. Unlike conventional p-type solar modules, the N-Type cells used in the NeON 2 72-cell, use almost no boron, so Light Induced Degradation (LID) is reduced significantly. The NeON 2 72-cell offers the same increased frame firmness of the NeON 2 and NeON 2 Black– the direct result of a reinforced frame design that is as aesthetically pleasing as it is durable. The improved 72-cell module reduces annual degradation from -0.7 percent to -0.6 percent per year, allowing LG to extend the warranty to a full 12 years.
Availability
July 2016 onwards in the US market.