Leading monocrystalline wafer producer and 'Solar Module Super League' (SMSL) member LONGi Green Energy Technology is planning to invest around US$875.7 million in expanding its Czochralski-based monocrystalline silicon (mono-Si) ingot and wafer capacity by 15GW, while expanding mono-Si solar cell capacity by an initial 3GW in 2020.
LONGi said it had signed a strategic agreement with the Yinchuan Economic and Technological Development Zone for the new 15GW ingot and wafer production facility, which is expected to cost around US$643 million. The facility is expected to gradually start ramping production in the second half of 2020.
The company had recently announced plans to invest approximately US$773 million in expanding mono-Si ingot capacity at two production sites in China, which included 6GW in Baoshan and 6GW in Lijiang. LONGi also announced at the same time a 10GW expansion of mono-Si wafer production as part of a Phase 2 expansion at facilities in Chuxiong.

These previously announced expansions would take mono-Si ingot cumulative nameplate capacity to 38GW in 2019. LONGi had previously announced plans to take ingot capacity to 45GW by the end of 2020.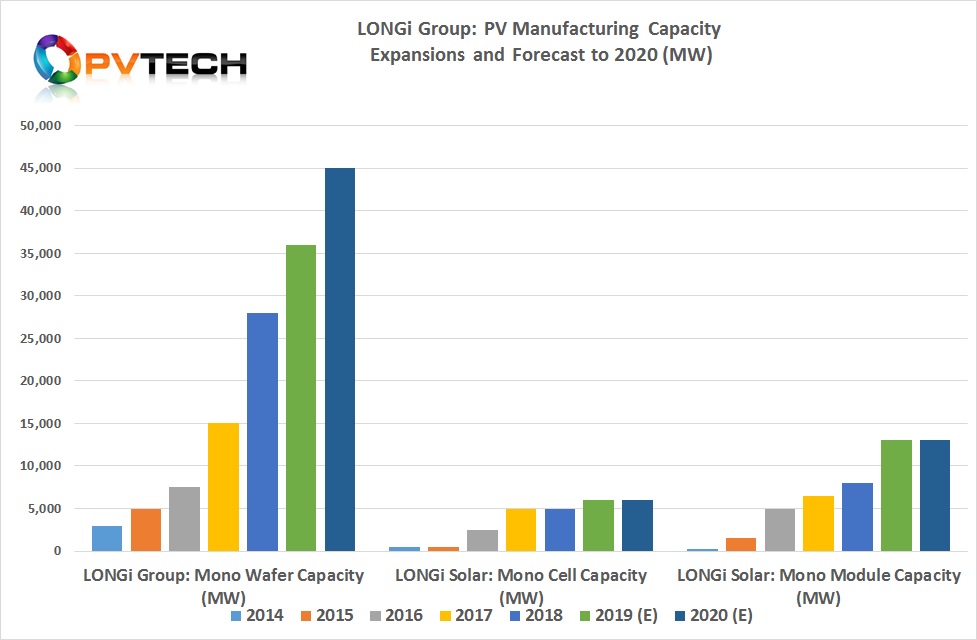 The new 15GW plans would take mono-Si ingot and wafer nameplate capacity to 53GW after 2020.
LONGi also announced that its subsidiary, SMSL member LONGi Solar would establish a mono-Si solar cell plant in Yinchuan. Initial capacity would be 3GW at a cost of around US$233 million. The facility would have a nameplate capacity of 5GW. The initial production ramp would be in the first half of 2020.
The company had recently announced a new 1GW mono-Si cell plant would be built in Malaysia at the Shama Jaya Free Industrial Park, Kuching City, Sarawak, Malaysia at a cost of approximately (US$125.5 million).
Combined with the latest expansions planned in China, LONGi Solar's mono-Si cell nameplate capacity would reach 10GW by the end of 2020.