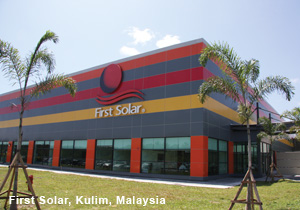 The recent extension to the US investment tax credit (ITC) could enable First Solar to shift emphasis and therefore revenue generation to selling its CdTe thin-film modules to third parties rather than directly to PV power plant projects, according to a research note from Deutsche Bank analyst, Vishal Shah.
The ITC extension has relieved pressure on major PV energy providers and project developers to complete significant gigawatts of US projects before the end of 2016, when the ITC would have been reduced to 10% from the current 30% rate.
Shah noted from First Solar's management commentary last year that due to the pressures to complete projects in 2016, production line technology/efficiency upgrades would be put on hold to enable high utilisation rates to meet demand through the year.
With that pressure reduced, First Solar could announce a shift in strategy towards higher third-party module sales, he said.
"FSLR management expects book-to-bill ratio to remain above 1.0 in 2016 implying more than 3GW of bookings. The company was already 75% booked exiting 2015, which means most of the incremental bookings would be to support 2017+ earnings outlook," noted Shah in the investor note. "Assuming the split of systems/modules is 70/30 over the next three years and FSLR's capacity increases from 3GW to 5GW, we expect FSLR to book cumulative ~US$11.50 EPS through 2018."
Greater emphasis on module shipments over tough project completion deadlines would enable First Solar to implement production line upgrades and add new capacity over the next three years to reach around 5GW of nameplate capacity, Shah said.
The Deutsche Bank analyst noted that in such a scenario, First Solar could exceed average fleet line module conversion efficiencies in its roadmap of 16.2% in 2016 and reach 17.7% in 2018, creating a US$0.15/W cost reduction in 2018, further boosting margins overall.
Greater cash earnings over the next three years would be possible according to Shah, guiding the possibility of a net cash balance increasing from US$2.15 billion in 2016 to US$2.5 billion and US$2.8 billion in 2017 and 2018, respectively.