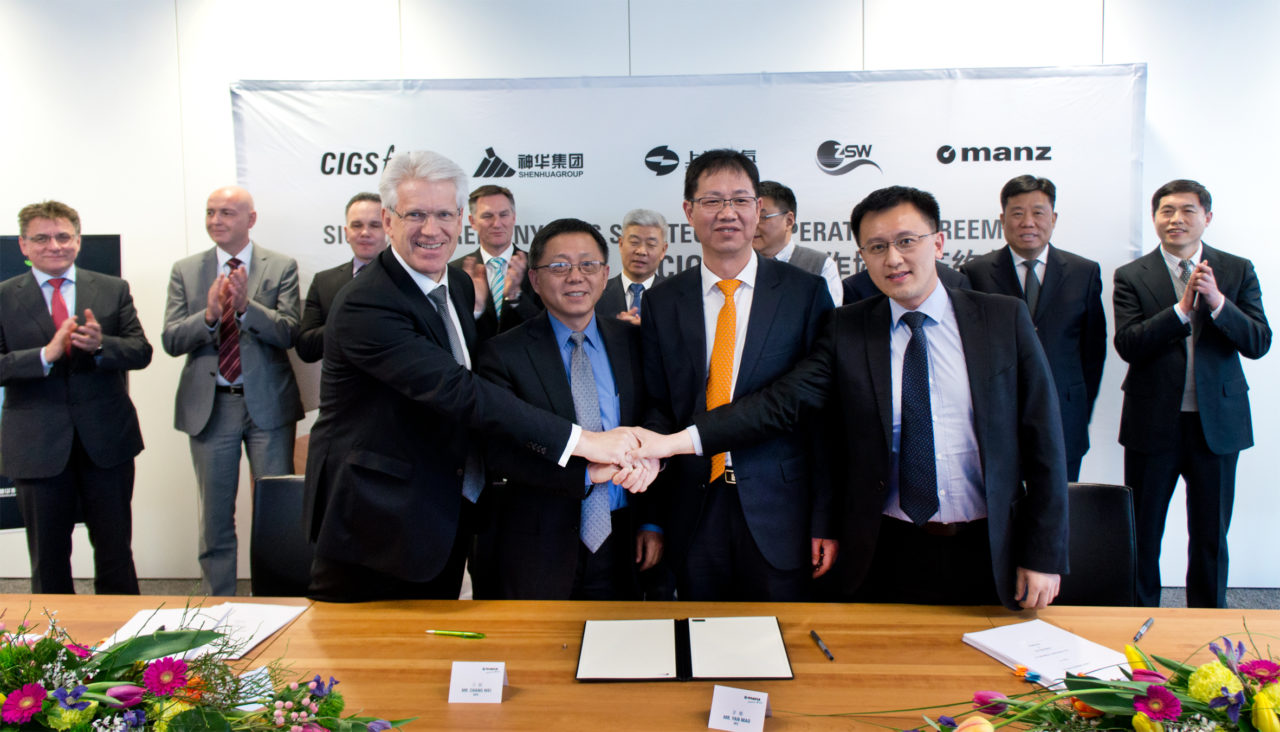 PV and electronics equipment manufacturing and automation specialist Manz AG has finally secured the largest equipment order in the history of the company after securing orders for two turnkey CIGS production lines totalling 350MW nameplate capacity with China-based Shanghai Electric Group and Shenhua Group.
Manz said that the orders amounted to €263 million (US$282.22 million), which included a CIGS production line with a capacity of 306MW and another one for a CIGS R&D line with a nameplate capacity of 44MW. Equipment installation was said to start in 2017 and would be completed in 2018.
The production plant will be based in the city of Chongqing in south western China. Shenhua Group, the largest coal enterprise in China and the largest coal supplier in the world, teamed up with utility, Shanghai Electric to enter the solar market in China.
Dieter Manz, CEO and founder of Manz AG said, "This cooperation is absolutely outstanding in the solar industry worldwide. We were always convinced of the superiority and potential of our CIGS thin-film technology since CIGS modules from Manz already offer the lowest electricity generation costs in comparison to the crystalline silicon technology. Today's agreements mark the breakthrough in our solar business. Our confidence in our excellent engineering know-how will now pay off."
The company said that the 'CIGSfab' turnkey technology order would be the largest CIGS production line in China and the second largest world-wide. Solar Frontier in Japan has the largest CIS thin-film plant in the world at just under 1GW.
AVANCIS has previously announced plans to build a 300MW plant in China, after being acquired by CNBM Group in 2014.
R&D Joint Venture
Manz also noted that as part of the major turnkey order it was forming an R&D Joint Venture (JV) with the two Chinese partners, while the current R&D line in Germany would be transferred to the new JV for €50 million (US$53.7 million) with Manz becoming a 15% shareholder for €25 million (US$26.8 million). The remaining shares are held by affiliated subsidiaries of Shenhua Group and Shanghai Electric.
Manz has an exclusive R&D partnership with the Center for Solar Energy and Hydrogen Research of Baden-Wuerttemberg (ZSW), which holds the world record for CIGS thin-film solar cell efficiency on glass at 22.6%.
CIGS equipment JV
Shanghai Electric, Shenhua Group and Manz said that would also establish an Equipment Joint Venture which would exclusively start sales activities for the CIGSfab in China with potential orders from China placed at the Equipment Joint Venture.
Manz AG would retain a 56% shareholding and therefore would continue to fully consolidate future revenues and earnings from equipment sales.
"Today is a great day for our company and the entire solar industry. We have been working hard towards this day and finally our longstanding perseverance as well as the high investments in the further development of our CIGS technology are paying off. The past years have not always been easy, neither for our employees nor for our shareholders. But it was worth it! Manz now takes over a leading role with its fully integrated turnkey production line CIGSfab regarding the technological change from the labor- and material-intensive crystalline solar technology towards the resource-saving and efficient thin- film solar technology. This makes us all very proud," added Dieter Manz.